Outdoor Living
7 outdoor Christmas decorating ideas
7 outdoor Christmas decorating ideas
Outdoor Living
7 outdoor Christmas decorating ideas
It's time to deck the halls again. And that includes giving the exterior of your home a makeover as well. Transform
windows
, walkways and bare branches to create a warm and welcoming holiday home. As you explore your festive options, you'll find there's a lot more out there than the old string of multi-coloured lights. From new fangled lights to fresh foliage, the
holiday
season doesn't have to be dull and dreary on the outside. It only takes a little imagination to liven things up dramatically. Here are 7 ideas to inspire your holiday spirit.
Starry string lights
Bring the stars down to earth with these delicate and lovely lights. They're strung on silver or copper wire, making them easy to mould into any shape you wish to
decorate
. Drape them on branches or banisters for a festive glow.
Restoration Hardware, $15 – 50.
Poinsettia wreath
Just once – forget going '
green
'… try going red instead! You can't help but feel the holiday spirit when you see the vibrant colour and lush fullness of this handmade wreath.
TheGlimmerCollective at Etsy, $50 USD.
Fusion holiday solar rope light
Let it snow, let it snow, let it snow – with these beautiful snowflake rope
lights
. The added bonus is that you can light up your
holiday
nights with daytime energy. They run on solar power and come with their own solar panel.
Sears, $34.99.
Illuminated reflector ornaments
Old-fashioned looks combine with modern design to bring you these oversized pre-lit reflector
ornaments
. Despite being 15-21" in size, they're lightweight and delicate. They can be easily hung from branches, porch overhangs and ceilings.
Frontgate.com, $99.50 – 159.
Celebrate It™ holiday welcome mat
Make your guest feel welcome before you even open the
door
with a holiday mat. It brightens the mood and melts away all thoughts of the real snow around them!
Michaels, $29.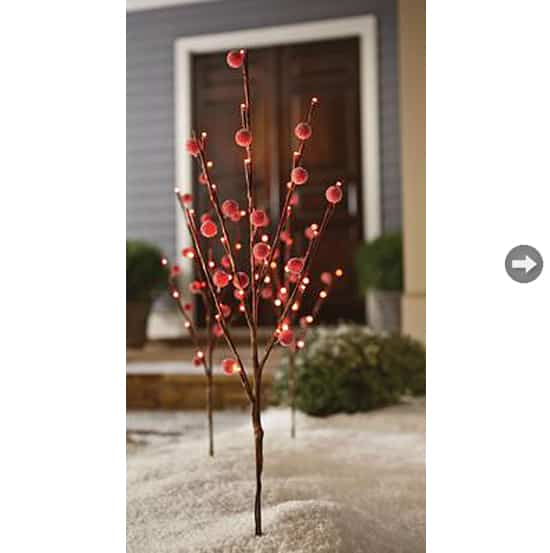 Sugared berry twig stakes
Place several of these lighted sugared berry twig stakes to your yard to transform it into a warm
winter
wonderland. It brings life and adds a pop of colour against the bland, cold snow. At 30" in height, they are a subtle but beautiful
holiday
decoration.
Home Depot, $24.99.
Malta lanterns
Create a soft candlelit walkway or porch with these multi-sized lanterns. You can customize them to your chosen
holiday
look by adding acorns or holly branches to the base of the pillar candles. When the
season
is over, replace these with other foliage (or none at all) for year-round use.
Pottery Barn, $37.73 – 128.75.