Outdoor Living
How to: Choose a front door paint colour
How to: Choose a front door paint colour
Outdoor Living
How to: Choose a front door paint colour
We all want our home to be a place that welcomes friends and family into the nest. But maintaining a home's exterior can be quite time-consuming, not to mention costly. For an easy DIY project that will transform the outside of your home, add to its curb appeal and only requires a quart of paint, we suggest painting your front door a fabulous new colour!
Here are three things to keep in mind when painting a front door:
1 Choose a colour that suits your house
Apple green might be your favourite colour, but that doesn't necessarily mean it's the right shade for your
front door
. Garry Belfall, Senior Brand Manager for Para Paints, advises choosing colours that complement the other tones and architecture present on your home's exterior. "Try to pick a colour that works within the wood or brick of your home," he suggests. "Or if there are other items on the home, such as shutters and accents, it's a good idea to coordinate with those."
Garry also acknowledges the importance of experimenting with colour on your front door and taking chances with different shades. "The front door is a vehicle for inspiration," he continues. "For those who want to be more adventurous with their
outdoor decor
, colour is an open door (pardon the pun) for expression."
2 Choose a colour that suits your personal style
Choosing paint for outdoor use is a little trickier than painting interior blank walls. Sharon Grech, colour and style spokesperson for Benjamin Moore Paints, says that natural sunlight can drastically change how a paint colour looks.
"When picking colours for an interior, they tend to feel bolder than they actually are," she says. "Outside, a colour tends to fade more [compared to its sample swatch]. Bright yellow can look beige outside, so the bolder the better for exterior use."
Her advice is to test paint samples outside in various strengths of light to see how the colour looks throughout the day. "Consider your style and how you wish to express yourself personally," she says. "For me, a painted front door can be equated to a gentleman who wears a colourful tie. It's about personality, character and a flattering look that grabs attention."
3 Choose the right kind of paint
According to Sharon, the kind of paint you use ultimately depends on the quality of your door. For example, she advises not putting a high gloss paint on an older, damaged door, because the imperfections will show through. Really study your options in terms of matte, low-lustre and semi-gloss finishes, as well as the door's materials before opening the paint cans.
Keep reading for eight perfectly painted front doors that we find stylish and inspiring!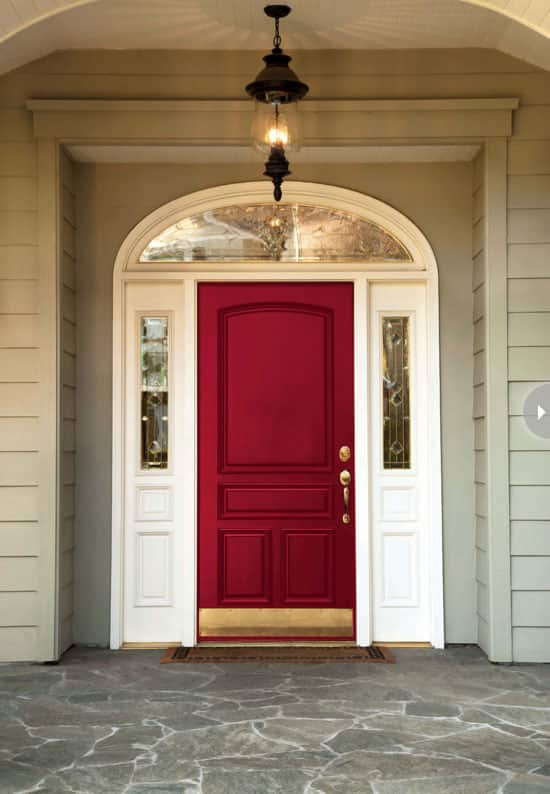 Ravishing red
Forever known as a bold, passionate colour in the world of fashion, red paint (or
red decor
) slathered on a
front door
also projects a strong, confident aesthetic.
Don't Be Shy, P5080-73,
Para Paints
.
Awesome aubergine
For the more adventurous decor enthusiast, a deep and moody, yet
pretty purple
or aubergine is a lovely way to bring an extra bit of pizzazz to your home's
curb appeal
.
Glamorous Greek, P5201-52, Para Paints.
Oh-so orange
"The right colour can make a design statement that is powerful, welcoming and drop dead gorgeous," says Bev Bell, Creative Director for Beauti-Tone Paint and Home. So liven up your
front hall
entrance with a splash of citrus orange! Bright, cheerful and earthy all at the same time, this earthenware shade from
Beauti-Tone
will turn heads in your neighbourhood.
Earthenware, 3E1-8, Beauti-Tone, homehardware.ca
.
Say "yes" to yellow
Get a sun-kissed look for your
exterior decor
with this glamorous yet friendly
paint colour
. It is called Wet Sands from Beauti-Tone and will make you smile even if the sun ain't shining.
Wet Sands, 3H2-7, Beauti-Tone, homehardware.ca
.
Baby, it's blue outside
For a refreshing look that is as soothing as a day spent at the beach, why not try a gentle shade of blue for your
front door
. Memorable, different and dreamy, this
paint colour
will certainly dress up a door.
Blue Lapis, 2067-40, benjaminmoore.com
.
Beautiful black
Dark and dramatic, black paint on a
front door
can create a classic
old-Hollywood glamour
look that is definitely swoon worthy. Consider choosing a high-gloss black for added effect.
Baby Seal Black, 2119-30, benjaminmoore.com
.
Perfect purple
Pretty and sassy, a bright vibrant purple adds a dash of playfulness and whimsy to your home's
curb appeal
. For a colour this bold, consider adding
floral arrangements
or outdoor plants to complement it.
Twilight Gold, DL36 (91BB 96/263), cil.ca
.
Glamorous green
Go green, vibrant
green
for your
front door
and set your home apart in the neighbourhood as the one to watch for style inspiration.
Garden Party, DL 24 (67GY 40/437), cil.ca
.
Click here for more tips on designing the front door with ease.