Backyards
6 backyard lighting options
6 backyard lighting options
Backyards
6 backyard lighting options
Capture the magic of faraway constellations by creating a starry wonderland in your own backyard. Armed with candles, string lights and lanterns, we fashion six simple ways to cast an evening spell and make your
summer party
glow.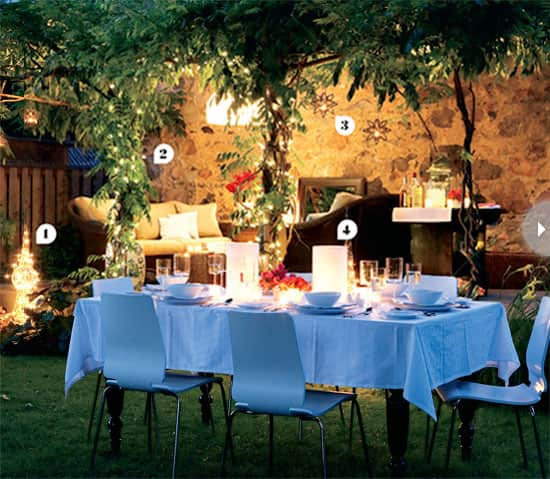 1
String lights make a radiant focal point when massed around a wire obelisk and placed into a garden bed. Create even more impact by lining a garden pathway with a series of them.
2
Wind string lights up and over an archway for a warm and
welcoming entryway
to a space set aside for lounging. Don't worry if you don't have enough foliage to conceal them. As darkness falls their subtle glimmer will take centre stage and everything else will simply fade away.

3
Drop two or three star-shaped
outdoor lanterns
from overhanging branches to add some drama and to delineate the space. Make sure you choose large, sturdy branches for weighty lights like these.

4
Pierced ceramic hurricane lanterns give off pinpricks of light, lending a soft glow to the tablescape. Keep opaque lanterns low enough so that easy conversation can still take place over them.
5
Gather paper lantern string lights beneath an obelisk or overturned tomato cage and fix in the centre of a
floral arrangement
for a sophisticated effect.
6
Anchor votive holders in a shallow bowl with sand, stones and seashells for a glowing centrepiece. Set in the middle of the
dining table
or on a nearby low cocktail table with drinks and snacks at the ready.