Backyards
Backyard Tour : Country Time
Backyards
Backyard Tour : Country Time
Cynthia Weber's garden provides fragrant herbs, as well as a place to press pause.
Sheltered by one of the two barns on designer Cynthia Weber's Huron County, Ont., property and a stone's throw from the back door, this little spot was tailor-made for an herb garden. Cynthia and her husband, Kent, both avid cooks, wanted the garden to be easy to tend – hence the raised beds. But since it's also clearly visible from the back porch and road (and because it's Cynthia's!), the garden is as pretty as it is practical.
Three sizes of tin watering troughs – large ones under the barn windows, and a row of smaller ones perpendicular to them – are ideal herb beds, since their raised height makes weeding and snipping so easy.
Mint sun tea with snips of lavender served in vintage pressed-glass goblets makes for a refreshing pause. The water pitcher – handed down from Cynthia's grandparents – holds fond memories for her.
The pedestal table is a spruced-up garage sale find, and the chairs once belonged to Cynthia's aunt and uncle.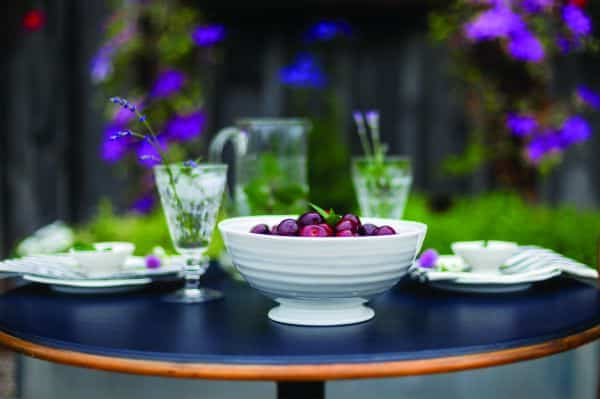 DESIGN, Cynthia Weber Design. TIN TROUGHS, Peavey Mart. Sophie Conran PLATES, SMALL FOOTED DISHES, LARGE FOOTED BOWL, through Bradshaws. Striped linen NAPKINS, Crown Linen Designs.
"There's a timelessness to the ritual of growing, harvesting and enjoying food. It brings a connection to those that came before us."
"It brings us great pleasure to mark the changing seasons, enjoying the rhythm of planting, tending, harvesting and preserving."
A vintage gathering basket sits at the ready, soon to be filled with whatever is needed for dinner.