Gardens
10 new gardening accessories and tools
10 new gardening accessories and tools
Gardens
10 new gardening accessories and tools
Spring brings with it a list of mandatory garden chores—clearing out the garden, pruning and trimming, and cleaning out pots so they're ready to hold all those plants you haul home from the nursery. We've gathered some
garden must-haves
and accessories that not only serve their purpose in the garden, they're stylish to boot. Speaking of boots, we didn't include any in our list, but you might want to grab yourself a stylish pair of rain boots that will allow you to romp around your
backyard retreat
with abandon.
Water with style
You won't want to relegate this little number to your garden shed. This watering can deserves a place of prominence among your pots. It's also nice to have it handy so it can do double duty indoors and out during the summer months! "Diva" watering can and a great
garden tool
.
Alessi
,
$60
.
Provide swank lodging for feathered friends
You've carefully selected and planted
wildflower gardens
to attract songbirds—and pollinators!—to your garden. Give them a safe, stylish place to perch in the garden.
chapters.indigo.ca
,
$39.50
.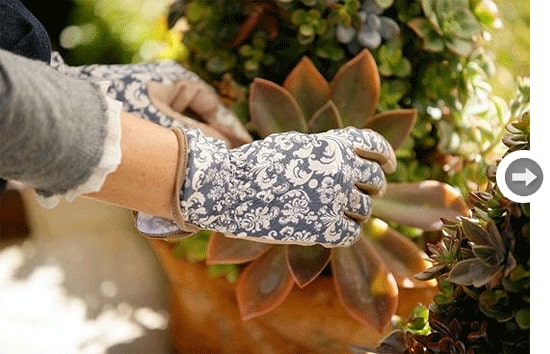 Protect your paws
These gorgeous gloves may look pretty, but they're no delicate flower. Reinforced fingertips, an over-the-wrist cuff and a good grip mean you can get down and dirty into your
garden design
without ruining your manicure.
ethelgloves.com
,
$20
.
Group chic containers in various shapes and sizes
Potscaping is a fairly recent buzzword thrown around by many a gardener. It's likely because grouping containers works whether you have a modest
balcony garden
or an expansive corner of yard. Experiment with different textures and colours, as well as heights.
West Elm
,
$188 to $315
.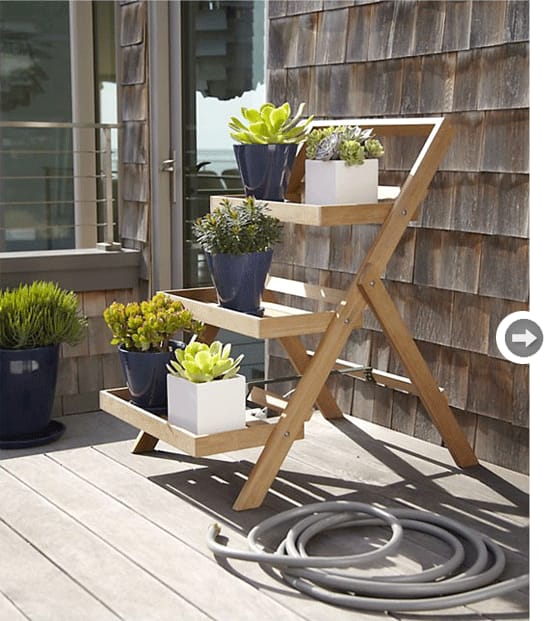 Potscape with a plant stand
This moveable plant stand is great for
garden design
. It adds the height to your potscaping without having to source tall pots. Place it outside your back door with a few edible containers, like lettuce or herbs, for easy access when cooking summer meals.
Crate and Barrel
,
$250
.
Add living art to empty outdoor walls
Just as a framed piece of art transforms
blank walls
indoors, these modern trellises add a vertical focal point to your
garden design
. Add one or two to a blank expanse of privacy fence or outdoor wall, and fill with interesting succulents or spillers (plants that will hang over the sides).
West Elm
,
$20
.
Arm yourself with basic tools
If you're new to digging in the dirt and
living green
, you can get by with a couple of very basic tools: a gardening fork and a trowel. Save the big bucks for good pruning tools. This cheerful set is the perfect gift to a new green thumb—or as backup in your arsenal of tools!
HomeSense
,
$10 each
.
Choose a stylish hose
Not that there's anything wrong with green, but Dramm takes
garden must-haves
to a whole other level with its line of rainbow-coloured hoses and garden wands. We especially like the purple!
rittenhouse.ca
,
$66
.
Funnel your rain down a stylish "spout"
Rain chains are an efficient, decorative way to divert water into a rain barrel and a great way to add interest to your
garden design
. Keep an eye out for cups that may be too shallow. We love the size and modern shape of these "aged" copper rain diverters!
cityhomeandgarden.com
,
$219
.
Get a monochromatic effect with terra cotta pots
Have you seen those
Pinterest
boards with walls of terra cotta pots? They look rustic, yet elegant, when they've been slightly weathered and grouped together—even when they're empty! Celeb potter Guy Wolff's creations will be coming to a Loblaw Garden Centre near you this spring. You'll want to snap one (or several!) up for your collection.
Guy Wolff
,
$14.99 to $34.99
.
Be sure your shed is well-stocked with these 15 garden must-haves.