Gardens
15 garden must-haves
Gardens
15 garden must-haves
Temperatures in Canada can be a bit finnicky and the rain can seem relentless at times, but it's time to gear up for some
gardening
! Whether you have an entire backyard to landscape or a small plot of grass to grow, you can have a gorgeous garden when equipped with the right necessities. Here are 15 must-have gardening tools and products to help you dig, maintain and enjoy your blooming
outdoor space
.
Watering can
We all need hydration so a watering can is an obvious essential. This antique-style can comes imprinted with a thoughtful quote and is great for outdoor and indoor use.
indigo.ca, $27.99.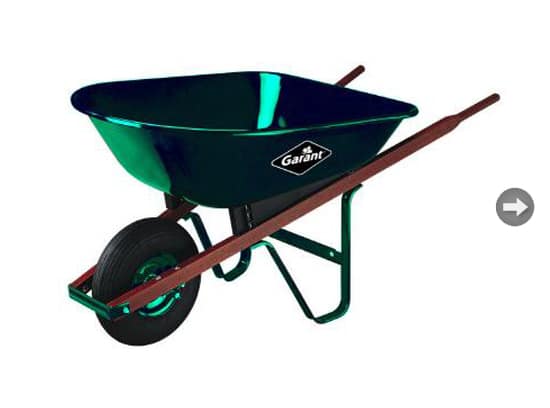 Wheelbarrow

For the heavy loads of soil, mulch, plants, rocks, and tools, a wheelbarrow certainly comes in handy. Made of steel, this wheelbarrow is incredibly durable and comes in a handsome green - how fitting!
Home Depot, $69.99.
Hoe
Made of stainless steel, with a solid ash handle, this hoe makes quick work of any deep-rooted weeds.
Restoration Hardware, $28.99.
Pruner
A good pruner makes quick, clean cuts and should feel comfortable in your hand. The Felco 2 pruner has an angled blade for more powerful, precision cuts, and non-slip covered handles for a good grip.
kinsmangarden.com, $48.95.
Garden gloves
It feels good to work with your hands
outdoors
, but remember to take care of yourself and protect them! The "Miracle Worker" gloves are abrasion- and puncture-resistant to avoid any minor accidents. They're also made of a breathable nylon and mold to your hand for better functionality when wearing them.
veseys.com, $8.95.
Trug tubs
Don't be fooled by the vibrant colours ... these tubs are here to work! They are heavy duty, yet light; flexible, but easy to carry with its handles. They sit upright so they're perfect when weeding the
garden
, carrying supplies, or even as an ice bucket.
kinsmangarden.com, $24.95 each.
Garden hose
Your
garden
hose should be durable enough to last so make sure you buy one that is well-made. The Flexogen hose has a reinforced 8-ply construction to avoid breaks and leaks. Its polished seal also resists stains and abrasions for better durability.
gilmour.com, check site for pricing.
Trowel & fork
Gardening
is dirty work - literally. You have to get down and really dig into the dirt, which is why small hand tools are a must for any gardener. This trowel and fork set make a perfect addition. Made of weather-proof ash and stainless steel, these
tools
are handy for digging, planting or potting.
Teatroverde, $42.95.
Gardening boots
Gardening
may be dirty, but it doesn't mean you have to sludge around unprepared in the mud. A good pair of gardening boots should have breathability and a slip-resistant sole.
Plow and Hearth, $39.95 US.
Shovel
This shovel is made to dig. The non-slip handle is made to fit both hands, while the head of the shovel has a built-in shoulder to securely place your foot when you really need to dig in. The steel scoop has a serrated edge for cutting through roots and sod. Who knew such a simple
tool
could make physical labour so easy?
Rona, $31.99.
Planters
When your flower beds have bloomed, pot some in pretty planters around your
garden
for a polished look that gives depth to your flora.
Crate and Barrel, $49.95 for large planter.
Edger
When all is said and done, give your
garden
the look of a professional landscape with an edger. This tool trims and manicures your lawns and around your flower beds for a perfectly polished finish.
Home Depot, $399.95.
Lanterns
You may not be able to enjoy your
garden
year round, but you can enjoy them all day long. Hang some lights around your garden so you can see what you've accomplished, even in the dark. It also sets the mood for a nice night outside, smelling the roses.
Ikea, $4.99 each.
Chair
What's the point of having a gorgeous
garden
if you can't sit back and enjoy it? A beautiful, comfortable chair for the garden is the perfect setting for reading, relaxing with a drink, or pulling up another seat and chatting with a friend.
Pottery Barn, $699 US.
Fountain
Add a little luxe into the mix with a fountain and make your
garden
a real oasis.
Home Hardware, $129.99.


Check out our garden design and decor guide for all our green thumb tips and tricks.