Shopping
8 new products for your bathroom
Shopping
8 new products for your bathroom
The coolest – and hottest! – in new bath products.
Photography, rubinet.com.
Colour wash
Rubinet's latest faucet collection offers the widest array of colours and finishes we've ever seen. Some designs, like the sleek new 1ANV model, let you choose contrasting or patterned accents.
1ANV, $700 Rubinet, rubinet.com.
Photography, kohler.ca
The loo of the future
If they'd ever shown toilets on Star Trek, they might have looked like Kohler's Numi 2.0. Combining the ultimate in comfort, high-tech design and futuristic functionality, the Numi lets you program precision settings for lighting, bidet functions and even audio, while low-key recessed LED lighting gently guides your way at night.
Numi 2.0, approx. $11,750, Kohler, kohler.ca.
Photography, deltafaucet.ca
Double duty
Delta's Saylor Collection Monitor 17 dual showerhead and handheld spray has In2ition! It's a new feature that lets you spray water from the handheld shower and showerhead at the same time, or from one or the other. The unit comes in four finishes, including stylish champagne and bronze.
Monitor 17 showerhead, $400, Delta Faucet, deltafaucet.ca.
Photography, ciot.com
On the surface
New Pedra Azul porcelain stoneware tiles from REFIN Ceramiche, available in four natural shades, precisely emulate the look of real limestone. The tiles feature porcelain's excellent durability, and include embellishments of delicate fossil inclusions for a totally realistic effect. Available in a variety of sizes, including trendy large 48-inch square tiles.
Pedra Azul Ivory, $8 per square foot (24' x 24' tile), $12 per square foot (48' x 48' tile), Ciot, ciot.com.
Photography, grohe.ca
Photography, grohe.ca
Shower power
Love a minimalist look? Grohe's SmartControl Concealed technology is installed behind the shower for a "clean" look. Plus, you can completely customize your preferred water flow, temperature and which outlets you choose (handheld, body spray or rain shower) at the touch of a button. Save your settings for next time and you'll be singing in the shower!
SmartControl Concealed Technology, from $674, Grohe, grohe.ca.
Photography, americanstandard.ca
Photography, americanstandard.ca
Keep it clean
A toilet that cleans itself? Sold! It sounds like a dream, but that's exactly what American Standard's ActiClean Self-Cleaning Toilet does. Two settings give you the option of a light once-over or a deep, thorough scrub for a sparkling germ-free clean.
ActiClean Self-Cleaning Toilet, approx. $812, American Standard, americanstandard.ca.
Photography, aguacanada.com
Photography, aguacanada.com

Photography, aguacanada.com

Round & Round
The round Frido porcelain vessel sink combines minimalist styling with eye-catching colours in glossy or matte finishes. Combine colours for a totally unique look. We love the simple, geometric look of a pair mounted side by side in a primary bath.
Frido, from $209, Agua, aguacanada.com.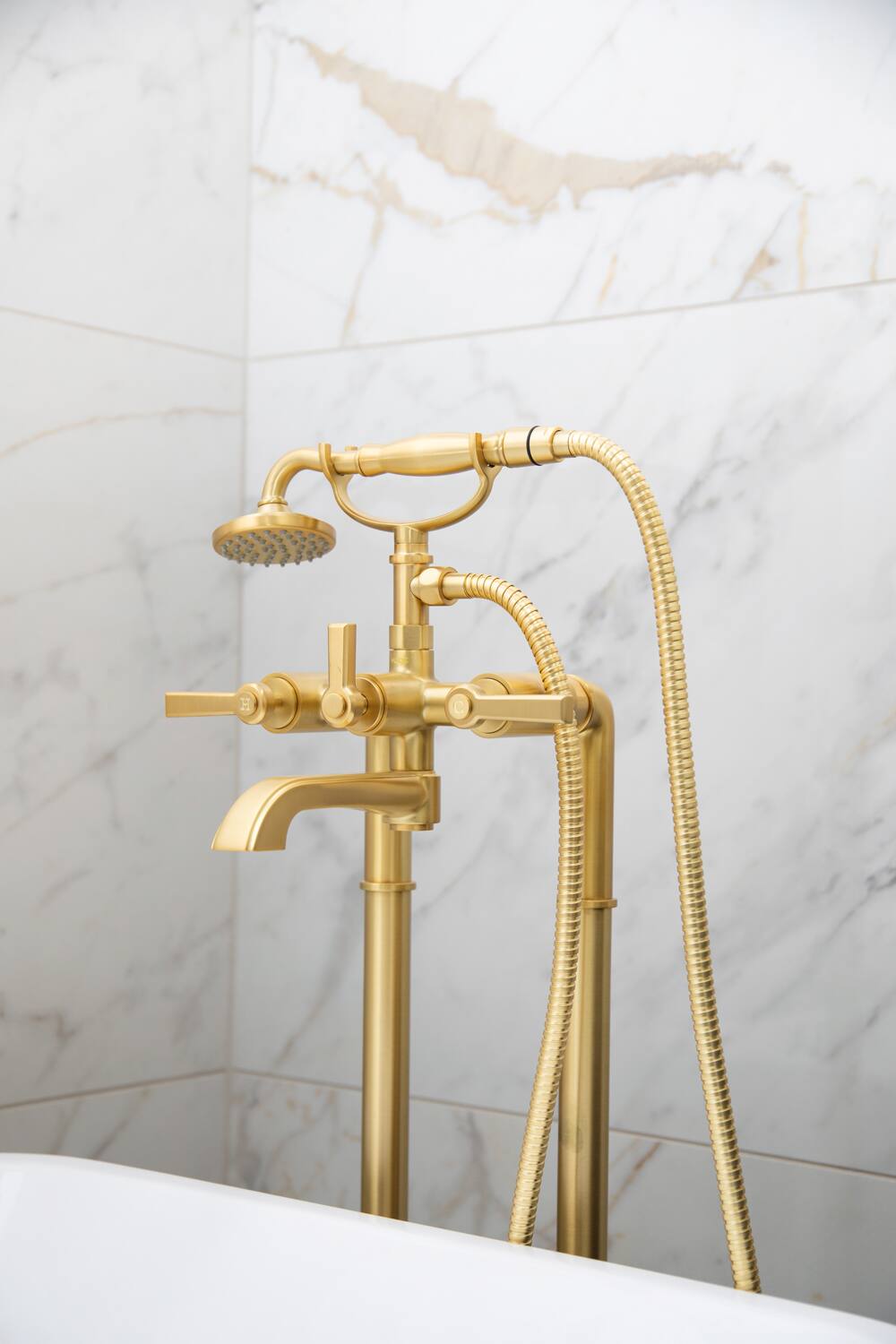 Photography, vogtindustries.com.
Pure glam
Classic gold bath fixtures are back in vogue, but the best styles have a fresh twist. The Zehn floor-mounted tub filler – part of Vogt's newest collection of bath faucets, tub fillers and shower sets – features a delicate brushed gold finish that's glamorous without being gaudy. Its timeless look is enhanced by sleek single-lever handles and a retro-inspired, telephone-style handset.
Zehn Collection, from $3,359, Vogt, vogtindustries.com.