Buying Guides
10 wallpaper patterns you'll love
10 wallpaper patterns you'll love
Buying Guides
10 wallpaper patterns you'll love
If you're one of those people who thinks that wallpaper is totally passe, then we urge you to reconsider. In recent years, wallpaper has come back into vogue with a vengeance, with manufacturers offering up some of the most beautiful and irresistible patterns we've ever seen. Check out these 10 pretty patterns that are bound to make you take a second look.

Black and white damask wallpaper
Take a traditional pattern and make it modern. This black and white damask pattern from Graham & Brown is classic with a contemporary feeling. It's perfect for a dining room. $60/roll, grahambrown.com.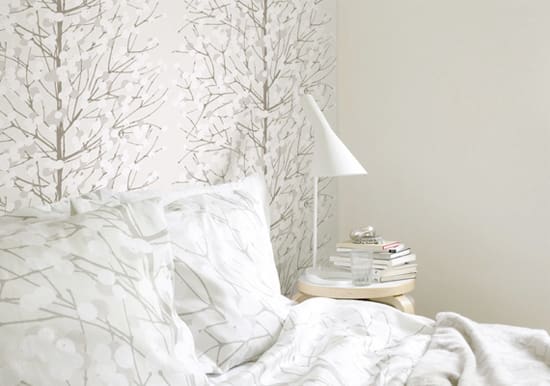 Marimekko Lumimarja
This pattern is called
Lumimarja
, which is Finnish for 'snowberry'. Featuring a wintry scene of bare trees bursting with berries, this pale white and grey pattern is fresh and will add instant interest to your walls.
Visit newwall.ca for more information.
Pixie - Walt Disney Signature Collection
When you think of Walt Disney wallpapers, you may find yourself thinking of fairies and princesses. But this collection features subtle patterns in beautiful colours that are merely inspired by the magic of Walt Disney's
Fantasia
. With just a hint of sparkle and a pop of colour, this Pixie pattern is just so pretty.
Visit yorkwall.com for more information.
St. Antoine - Farrow & Ball
Traditional gets a modern makeover with this pattern from Farrow & Ball. Available in a wide array of colours, this pattern will look gorgeous in most any room. Choose from the extensive selection of shades, ranging from pale neutrals to bolder reds, yellows, greens and blues.
Visit farrow-ball.com for more information.
Viva black gloss wallpaper - Barbara Hulanicki
This wallpaper may not be for the faint of heart but it's perfect for anyone who's looking for ways to amp up the drama in a room. Totally dramatic, this bold statement paper features a high gloss and intense 'look-at-me' pattern.
$80/roll, grahambrown.com.
Lattice wallpaper
Bring a hint of the outdoors indoors with this lattice-inspired paper. Mimicking the latticework of an outdoor trellis or gate, this pattern is the perfect way to add a bold statement to your bedroom.
Visit yorkwall.com
for more information
.
Salix wallpaper from Anthropologie
Inspired by pussy willows, this
wallpaper
will add a springtime touch to your home. The colour combo is cheerful and the pattern is playful - what's not to love?
$148/roll,
anthropologie.com
.
Glamorous by Julien Macdonald
When renowned designer Julien Macdonald turned his attention from fashion to
home decor,
he didn't leave the
glamour
behind. This pattern lives up to its name, offering decoristas and fashionistas alike the chance to make a bold statement in their homes.
$60/roll,
velocityartanddesign.com
.
Vivienne Westwood wallpaper - Cole and Son
Vivienne Westwood wallpaper? Say no more. We're in love! This plaid pattern is calm and classic by comparison to Westwood's often far-out fashion designs but we just love its understated charm.
Visit cole-and-son.com for more information.