Buying Guides
10 whimsical Etsy prints
Buying Guides
10 whimsical Etsy prints
Etsy is a great resource for everything handmade. The site receives hundreds of new products everyday from stores around the world and ships them right to your door. You'll find anything from prints, to furniture, to handmade clothing and accessories. Although Etsy is a great resource for fabulous and unique finds, it can be a little unwieldy to search through the multitude of products available on the site... so we've done the work for you! Here are 10 of our favourite budget-friendly prints. One of these prints in a pretty frame will beautify your space in no time!
Lovely Lady - Yellow Flowers by printmakerjenn, 8" x 10", $20 US.

Bold yellow flowers
This bold piece is printed on thick, velvety art stock and will bring a wonderful pop of colour to any room of your home.
A Little Colourful Bird by Dekanimal, 8.26" x 11.69", $20 US.

Patterned delight
The pretty pattern and warm colour palette in this piece make it a lovely addition to any room of your home. To complete the look, get a frame that picks up any of the fall-inspired colours in the artwork.
Orange, Lemon and Lime by ColorBee, 8" x 10", $40 US.

Citrus trio
This beautiful citrus trio is the perfect decorative piece for a kitchen space. You can purchase each piece individually, but having them as a set will make your kitchen area look put-together and chic.
Pink Calla Lily by Rocky Top Studio, 8" x 8", $25 US.

Pink blossoms
This piece is printed on heavyweight matte cotton rag fine art paper. It's filled with wonderful romantic colours that will look beautiful in a bedroom or bathroom.
Pink Champagne Tree by papermoth, 8" x 10", $18 US.

Pastel tree
This fun pink print is made using high quality pigment ink. Its whimsical and colourful nature is sure to brighten up your home decor.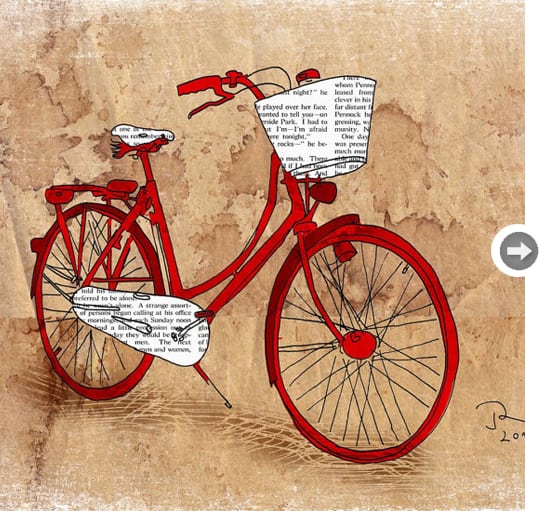 My Bike by Orange Optimist, 13" x 19", $49 US.

Off for a ride
This artwork was drawn by hand with a calligraphy feather and Indian ink. It was then digitally enhanced and printed on cotton paper. The mix of textures, bright colours and text make it a really unique and interesting piece. Place it in a red frame to brighten up a lobby or living room area.
Hoya Bella on Blue by RedBean Design, 8" x 10", $25.

Long-stemmed flowers
The composition of this print is stunning and the bright yellow will liven up any room of the house. For a spontaneous look, try hanging this piece next to other pieces with yellow accents.
Bright Landing by mdcreated, 11" x 14", $18 US.

Yellow birds
This print lends itself perfectly to a vintage inspired look. Placed in an ornate frame, it will bring a touch of old charm to your space.
Nature N04 by Eloise Renouf, 8" x 11.5", $25 US.

Leaf galore
The grey, sage and mustard colours in this piece will help make any space feel warm, cozy and chic.
Modern Decor Black and White Botanical Trio, Tessyla Prints, 11" x 17", $54.50 US
.
Flower trio
This
artwork
trio will enhance the look of your
living room
in a flash. Simply hang the pieces above a couch or a
bed
to create an elegant and sophisticated feel.