Buying Guides
5 kitchen essentials for winter
Buying Guides
5 kitchen essentials for winter
Thanks to dropping temperatures and a desire to stay indoors more, we tend to (as studies have said) eat more during winter. Some say a drop in temperature results in an increase in appetite for the simple fact that it keeps us warm. Others say the lack of sunlight leads to seasonal depression, which is countered by eating. Either way, we experience cravings and seek delicious
comfort food
. In light of this, I've come to realize there are a few key
kitchen tools
I need while we weather the winter blues.
1 Slow cooker
Is there anything more comforting than enjoying a meal that's been cooking for hours, developing rich flavours and a savoury warmth? This Cuisinart Multicooker can even sear, saute, roast, steam and sl0w-cook, each at the push of a button.
Williams-Sonoma, $264.17.
2 Indoor grill
One of the best things about summer is a good old barbecue. When I had a
barbecue
, almost all my dinners were made out on the grill. The flavour is simply unmatched. So when winter strikes and we hibernate for long cold months, I crave it even more. A quality indoor grill like the Hamilton Beach Searing Grill provides those high sear to lock in that incredible flavour to enjoy bbq not just all summer long, but all year long.
Hamilton Beach, $99.99.
3 Muffin pan
I love to bake in the winter -- not only does the heat of my oven warm my small bachelor apartment, but the scent is so unbelievably comforting when it's a cold chaos outside. I tend to get the most use out of my muffin pans because I use them to make
muffins
,
cupcakes
and brownies. The Cake Boss pans are durable and resist warping and has a quilted texture on the bottom to provide even heating.
Canadian Tire, $29.99.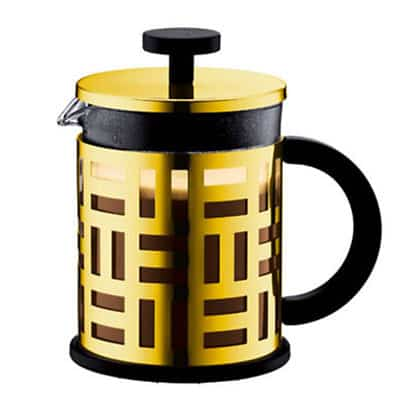 4 French press
No matter what the weather, I need my morning coffee. And the morning is when you venture outside the least. So a good French press is crucial for any caffeine-lover period, but particularly in winter when snowstorms wait for no one and it's hard to acclimatize to the windchill straight out of bed. I'm a fan of the BODUM Eileen French Press for the design and gorgeous hit of gold on my countertop.
The Bay, $59.99.
5 Coffee mug
My caffeine fix requires a vessel and this gorgeous gradient
rose gold
mug will do just the trick, I think!
Starbucks, $9.95.
What are YOUR winter kitchen essentials?