Buying Guides
Buying guide: Bar carts
Buying Guides
Buying guide: Bar carts
Inspired by the new vintage aesthetic seen on popular television series like
Mad Men, Downton Abbey
and
Boardwalk Empire
,
bar carts
have become somewhat de rigueur lately. Sophisticated yet quirky, stylish, practical and always ready to party, they're the key ingredient for a fabulous fete.
Photography by Angus Fergusson


Before you buy:
How are you going to use the cart? Do you intend to set up a full bar, or just a couple of bottles and some glasses? Will it stand in as a sideboard, or do you have an entirely different plan for it (see Other Uses, below)?
Consider style, finish, shape and decorative details. What's the decor like in the room where it's going? Do you gravitate toward modern or traditional styles? What's the look that you're going for? For example, retro '60s glamour or formal and refined.
How sturdy is it? Look for a cart that isn't too rickety (especially the vintage ones) if your plan is to accommodate heavier objects like bottles, books or even a table lamp.
Styling tips:
Top with a pretty tray (if the bar cart doesn't have one built in) to corral glasses and bar tools.
Show off your best glassware and serveware, as well as a pretty vase of fresh flowers, a pair of candlesticks and a book of delicious cocktail recipes. Often found with twoor three-tiered surfaces, bar carts offer a surprising amount of storage and display space.
Load up a bar cart with appetizers and drinks, grouping bottles according to size, type or colour, and you're ready to go – bar carts make organizing a get-together that much easier. Round ones with wheels are easy to incorporate into any space.

Other uses
:

Stock a bar cart with a table lamp and other bedtime essentials in lieu of a nightstand.
Place tubside with a stack of towels, some pretty soaps, candles and a glass of wine (it is a bar cart, after all).
Top with cookbooks, potted herbs and a bowl of fruit – it's a great kitchen cart.
Use one in your home office. Display supplies and books and keep a decanter, shaker and pretty glasses at the ready for impromptu Mad Men-style working cocktails (when you hit a creative wall).
Keep a bar cart next to your sofa; it makes a fun and functional side table.
Fill it up with your favourite books and place by a fireplace
Bar carts are available in so many different styles, finishes and sizes. Most have built-in casters, which make them totally transportable and multi-functional, able to move from wallflower to star of the party! Here are nine stylish options.


1 Stainless steel 1950s Milo bar cart
Although the bar cart shown above is in nickel, this cart also comes in antiqued brass. The bold style which has a frame in the shape of a large 'X' would make a great addition to a mid-century modern home. Restoration Hardware, $895 US.

2 1966 Collection porcelain enamel bar cart
Though it may seem a bit too pricey for a bar cart, it will definitely be worth your money. It's a chic style, with unusually large wheels for a bar cart - but actually allow the wheels to be spun at different speeds, making it much more accessible to be moved around the house.
Design Within Reach, $2,687 US
.

3 Ernest bar cart
Also available in all white, this ernest bar cart in pool, adds a pop of colour and
retro style
to any living or
dining room
.
CB2, $179
.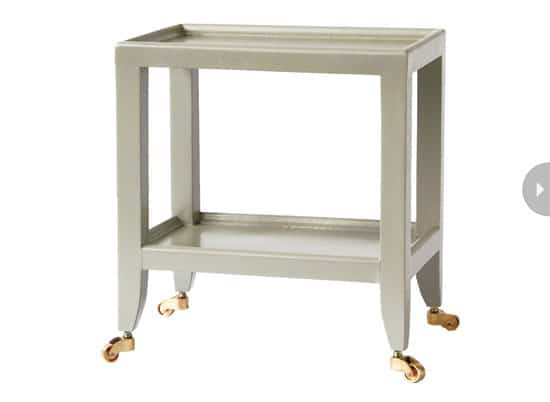 4 Go Go bar cart
This Go Go bar cart is in linen, but is also available in nine different colours - giving you plenty of options to be able to match with your other favourite home decor accessories! Dransfield & Ross, $363 US.

5 Mollin bar cart
A beautiful polished stainless steel and glass Mollin bar cart that will surely have your guests asking where you got such a fine piece.
Elte, $795.

6 Møller bar cart
In a solid walnut colour, this Møller bar cart can also be used simply as a serving trolley. You can mix it up and have both drinks and
elegant appetizers
on it at your next
cocktail party
.
Design Within Reach, $1,630 US.

7 Maple Hotel bar cart
This maple bar cart was designed and inspired by the antique hotel service carts. It also comes with the option of adding a personalized silver tray - for the extra touch.
Hickory Chair
,
$2,745 US
.

8 Libations bar cart
A brass-plated Libations bar cart in a simple two-shelf style that will make serving
cocktails
much easier.
Crate and Barrel, $699
.

9 Råskog bar cart
This Råskog bar cart in
turquoise
will definitely be the best buy because of its affordable price.
IKEA, $70
.