Buying Guides
Holiday book reviews
Buying Guides
Holiday book reviews
Whether you're looking for inspiration – or just a budget-friendly stocking stuffer of a book – here are five options guaranteed to offer plenty of ideas for stylish winter living. Best part? From decorating to entertaining, cooking to baking, bartending to gifting, all put a DIY spin on holiday verve. Get ready to be inspired!
For throwing a casual-chic party
French General Handmade Soirées: Simple Projects for Special Occasions
By Kaari Meng, Photos by Jon Zabala
Chronicle Books, $38.95

Who'll love this gift set: Avid entertainers who actually attach themes to their merry-making – during the holiday season and year-round.

Why: This book takes the guesswork out of throwing (seemingly) effortless get-togethers. From monogrammed napkins to stenciled buckets (for moules frites!) and stacked-vegetable centerpieces, the book gives you the lowdown on how to prop-style like a magazine pro. With recipes, lush photography and back-of-the-book templates, it's a great resource for hands-on types.

Sample wisdom: Eat a lot of shellfish? Make tea lights by adding wicks and wax to clean, empty oyster and clamshells. They may be tippy, so nestle them in a bed of sand set in a shallow tray or pan.


For cutting down on waste throughout the holidays
I'm Dreaming of a Green Christmas: Gifts, Decorations, and Recipes That Use Less and Mean More
By Anna Getty, Photos by Ron Hamad
Chronicle Books, $38.95
Who'll love this book:
Greenies who like to live well
Why:
There's no reason why cutting waste and protecting our natural resources can't be synonymous with preparing delicious meals, stylishly decorating for the holidays or exchanging great gifts! From evergreen garlands to Sweet Potato Christmas Enchiladas, recycled cashmere pillows to DIY wool wreaths, this book is chock-full of wonderful holiday inspiration, all of which religiously follow the three R's.
Sample inspiration:
Reduce harmful toxins in our environment by choosing a real, farmed tree, not a PVC fake. Reuse stylish gourmet and organic tea boxes by cutting their cardboard packaging into gift tags. Recycle old scarves, socks and sweaters into a wool wreath.

For baking perfect cookies
Cookie Swap: Creative Treats to Share Throughout the Year
By Julia M. Usher, Photos by Steve Adams
Gibbs Smith, $24.95
Who'll love this book:
Novice to intermediate bakers (and their appreciative friends and loved ones!)
Why:
From Christmas delights to garden party treats, wedding favours to kid-friendly Halloween projects, this book's got all your cookie/bar/nugget/biscotti/wafer needs covered. Recipes are presented within complete tabletop themes, so you can pick and choose how involved you want to get with your next baking session.
Sample wisdom:
If your baking sheets have sides, flip the sheet over and spoon dough onto the back. Cookies will bake more evenly, not to mention slide off the sheet easier when done!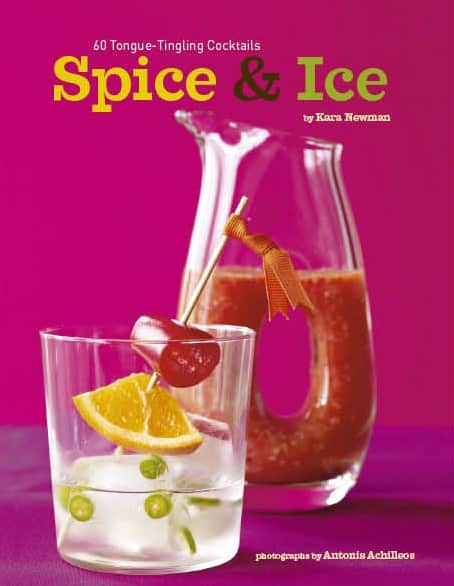 For adding some excitement to a cocktail party
Spice & Ice
By Kara Newman, Photos by Antonis Achilleos
Chronicle Books, $21.95
Who'll love this book:
Avid bartenders in search of the next big drink trend
Why:
The 60 tongue-tingling recipes in this beautifully photographed little book are tantalizingly perfect for cold Canadian winters. Want the perfect fireside tipple? Consider the Fiery Almond or Spiced Tangerine Caipirinha. The book's divided by the seasons, so if you get hooked on the magic of sweet-meets-spice this winter, don't worry: There are plenty of summerlicious cocktails for patio season, too.
Sample wisdom:
Balance your flavours. A spicy cocktail should be pleasurable, not an endurance contest! "Heat alone does not make a great drink. Use spicy ingredients to enhance and play off the other flavours in your drink," writes Newman. And keep breads and cheeses out on the table in case anyone needs to cut the heat level in their mouth, fast!

For holiday time with the kids
Snowflakes: Creative Paper Cutouts
By Cindy Higham
Gibbs Smith, $12.95
Who'll love this book:
Creative Type As who don't like to leave their cutout snowflake designs to chance

Why:
'Tis the season for snowflake crafts. You can decorate gifts, tabletops, even windows and mantels with cut-out snowflakes. If you're not a natural – or want to plan out exactly what each flake will look like – this book offers templates and how-to's.

Sample wisdom:
Get new life out of used wrapping paper by using it for snowflakes. Experiment with tissue and foil paper, too!