Buying Guides
indigo spring/summer 2014 collection: get excited
Buying Guides
indigo spring/summer 2014 collection: get excited
Last week, on a cold day so blustery I barely wanted to be outside, I trudged through terrible weather to attend one of my favourite bi-annual media events: the Indigo Spring/Summer Preview. And my long winter walk there was worth it - I walked in the door and was greeted by spring: pretty watercolours, fresh greens and blues, floral prints and alfresco eats with a nod to the South of France. It made me so excited for spring to hit stores, to breeze into my decor and then, finally, to warm up this cold weather outside. So here are the first things on my to-buy list this spring:
1. An Art Kit
In her presentation, Indigo CEO Heather Reisman asked why children stop colouring after a certain age. Why, when as kids we put paintbrush to paper without inhibition, do we become so insecure about our work as adults? Inspired by Heather, I've decided to resuscitate my inner arteest this spring – and after I buy this, all I'll need is a vacation and an inspiring view. Big Art Set, $32; Just Art Set, $16.
2. Stylish Shots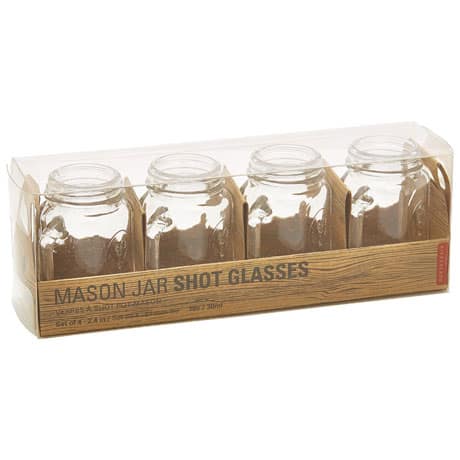 I haven't purchased a set of shot glasses since my university days, so I'm a bit overdue. And even though I'll probably seldom use them (I haven't really done shots since those same university days), it'll be nice to have a stylish set on hand the next time the occasion arises. Mason Jar Shot Glasses, $15.
3. Colourful Canisters
At the preview, these canisters were used to corral paintbrushes and pencil crayons, but I'll be using them to display freshly cut flowers, which are an absolute springtime staple. Ombre Canisters in Large Neon Yellow, $29.50, Medium Violet, $19.50 and Small Light Blue $12.50.
4. A Turquoise Timepiece
Time to tuck away those glitzy gold accessories in favour of colourful pastels. Turquoise is one of my favourite spring "neutrals" because it pairs well with almost everything in my closet. Silicone Watch in Aqua, $25.
5. A Few Inspiring Words...
I love this print. Cute and carefree, it's reminder to let yourself get carried away this spring, to give in to adventure and to say yes to things you usually wouldn't. Let's calling a spring attitude rebirth! Frame and print, inquire in-store.