Buying Guides
my favourite gift ideas from the one of a kind show
Buying Guides
my favourite gift ideas from the one of a kind show
I made my way to the
One of a Kind Christmas Show
this weekend to start my holiday shopping. After a few hours scouring the stands and looking at all the local handmade goods, I put together a list of my favourite
gifts ideas
. There were so many items to choose from - from knickknacks and gourmet treats to furniture and kitchen utensils - but I narrowed down my finds to 5 perfect holiday gifts. Here they are! Can you guess which ones I went home with?
1
Christmas cards
from
Flakes Paperie
- this postcard's design is absolutely stunning - it immediately caught my eye! It's also fun to send a postcard instead of a card and envelope this season - a little variety never hurts!
2
Dish towels
from
Bookhou
- these come in a variety of colourful patterns and will make the perfect gift for anyone who spends a lot of time in the kitchen.
3
Wall art
from
Pi'lo
- these cream canvases are adorned with a simple word and and 3D motif -choose this gift for anyone looking to decorate a
guest room
or baby room.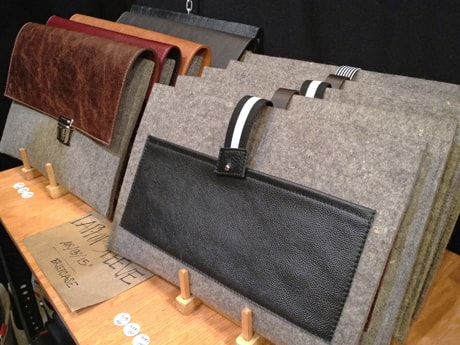 4
Laptop bags
from
C Comme Ca
- travel bags are not always very stylish, especially practical bags to carry your laptop. These are quite the opposite! They are stylish, light, and come in different colours.
5
Mugs and bowls
from
Blackbird Pottery
- I love the modern design of these and the small bowls look incredibly quaint when stacked on top of one another.
Have you started your holiday shopping yet?
Jennifer Bartoli is a Toronto-based food writer, photographer and recipe developer who grew up in Paris. Her longstanding passion for food took her to New York City, where she studied at the French Culinary Institute. For delicious recipes and more, check out Jennifer's blog Chocolate Shavings.