Buying Guides
editor's picks: one of a kind spring 2014 show
Buying Guides
editor's picks: one of a kind spring 2014 show
Yesterday morning I had the chance to head to the
One of a Kind Spring 2014 show
and boy was it worth the trip!! On top of all the regulars, there were 150 new artists at the show this year. Filling the Direct Energy Centre at Exhibition place, roughly 450 artisans total are showcasing their handmade creations - from jewellery to dresses, note cards to prints, specialty coffees to candy apples and much, much more. Check out some of the booths that caught my eye.
Mitani
The Mitani Booth was so precious! Marketing themselves as proudly Canadian (from Vancouver) and 'oh-so-chic', Mitani offers modern, eco-friendly bedding, bath and decor for children. Trisha Howander founded Mitani in 2011 and it has grown ever since. All the designs are created in house, and the patterns that you seen on this bedding are also all available as wallpaper. See below for a few more pattern options.
Mitani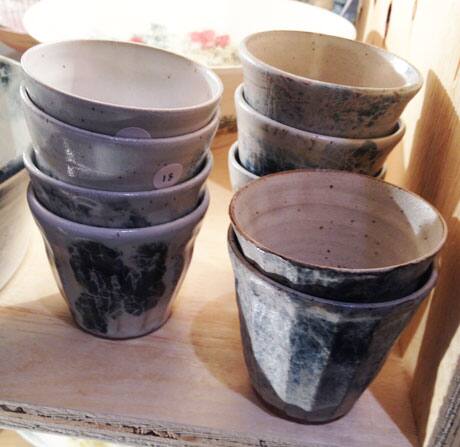 Makiko Ceramic
The above ceramic pieces are from Makiko Ceramic - The colouring and pattern was unique to each cup. There were many more beautiful bowls and dishes on display, but I loved the marble-like patterning on these.
bookhou
Bookhou
had some stunning graphic pouches, linens and bags - including the above tote. Love that leather handle detail.
Moon Rox
The first jewellery booth I stopped by and possibly my favourite from the whole show. Handmade in Toronto, Monique Chan mixes different metals and finishes with uniquely coloured beading and shapes. From bold statement necklaces to fun drop earrings,
Moon Rox
was definitely catching the attention of those passing by.
Versatile
I'm a sucker for witty things - so the captions on some of these coasters from Versatile were just too fun not to post. I can see these as being a great house warming gift. Above is a picture of just some of their display. Custom coasters are also available.
Senay Studio
Senay Studio was part of the ETSY section of the show this year. Senay took some of her original watercolours and had them made into various pieces, like these great pillows & fabric! Loving these designs - and so on trend with her beautiful watercolours!
Jenna Rose
This colour combination caught my eye from down the aisle. Love how the indigo blue fades away into a soft pink hue. This slouchy, hand-dyed tote bag from Jenna Rose is one of my favourite pieces from the show.
The iBakery
Last, but certainly not least, I thought I'd end this post on a sweet note. These adorable and super detailed cookies from The iBakery we're unbelieveable to see up close. The amount of detail on each cookie was mind-boggling. Here, Jacqueline showcased some Easter themed cookies, but really the sky is the limit as she can work with you to create pretty much any custom shape and colour that you'd like. Oh, and did I mention they are delicious!!
Hopefully everyone has a chance to get to the One of a Kind show this time around. A great way to spend an afternoon this weekend. Let me know what your favourite booths are - tweet me @missmlindsay