Buying Guides
places to go, people to see: 3d parti festival
Buying Guides
places to go, people to see: 3d parti festival
With a high concentration of quality
designer showrooms
– from Kiosk to Klaus, UpCountry to Studio b – King Street East has long been a destination for interior designers and decor enthusiasts alike. The tastemakers of the district have come together to create
King East Design District (KEDD)
, and the collective plans to announce itself with a bang: A neighboughrhood-wide contemporary design festival called 3d parti. The one-day event will be held this Saturday, September 20, from 11 a.m. to 7 p.m. and span from Church to Parliament along King and Adelaide streets, transforming the area into a life-sized public art gallery. Patrons can expect to be wowed by 15 art and design installations, including work by Toronto's own Thrush Holmes. Admission is free, but donations are encouraged and proceeds will go to Habitat for Humanity.
Thrush Holmes is a young artist that's already left a big impact on North America. His feminine-meets-machismo creations (like this stack of neon heart boxes and the abstract floral arrangement above) take traditional concepts like still life and reinvent them in a raw, exciting way. He will show a huge 10-by-10-foot installation, which will become a permanent public art display in the area.
TYPOE is the world-renouned artist behind the transformation of Miami's Wynwood art district. TYPOE's art is painted with a satire that walks the line between the glitz and glam of celebrity and the dark recesses of the urban underground. The project set at Bulthaup at King and Ontario streets will be the influential artist's first in Canada.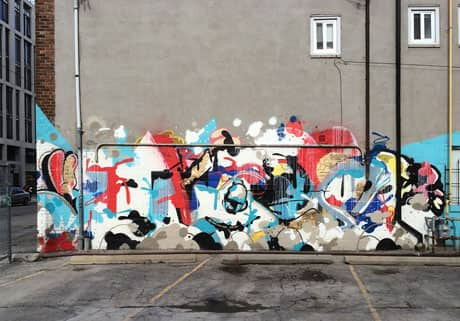 Toronto-based Pascal Paquette is fine art painter with an attitude, or so it would seem from the street art, graffiti and bold photography he also creates. Keep your eyes peeled for what he has in store in his exhibit just across the street from St. James Park.
If you're planning on attending, drop me a line below and let me know what display inspired you most.