Buying Guides
store spotlight: nesters & chatelet
Buying Guides
store spotlight: nesters & chatelet
At 2207 Queen Street East, in Toronto's Beach neighbourhood is a little store that is actually two little stores. Here you will find Nesters, and Chatelet, sharing a storefront. It was only recently pointed out to me, that this little store, is indeed two. Should you visit, you will see why I was surprised - both retail stores carry very complementary items to one another.
The store is filled with home decor items such as French antiques, lighting, as well as smaller gift items.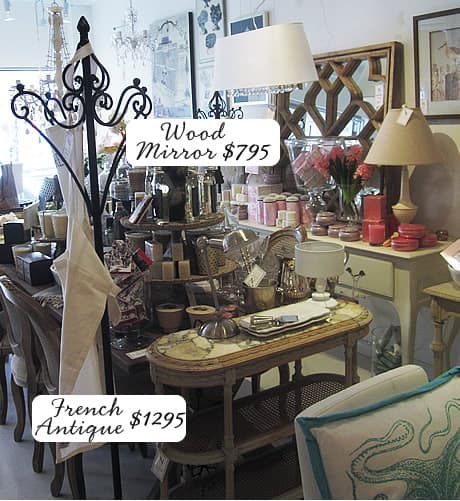 On the "Nesters" side, I fell for the two pieces above. I've always been a fan of the French antique look and weathered wood mirrors.
Still on the Nesters side, I really loved the little vignettes you could shop from. I often come here to find little gifts for special occasions, as the price points for the gift items are quite reasonable.
On the Chatelet side, my one-year-old son, Oscar, selected this sweet little box to give to his grandmother for Mother's Day.
Outside as I was leaving, I fell for the hilarious hooks and door stops on Chatelet's side. Not a fan of the metal look? As someone who has just discovered the joys of spray paint, I thought these would look awesome if sprayed in a bright colour, perfect for a cottage.
Lindsay Stephenson is our guest blogger who has her eye on all things fabulous in Toronto. When not scouting out the coolest stores and the fabbest finds in the city, Lindsay runs a graphic design business (Penny People Designs) and blogs about her life and home decorating projects on Aubrey & Lindsay's Little House Blog.