Buying Guides
the new ikea catalogue is here!
Buying Guides
the new ikea catalogue is here!
...And they've pulled out all the stops for the 60th anniversary of the cheap chic showcase, which is now officially the biggest publication in the world, hitting 198,000,000 copies. Insane! I'm loving the folkloric look that graces a bunch of the new merch -a reinterpretation of ethnic and global influences, loaded with embroidery and other hand-hewn details.
The star of this look, in my opinion, is the new
Klippan Navestad 2-seat sofa cover
($329). This is "Trad/Rad" in a nutshell, and turns the very cool lines of the Klippan into a stunning statement piece.
For a sweet, artisanal accent, look no further than the new
Birgit cushion
($20). Love those delicate embroidered flowers...
And another stunner from the
Birgit
line - this beautifully embroidered crisp cotton
duvet cover and pillowcase
set ($80/King).
Birds and botanicals flit across
Krokek
-- Â a new upholstery option for the
Skruvsta swivel armchair
($199).
You can't go wrong with a set of three
tea towels
for $6 -- especially when they're as vibrant as the new
Ellakajsa
prints. The very definition of cheap and cheerful!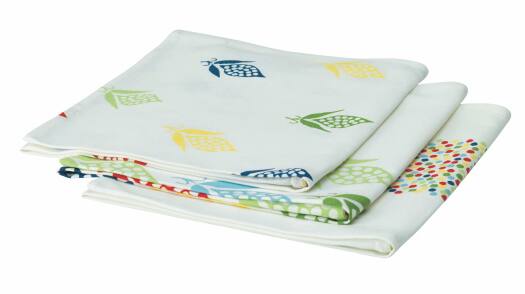 Cosy up to new
Birgit throw
- 100% wool, with a magic-carpet vibe courtesy of yet more decorative embroidery ($50).
And although it's not part of the "haute folk" vibe going on here, my top fave new find from the catalogue is the rather delicious new
Kivik
furniture series. I'm quite taken with the
Two-seat Sofa
(shown here in
Tranas light brown
, $769)... Looks so deep and comfy!
Have you had the chance to scour the savings yet? What's YOUR fave new find from the IKEA 2011 catalogue?
Follow Style Sleuth on Twitter!
Subscribe to Style Sleuth!