Gifts & Must-Haves
10 gifts for food lovers
Gifts & Must-Haves
10 gifts for food lovers
Foodies are often the easiest-to-please giftees on your holiday shopping list. They're open to trying new things, they're sure to enjoy your gift instead of stashing it in the garage and, best of all, they usually love to share! Here are 10 holiday gift ideas that will whet the appetites of the fabulous food lovers in your circle.


1 Salts
Avid chefs will adore a jar of fine sea salt from Artisan Sea Salts. Whether you opt for plain fleur de sel from the Mediterranean or Hawaiian red sea salt (perfect for roast pork! The red hue comes from red clay), or Salish (Northwest alder-smoked salt that adds a smokehouse flavour to meats, fish or tofu), your foodie will love it! In the mood to splurge? Pick the 12-jar sampler. The Ultimate Salt Collection, $138.50 US/12 jar set; individual jars from $10.99 US, saltworks.us
2 Metal winner
If that special someone in your life has recently developed a yen for cooking, use positive reinforcement to keep the table filled with moules mariniere or whatever else makes you happy. A starter set of copper-plated pots and pans will keep your aspiring chef motivated. Mauviel Cookware is renowned for its quality construction and longstanding roots in Villedieu-les-Poeles, Normandy, France. The pans are constructed of 2mm copper lined with stainless steel. The cast iron handles are riveted on for strength and a rustic finish. $774 per seven piece set, kitchenniche.ca
3 Good to go
Get the eco-conscious chowhound on your list a set of organically grown bamboo cutlery, so she can eat on the go without wasteful plastic cutlery. Bamboo is heat- and stain-resistant, won't absorb or impart odour and lasts for years. This set stashes neatly in a fabric holder handmade by a Thai/Burmese women's cooperative, making it perfect for desk, purse or briefcase. Organic bamboo utensil set, $24.95 per four-piece set and cloth holder, grassrootsstore.com
4 Rise & shine
Novice and expert bakers alike swear by silicone bakeware. It's easy to keep clean, stores nicely without any loud banging and clanging, offers even heat distribution and, of course, in fun colours channels a "Yay, it's baking day!" vibe. Shown, $7.99 each, available at Real Canadian Superstores across Canada; pc.ca for locations.
5 Fake paper cup
Eco-consciousness goes to work with this stylish and eco-friendly faux-takeout cup. Cleverly designed from white porcelain, with a silicone lid, it may not be sturdy enough to take on the road, but it's certainly perfect for the office coffee shop or a nearby Starbucks run. $20, mortimersnodgrass.com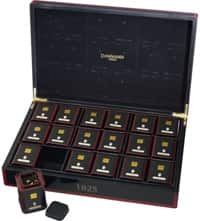 6 Haute tea
Upgrade tea from stocking-stuffer to feature-gift status with a coveted coffret of Dammann Freres loose teas. The ne plus ultra of premium teas, this new-to-Canada tea collection is the same one served at Paris' Hotel Ritz and Versailles' Trianon Palace. It's a splurge, but one guaranteed to please the most discerning of afternoon-tea aficionados. Toronto gourmet shop Pusateri's will ship Dammann to tea lovers from coast to coast. Loose Tea Sampler Coffret 1825 (featuring 18 30-gram tins of teas), $200, (or try individual 100-gram tea canisters, $18 each), pusateris.com
7 Salty & sweet
Champagne taste on a prosecco budget? No problem. Enjoy a sophisticatedly luxe but affordable confection with these luscious dark-chocolate covered caramels. The hottest bonbon in Italy, they're coated in dark chocolate and sprinkled with -- surprise! -- Sicilian sea salt. Unusual sounding, yes, but trust us: you'll be reaching for seconds and thirds. Dark Chocolate Covered Caramels With Sea Salts, $5.99 per package of 24, at Loblaws and affiliated stores across Canada; pc.ca for locations.
8 Liquid assets
As Nova Scotia condiment meisters par excellence Tangled Garden say, "A good supply of herb vinegars is like having a gourmet shop in your kitchen." Use them to perk up everything from sautéed veggies to homemade mayonnaise, sauces, marinades and salad dressings. Or just swirl them with olive oil for an easy bread dip. From the delicately aromatic Rose Petal & Lavender Vinegar to fiery Hot Lemon or Hearty Spice, these vinegars will delight anyone on your list. Handcrafted in the Annapolis Valley. $12 per 500 mL bottle, $25 as shown with wooden gift box, tangledgarden.ns.ca
9 Water as art
Even municipal tap water takes on a hedonistic quality when it's decanted from a beautiful glass-and-stainless-steel pitcher boasting a filter of Japanese louseki stones and Binchotan charcoal. Classier and more eco-friendly than disposable water filters, the insert will remove odours while creating pristine, mineral-rich drinking water. Created by Design Within Reach, it's the perfect fridge-to-table conversation piece for design-loving water boys (and girls). After six months of service, the spent stones can go into your garden and the charcoal can join your compost bin. $85 US water pitcher (includes one set of stones and charcoal), $25 US per extra set of stones and charcoal, dwr.com
10 Feast for the eyes
Whether your foodie is into what's hot or what's haute, a great cookbook's always a keeper. Gwyneth Paltrow and Chef Mario Batali team up in the extra-yummy Spain: A Culinary Road Trip. Who knew that the renowned yoga and macrobiotic fan was also a lover of jamòn and paella? And for the more esoterically minded lover of "molecular gastronomy," A Day At elBulli: Best Chef in the World: Ferran Adria, Best Restaurant in the World: elBulli will provide hours of glee. Caramelized trout roe, anyone? $37.95 (Spain) and $49.95 (A Day at ElBulli), available at Chapters and Indigo stores or online at chapters.indigo.ca.