Gifts & Must-Haves
10 unforgettable Father's Day gift ideas
10 unforgettable Father's Day gift ideas
Gifts & Must-Haves
10 unforgettable Father's Day gift ideas
Not sure what to get the man who seems to have everything and wants nothing? Well, sometimes little things will do the trick. Go for something that elicits a smile or takes him by surprise. Or search out the useful, novel or nostalgic gift. Whatever tricky tactic you choose, you're bound to get a good reaction! Here are 10
Father's Day gift ideas
that may inspire you.
1 Grilling skewers
Most men love to barbecue. So make grill time even more fun with shiny tools of the trade like these stainless steel skewers.
Williams-Sonoma, $48 (set of 4)
.

2 Novel gadget docks
This novel iPad and iPod gramophone docks marries today's gadgets with the historic speaker design and makes an eye-catching piece for the old man's
home office
.
Restoration Hardware, $249 - $299
.

3 Stylish luggage
Whether he hits the road or the gym, dad will look super stylish with this waxed canvas tote. Ruggedly designed and easy to clean, it makes a smart and sensible gift.
Owen & Fred, $208 US
.

4 Bar tools
This antique-like wine pull is a small, simple, but utterly elegant piece that any
wine connoisseur
would appreciate.
Pottery Barn, $19.10
.

5 Luxurious robe
Even dads enjoy that pampered feeling. Make his downtime a little more comfortable with this luxuriously plush robe.
Restoration Hardware, $69
.

6 Nespresso® machine
Is dad a workaholic? Equal parts early bird and night owl? Or perhaps he just loves a good cuppa coffee? Either way, an automatic espresso maker that dials up singles, doubles and triples, and comes with a handy frother, is sure to be a hit.
Crate and Barrel, $317
.

7 Portable grill
If dad loves cooking outdoors, indulge the passion by making things portable with this cast iron hibachi. Picnics and camping will never be the same!
West Elm, $116
.

8 Spice rubs
For the man who's got all the barbecue tools of the trade, kick things up a notch with a variety of spice rubs like these. He'll love showing off his culinary prowess even more.
West Elm, $8.50 each
.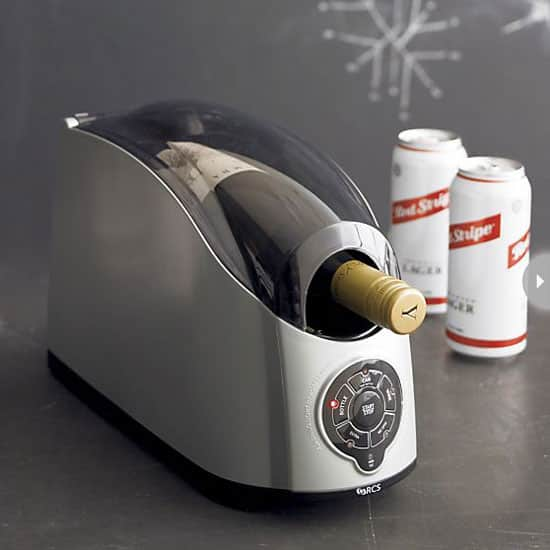 9 The ultimate cooler
It's summer – the perfect time to kick back with a cold one, be it beer, juice or soda. Prefer a
chilled glass of wine
or bubbly? This beverage cooler does it all – zapping drinks from room temp to ice cold in a matter of minutes.
Crate and Barrel, $114.51
.

10 Novel drink accessories
Dad can literally have his scotch 'on the rocks' with these novel 'ice cubes' made of sandstone and chilled in the freezer just like ordinary ice.
Owen & Fred, $20 US
.
Find more great gifts for Dad with these 10 fantastic Father's Day gifts
.