Gifts & Must-Haves
11 wedding gifts the bride and groom will love
11 wedding gifts the bride and groom will love
Gifts & Must-Haves
11 wedding gifts the bride and groom will love
Everything about
wonderful weddings
is exciting: the dress, the ceremony, the vows, the first dance, the socializing, the gifts. If you're a guest at a wedding this year, it's time to start thinking about what wedding gift to buy the lucky couple. There's no doubt they'll enjoy a gift from their registry, but it's also OK to think outside the box and present your friends with a gift you know they'll love. Here are a few routes to take when deciding on a wedding gift for the bride and groom.
Cash
It's OK to give the bride and groom money. Lots of couple appreciate cash gifts and use them toward important expenses like a down payment on a home, a
home renovation
or their honeymoon.
Contribute to a big-ticket item
Go in with some friends and buy the couple something big for their home, like a barbecue, a piece of
bedroom furniture
or a piece of beautiful, original art.
Gift certificate to a local restaurant
Who doesn't love a night out on the town? And after all the chaos that comes with planning a wedding, the couple will need a date night to celebrate each other.
A pass to an art gallery or museum
A yearly pass to a local museum or art gallery will encourage the couple to get out and spend some time together, and it's a gift they can enjoy over and over again.
Cooking classes
Treat the couple to an experiential gift like a cooking class! Find something unique that will teach them how to cook a food they don't often cook -- like Indian, Vietnamese or vegan cuisine.
Prefer to get them something more tangible that they can enjoy for years to come? No problem! Here are
11 beautiful wedding gift ideas
any bride and groom will love.
Veuve Clicquot & Edge champagne flutes
Give the bride and groom what they need to toast their nuptials once the excitement of the big day has died down, and they have a moment to themselves. Pair a bottle of Veuve Clicquot Ponsardin Brut (available at your local liquor store) with six lovely, modern champagne flutes. Be sure to include a fun guide on
how to open a bottle of champagne
.
Crate & Barrel
,
$16.25 each
.
iPal Tivoli radio
Everyone needs a good radio, and the days of countertop ghetto blasters are long gone. Treat the lovely couple to the sleek and sexy iPal Tivoli radio; it's something they'd be proud to display on
open shelves
. Not only does this compact radio produce an unbelievable sound, but you can also use it to play music from your iPod or computer. The iPal runs on a rechargeable battery and would make a
great office gadget
. Plus, it's portable.
Tivoli Radio
,
$250
.
Eclectic silver plated candlesticks
These candlesticks, both dramatic and classic, would make a great addition to anyone's
dining table
or mantle top and a
stylish way to illuminate your home
. Wrap a few up with a selection of beautiful beeswax candles.
Pottery Barn
,
$31 - $101
.
SodaStream fizz sparkling water maker
Imagine being able to make your own carbonated water
drink recipe
in your very own kitchen? Think how delighted the bride and groom will be by doing just that with SodaStream.
Williams-Sonoma
,
$150
.
Alessi kettle
This popular Alessi kettle is a classic, and any couple would be happy to show it off on their stovetop or
afternoon tea
. You could also opt to include the super cute matching creamer and sugar bowl to
make the perfect cup of tea
.
Alessi
,
$180
.
Panasonic Lumix DMC-LX5 camera
The happy couple will want to document their life together, so why not give them the tool to do just that. They'll love the Panasonic Lumix. It's compact and easy to carry around, and is definitely a high performer. Photography enthusiasts and novices both will love it after reading a few
home printing tips
.
Blacks
,
$500
.
Hudson Bay Company collection multistripe point blanket
Every Canadian needs to own
beautiful blankets
, especially an iconic Hudson Bay wool
blanket
, but some folks might not want to splurge on it for themselves. Treat your friends to a luxurious piece of Canadiana -- they'll be happy snuggling under its warmth on the couch.
The Bay
,
$275 - $474
.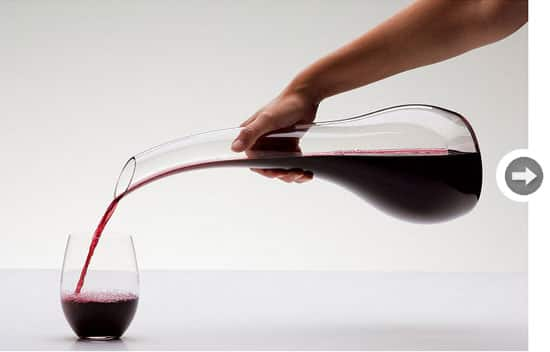 Ridel Cornetto decanter
Your pals don't have to be wine aficionados to own their own decanter -- it's good practice to decant any
winning wine
, and it will improve even a cheap bottle by softening the tannins. Pair this Ridel decanter with a good bottle of red, or some beautiful red
wine glasses
and savour
divine decanting
.
Ridel Canada
,
$210
.
Marble cheese knives
These cheese knives will make the couple's serve ware collection complete. The white marble handles are classic and will go with any
elegant dining room
decor. Pair with a gift certificate to a local cheese shop -- or even a cheese tasting or
serving tray
-- so the lovely couple can get inspired to put your gift to use.
Pottery Barn
,
$50
.
KitchenAid artisan stand mixer
No
chef's kitchen
is complete without a good mixer, so your friends will be delighted to receive a KitchenAid stand mixer -- the Cadillac of mixers. There are a variety of colours to choose from, but if you're not sure what colour to select, you can count on classic stainless steel being a safe bet.
Williams-Sonoma
,
$300
.
Custom heart tree wall art
Treat your friends to a custom piece of playful
artwork
featuring their names embroidered in a tree. What a perfect, personal way to signify their everlasting love. Remember to have it shipped with enough time to have it professionally framed. You'll want to present it to them framed and ready to hang. This also makes a good
bridal shower gift idea
.
Etsy
,
$32
.
Check out our 10 never-fail wedding gift ideas for more inspiration.