Gifts & Must-Haves
8 gorgeous gift ideas for home decor lovers
Gorgeous gift ideas for decor lovers
Gifts & Must-Haves
8 gorgeous gift ideas for home decor lovers
Find the perfect present for your home decor obsessed friend or family member.
Got a decorista on your Christmas shopping list this year? If you're shopping for someone who loves all things related to decorating and design, you'll appreciate this thoughtfully curated list of gift ideas. From beautiful, purely decorative items to gifts that are both pretty and practical, these suggestions are just what you're looking for!
1 Maze Print Wool Throw: You can just never have too many throws, especially in the dead of winter when everyone in the family is looking for something warm to snuggle up with. Give the gift of warmth this Christmas with this graphic pattern blanket that is handcrafted with 100% all natural wool. Maze Print Wool Throw, Bambeco, $195.
2 Gold and White Decoupage Trays: Looking for a gorgeous gift that looks more expensive than it is? These beautiful decoupage trays can be used to store anything from jewelry to keys and mail, to help keep clutter at bay. And at just $19 each, they're an economical and easy gift giving idea! Gold and White Decoupage Trays, West Elm, $19.
3 Paxton Ceramic Blue Vase: A truly beautiful vase is one that looks just as good empty and on display as it does filled with a bouquet of fresh blooms. This ceramic vase has a marble effect that makes each piece different, one from the next. The perfect hostess gift to take to your next Christmas party! Paxton Ceramic Blue Vase, Indigo, $29.50.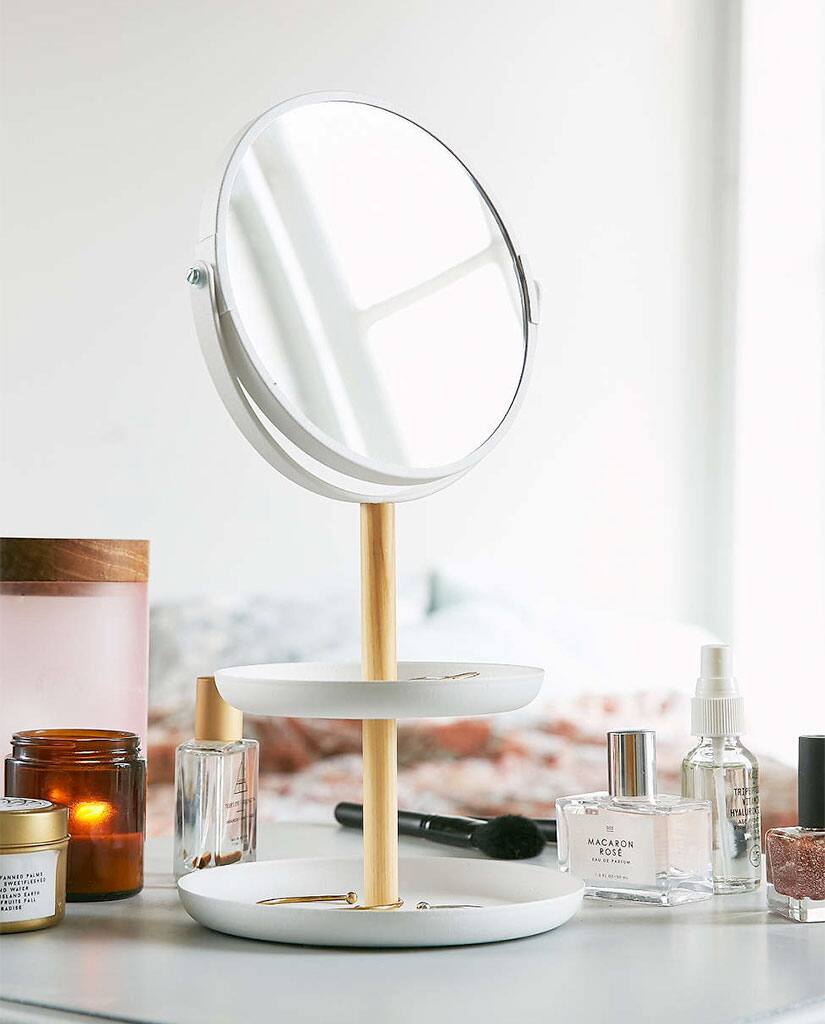 4 Tosca Tiered Catch-All Dish With Mirror: A vanity mirror is not just a practical gift; this one makes a lovely decorative item for the bathroom countertop, too. Plus, it's got tiered catch-all dishes to store odds and ends like jewelry and makeup essentials. Tosca Tiered Catch-All Dish With Mirror, Urban Outfitters, $39.
5 Preserved Potted Boxwood Cone Topiary: This potted boxwood topiary will make a gorgeous addition to someone's Christmas decorating this year. They'll be thrilled to put it on display year after year and you can rest assured they'll remember you each time they do. This is a gift that just keeps on giving! Preserved Potted Boxwood Cone Topiary, Pottery Barn, $49.50.
6 Kieran Hanging Brass Frame: These days, everyone's got a ton of photos but they stay locked in their prisons on smartphones and digital cameras. Give someone gorgeous frames like these brass ones and encourage them to put their beautiful photos on display. Better yet, print out photos and place them in the frames before you gift them. Kieran Hanging Brass Frame, Wayfair, $59.99 for set of 2.
7 Monogrammed Glass Cloche: There are candles and then there are candles. These gorgeous gold candles come complete with a handcrafted glass cloche that has a single initial monogram, perfect for personalizing this gift for someone special. Monogrammed Glass Cloche, Horchow, $45.
8 Tea and Coffee Canisters: Help someone add some style to their kitchen countertop with these modern stoneware coffee and tea canisters. In chic black and white with a neutral wooden lid, they'll seamlessly blend into any decor and more importantly, will make sure that these two morning essentials are always within easy reach. Tea and Coffee Canisters, Crate and Barrel, $9.95 each.