Gifts & Must-Haves
Christmas gift guide: 10 gifts under $10
Christmas gift guide: 10 gifts under $10
Gifts & Must-Haves
Christmas gift guide: 10 gifts under $10
Christmas gift giving is often wide-ranging – from your oldest, dearest friend to the person whose name you've picked in the Secret Santa draw at work …who you barely know. You probably have to buy for peripheral, but important people like your children's teachers or sporting coaches. And depending on the size of your family and friends list, it can add up quickly. Thankfully you have options. Here's a list of beautiful
holiday gifts
under $10 that let people you know you care without breaking the bank.

1 Snack server
A practical but lovely
gift for the hostess
, this white porcelain dish comes in handy when there are lots of little nibbles and dips to serve up.
CB2, $9.95
.

2 Holiday mug
When winter sets in, everyone loves a mug of their favourite
hot beverage
. Holiday mugs like these are perfect for the home and office alike.
Starbucks, $7.45
.

3 Gift wrap
Sometimes it's the little things. Save people time and money with the gift of striking monochromatic
gift wrap
like this that can be used at Christmas and all year round.
Crate and Barrel, 4.97 – 7.49
.

4 Decanter
For the wine lover, this inexpensive, yet chic decanter is a great gift idea. It will actually have them wondering if you spent more than the agreed upon limit on their gift!
CB2, $8.95
.

5 Note cards
True, we live in the digital age, but people still like the option of sending personalized, hand-written notes. These
note cards
will do the trick quite nicely!
Indigo, $9.10
.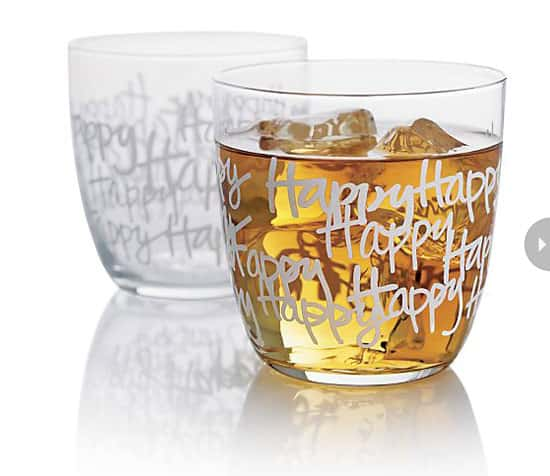 6 'Happy' tumbler
Give the gift of 'Happy' with this whimsical
cocktail glass
that'll bring a smile to anyone's face.
Crate and Barrel
, $3.71.

7 Pretty candle
This
candle
makes a pretty and fragrant gift. It burns for 25 hours filling the room with the scent of goji berries and tarocco oranges.
Chapters, $9.00
.

8 Martini glasses
We love the playfulness of these chic, stemless
martini
glasses. And at this price, you can afford to give a set of two. There are several patterns to choose from.
CB2, $3.95
.

9 Chocolate biscuits
Decadently divine, these
dark chocolate
biscuits are a temptation few can resist. On the off chance that the recipient is not a fan of dark chocolate, there are
milk chocolate
, hazelnut praline and raspberry options as well.
Godiva, $8.50 for 12 pieces
.

10 Room scents
Think modern potpourri. These fragrance beads are meant for small spaces like apartments or offices. Regardless of where they're placed, the smell of apple pie will fill the air and
create a home fragrance
.
Pier 1, $4.48
.