Gifts & Must-Haves
Father's Day gift guide
Gifts & Must-Haves
Father's Day gift guide
Picking the perfect gift for Dad on Father's Day can be tricky. Do you go with the ultra masculine gift of a barbecue or treat him to a little bit of personal bling? Perhaps he's aching for the newest electronic gadget or something to relax in at the cottage.
Whether you're looking for a gift for your dad, grandpa or husband, our Father's Day gift guide will help you find the best gift for the man on your list.

1 Hammock
Treat Dad to the gift of relaxation. Perfect for the backyard or cottage, a hammock allows him to lay back and take a break at the end of the day. $149 US, Pottery Barn.

2 Personalized BBQ brand
For the male foodie in your life, this personalized meat brand will make them feel like a real chef. Available in single to triple initials, the brand is perfect for steaks or other barbecued meats. Starting at $40 US, Williams-Sonoma.

3 iPod Touch
Everyone loves the gift of music, and Apple iPod Touch is the coolest mp3 player on the market. Give a personal touch to his Touch by adding a playlist of his favourite songs or by downloading some apps you think he'd like. Starting at $259 for 8GB, Apple.

4 Barbecue
Want to spoil Dad with a barbecue but don't know if it's in your budget? Check out Weber's Performance charcoal grill, with all the conveniences of a heavy-duty barbecue, but much more attractive and surprisingly affordable. $330 US, Crate and Barrel.

5 Personalized beer pitcher
If you're opting for a barbecue or steak brand, why not add in a beer pitcher as well? This etched glass pitcher from Pottery Barn ensures that no one mistakes which drink is Dad's. $15 US, Pottery Barn.



6 Leather trio
Make Dad the coolest guy on the block this year with ultra-swank Germain hotel chain's leather goods. The passport case, cardholder and travel case offer nothing but the essence of luxury. $150, Collection Germain.








7 Moustache glasses
These glasses with etched moustaches will surely bring laughter to the male jokester in your life. Perfect for scotch or a morning glass of orange juice (however, the seller does have them available in different glass sizes). $34 US for 2, Bread and Badger on Etsy.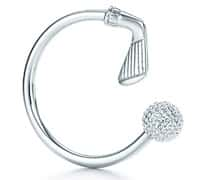 8 Golf keychain
Father's Day is a time to give Dad something he wouldn't buy for himself, so why not treat him to some sparkle? This silver key ring from Tiffany & Co. would add a whole lot of bling to any golf bag. $150 Tiffany and Co.







9 LCD TV
Has he been extra specially good this year? Surprise Dad with a simply sleek LG TV. With nearly twice the resolution of conventional HD TV, there's no better way to say 'thank you' this Father's Day. LG70 Series, Lg Electronics.





10 Picture book
Bring your digital images to the printed page this Father's Day with HP's Snapfish. An online service that puts your pictures into a book, Snapfish also lets you choose different sizes and bindings to suit any need. Visit website for pricing, Snapfish by HP.

11 Lokkii portable grill
Perfect for the grilling man on the go, the Lokkii Portable Smart Grill works just as well as a standard barbecue. This is a great gift for a Dad who loves to go camping and comes in a compact carrying case for easy travel. $50 US, Lokkii.





12 Gourmet BBQ sauce
A grill like the Lokkii isn't complete without the perfect barbecue sauce to go with it. This sauce from famous BarBersQ restaurant in Napa, California, uses fresh and sustainably produced ingredients to get its delish Memphis-style barbecue taste. $13 US a bottle, Williams Sonoma.








13 Weber's Way to Grill
While you're at it, complete your grill pack with Weber's fab Way to Grill book. Filled with great grilling recipes and step by step images, this book is a perfect way to round off a gift basket for your foodie father. $33, Chapters and Indigo Book & Music. (For a sample glance at the book, check out our Recipe section)





14 Flip Ultra HD
The coolest thing to hit the video camera market in years is now available in HD and is an awesome gift idea for Father's Day. Handheld and ridiculously hot, the Flip Ultra HD holds 2 hours of video footage on its internal memory. Is Dad farther than a car ride away? Send him a Flip Ultra with a video recorded message from you for an 'ultra' personal way to say "I love you". $250, Flip. **Want a chance to win a Flip Mino (an even smaller version of the Flip Ultra)? Check out the Tech Style blog for details**






15 Muskoka chair
No summer is complete without the easy relaxation of a Muskoka chair. Give Dad an all-weather one made out of polymer so that it lasts him for years to come (the company offers a ten-year warranty on craftsmanship!). See site for pricing details, Element Square.