Gifts & Must-Haves
Father's Day gift ideas for under $100
Father's Day gift ideas for under $100
Gifts & Must-Haves
Father's Day gift ideas for under $100
Show dad how much you appreciate him by getting him the perfect gift this Father's Day. Finding a gift that suits your dad's interests and personality can sometimes be difficult, especially when you're on a budget. To help, we rounded up some gift ideas that are sure to make his day easier and more enjoyable, and who wouldn't love that? Here are nine great Fathers Day gift ideas that are bound to suit his personalty and your bank account!



Canvas electronic cases
Give dad a stylish travel case for his electronic devices. These soft, brightly coloured cases are made to protect phones, e-readers, tablets, laptops with their various sizes and soft padding. These cases are also monogrammable to add a personalized touch! West Elm, $20.40.

Vinyl dry erase calendar decal
This large, peel-and-stick calendar is the perfect wall decor to help dad get organized! This easliy-removable decal is great for a home office, and is availabe in different sizes. Decalsmurals on Etsy, $64.99.
Adjustable floating frames
Let dad show off his artistic side with these industrial style floating frames. The frames have a gun-metal finish that can
display artwork
or favourite photos on both sides of the frame. The stands are adjustable to raise or lower your pictures to a preferred height.
West Elm, $52.61 - $74.08.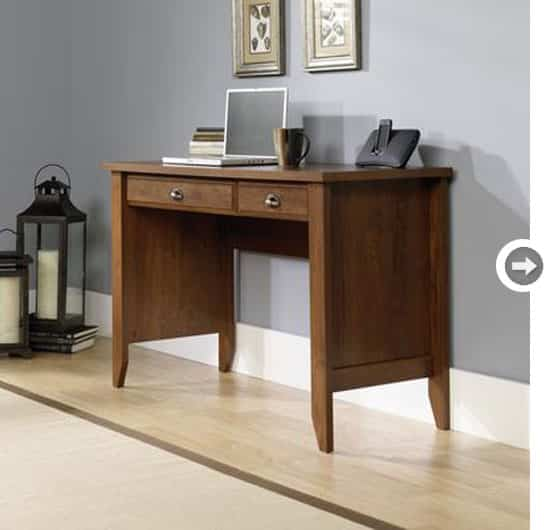 Sauder Woodworking, Co. computer desk
Create a new
home workspace
for dad with this warm-oiled oak finsihed desk.
Home Depot, $69.

Alarm clock docking station
Keep this retro double-belled alarm clock and iPod charger on dad's bedside table. The alarm clock comes with a snooze feature and built-in, omni-directional speakers that provide exceptional sound while you get ready for work and listen to your favourite songs. Crate and Barrel, $64.35.
Organic pleated towels
Give dad his own set of personalized
bath towels
to help him relax and pamper himself after a long day at work. These 100% organic cotton towels have a simple and masculine design that are perfect for monogramming.
West Elm, $6.44 - $20.40.

Display modular vinyl storage
Gather all of dad's old records and suprise him by displaying them in these steel-rod stylish shelves. Each shelf holds 20 vinyl records. CB2, $59.95.
Stainless steel sliding skewers

Get dad a set of heat-resistant, stainless-steel skewers to make
barbecuing
more enjoyable and efficient. These skewers are made to hold large portions.
Williams-Sonoma, $60.50.

Toscana leather journal
Hand crafted in Florence, Italy, this sleek and sturdy notebook is perfect for on-the-go workdays. The notepaper is bound in natural leather and is sure to keep dad organized while away or in the office. Pottery Barn, $52.67.