Gifts & Must-Haves
That's a Wrap!
Gifts & Must-Haves
That's a Wrap!
Purchasing the presents is only half the battle—uh, we mean fun! Not to worry. With just a bit of imagination, the possibilities are endless. Take inspiration from these easy-to-follow examples.
1. HodgePodge
ALL NATURAL: Coloured string, a wooden tag, a letter, and some seasonal holly enhancement.
COPPER LEAFING: Apply metal leaf adhesive to the cardboard and let sit 15 minutes. Then apply copper leaf, brushing lightly to remove any excess.
QUICK AND EASY: A craft paper tag and stylized letter united by a leather string.
METAL TAG: Take permanent marker to a metal tag and glue it to paper covered in little copper cardboard discs.
BIG BELL: A squirt of spray paint for the bell, slap a letter onto it, and that's all, folks!
BLOCK LETTER: Perfect for easily ID'ing the recipient of your gift, plus it's reusable. Go ahead and paint it, should the fancy strike.
PLAYFUL: A string, a tag and an adorable little wooden clothespin to hold it all together.
Take it to the next level with a custom-framed pic of the gift-getter.
2. Gift Cards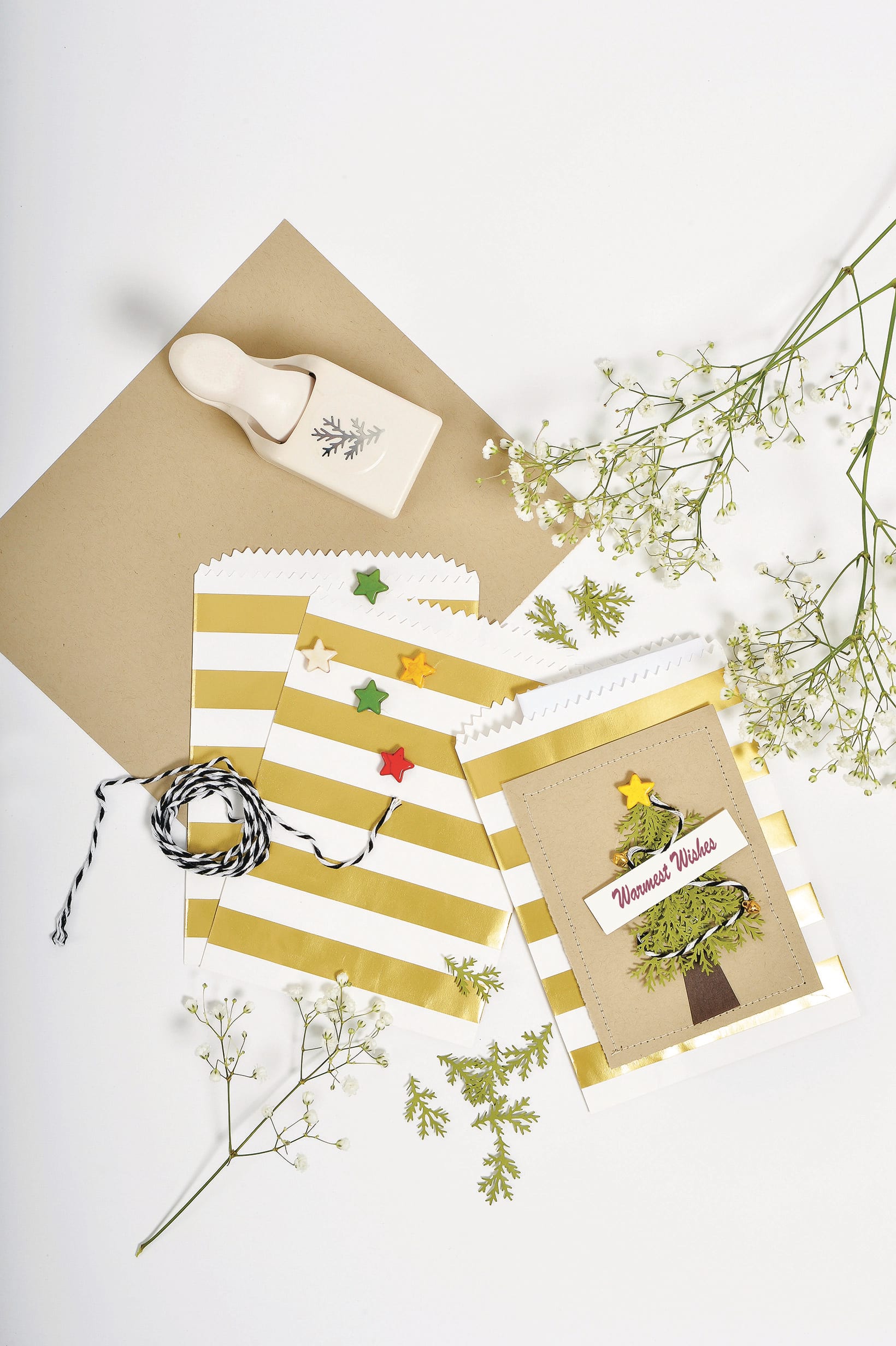 Cut the cardboard as big or small as you want it and machine sew a seam. For the tree, cut the trunk and branches from brown cardboard, then glue everything together. Adorn your tree with ornaments with a little hot glue. Top it off with handwritten holiday wishes or print them on cardboard with ink and a rubber stamp.
Is there anything a glue gun can't do? Easily create these cute, custom tags.
3. Retro
Wrap your presents and hold them together with grosgrain ribbon, creating fabulous DIY bows using any excess. For the tag, use a rubber stamp and ink to print the pattern, hole punch the shape and attach to your desired gift.
4. Craft
After carefully wrapping your present with craft paper and ribbon, use a paint pen to delightfully scribble, draw out a pattern or jot down your holiday wishes. You can also use coloured pencils. A touch of (real or faux) fir gives your gift that natural feel.