Gifts & Must-Haves
The best store-bought chocolates to grab and gift this Valentine's Day
Gifts & Must-Haves
The best store-bought chocolates to grab and gift this Valentine's Day
Before you settle for any humdrum heart-shaped box of chocolates from your local grocery store, check out our roundup of the prettiest and most delectable Valentine's Day treats that will make your loved ones love you even more (should you choose to share with them).
Valentine's day and chocolates go hand-in-hand. It's a classic combination that we look forward to year after year—but that doesn't mean February 14 has to be quite so predictable. Treat your sweetheart or a few of your No. 1s (or yourself—we won't judge) to some artisinal chocolate delights that are bound to impress. From oversized hearts garnished with dried raspberries to the most colourful box of bonbons you've ever seen, these treats are guaranteed to score you some major brownie chocolate points this year.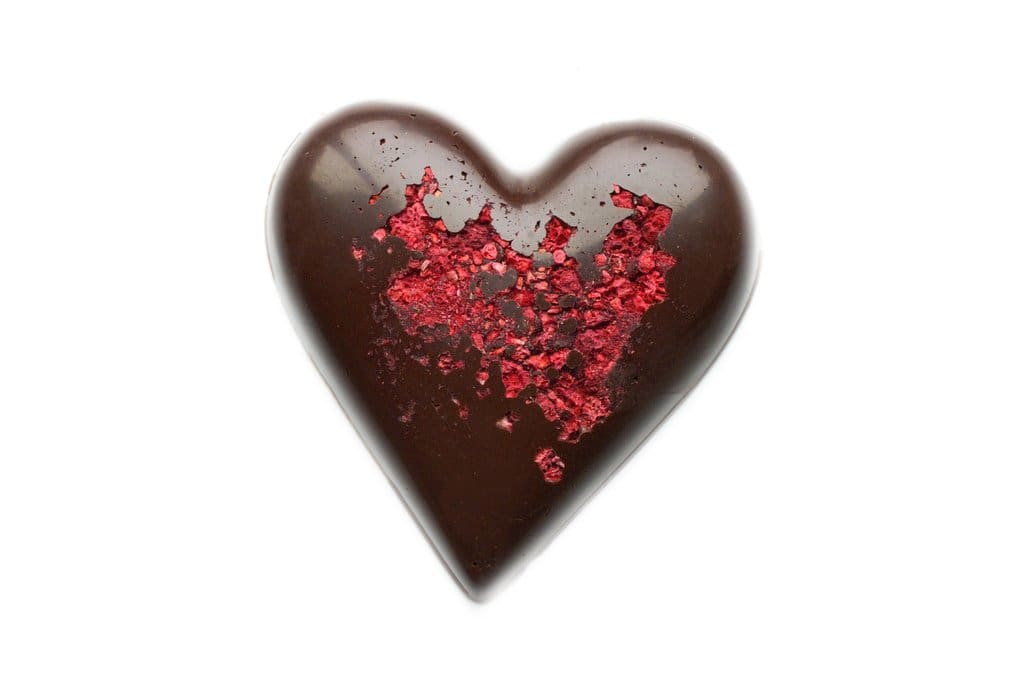 1 Raspberry Dacquoise Heart
Soma, the Toronto-based chocolate company, has one simple concept: Find new ways to enjoy chocolate. Cue the raspberry dacquoise heart. It's filled with hazelnut milk chocolate, boasts a layer of almond Dacquoise—a chewy and crunchy nutty meringue—and is topped with tangy raspberries.
Raspberry Dacquoise Heart, Soma Chocolate, $20
2 Val Dark Chocolate 66%
Every chocolate bar from chocoMe is sprinkled with "the best toppings from 20 countries around the world." The most impressive one has to be the Val Dark Chocolate 66%. It's topped with sour cherry pieces, crystallized rose petals, and genuine 23 karat gold crumbs, making it the ultimate Valentine's Day chocolate bar.
Val Dark Chocolate 66%, chocoMe, $24
3 Bonbon Box of 18
Known for its modern dessert creations, it's no surprise Nadège Patisserie offers a creative take on the classic box of chocolates. Coming in three different sizes, each box includes a stunning assortment of colourful chocolates in a variety of blended flavours—some are more classic, like blonde chocolate and salted caramel, and others are a bit more exotic, like coconut, passionfruit, mango and caramel ganache.
Bonbon Box of 18, Nadege Patisserie, $42
4 Mini Hedgehogs Heartfelt Box
For a classic, cliché-but-better option, go with Purdy's. This Canadian chocolatier was founded in 1907 and is still a Canadian favourite. You can't go wrong with a box of their best-selling hedgehogs, which combine milk chocolate with hazelnut gianduja.
Mini Hedgehogs Heartfelt Box, Purdys, $21
5 Sparkle Pops
Sugarfina is a luxury candy boutique for adults but they sure know how to make us feel like we're kids in a candy store again. These crunchy chocolate balls are filled with popping candy for a real party in your mouth.
Sparkle Pops, Sugarfina, $8
6 White Chocolate with Strawberry & Rose Petals
Can't decide whether to give chocolates or flowers for Valentine's Day this year? That's easy: Give both! This gourmet chocolate bar combines tantalizing white chocolate with pieces of strawberry and edible rose flower petals for a truly unique flavour.
White Chocolate with Strawberry & Rose Petals, Sweets Canada, starting at $14
7 La Maison Assorted Chocolate Truffles
If you can't afford to whisk your sweetheart off to Paris for the weekend, then bring a taste of Paris home. These handcrafted European-style truffles from La Maison du Chocolat, an iconic chocolate shop in Paris, are sure to make any chocoholic swoon. The beautifully packaged collection features a variety of flavours including caramel toffee, black currant and citrus fruit.
La Maison Assorted Chocolate Truffles, Williams-Sonoma, $65