Tech & Gadgets
9 stylish laptop bags
Tech & Gadgets
9 stylish laptop bags
There is no doubt that we live in an age of
technology
. Computers are the new television set, we download and read books on wireless devices, and we can communicate face-to-face over the phone. With this rise of technology, we need a way to take it with us wherever we go. Whether you're looking for durability, functionality or weather resistance, we've got 9 laptop bags that will satisfy your needs, while looking stylish and chic!
Moleskine messenger bag
With so many laptop bags to choose from, it can be hard to settle on the style that's just right. But Moleskine's messenger bag is a great, no-nonsense option for the gal or guy on the go. The structured shape gives this bag a clean design and the adjustable strap allows you to wear the bag at the length that feels right for your height. It's made from a synthetic, water-repellant polyurethane so it can handle the elements and has an ivory coloured faux-suede lining. The adjustable flap cover will keep your things safe and an elastic band enclosure adds extra security. If you're using this bag to tote around your laptop, be sure to put your computer in a cushioned case first – this bag doesn't have protective pockets, but can accommodate a computer with a 15-inch screen or smaller. Otherwise, its city chic looks make this bag the perfect, stylish carry-all – whether you're headed to
school
, work or even traveling on
vacation
.
moleskineus.com, $129.95.
Knomo slim sleeve
The Knomo laptop bag is a beautiful and feminine option. Designed for the MacBook, the quilted detail not only adds
style
, but also padding for extra protection. Use the shoulder strap or the retractable handle when you're on the go - both make traveling a breeze. For such a slim bag, it offers more
storage
than just a sleeve with two small front pockets. One is open and perfect for your phone or iPod, while the other is zippered for keeping change or cards (it can't fit much more than that). The back compartment is a full-length open pocket for papers and cords. Inside you can easily fit your laptop with room to spare. Throw in a notebook or files and all you need is this bag. Finally, as an added touch, the interior has a bright pink lining for a fabulous pop of
colour
!
Apple, $84.95.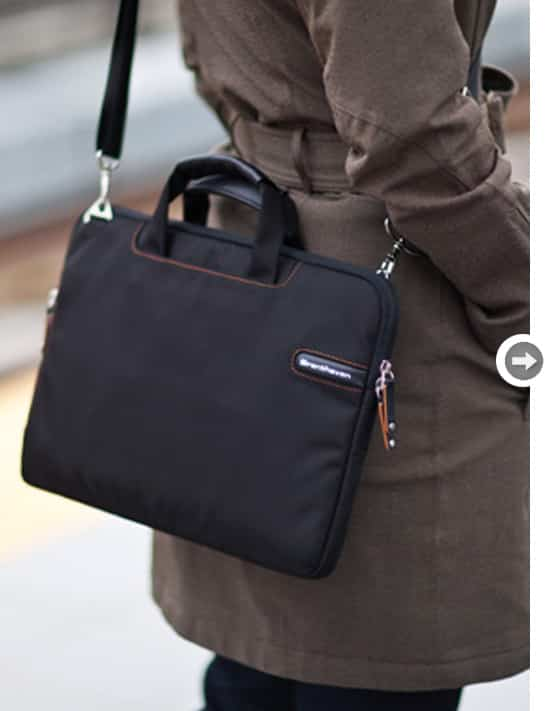 Prostyle plus sleeve II
For a no-fuss, simple laptop bag for the daily commuter, the Prostyle is simple, slim and affordable. The exterior is made of micro-ballistic nylon and is lined in faux-fur to avoid unsightly scratches. There are no visible pockets on the front, keeping the look sleek and clean, but there is a small zippered pocket on the side for your phone. Keep other papers in the back pocket and
travel
with ease using the padded shoulder strap or handles. You can also use it as a sleeve, but unfortunately the handles can't be tucked in. Also, though fantastically slim, the bag is designed to fit your laptop like a glove so there isn't much room for extra
accessories
or notebooks.
brenthaven.com, $59.95.
Viper M3, GTR
Okay, so this isn't a bag, but when it comes to protection, the Viper M3 is the armour of laptop sleeves. The exterior is made of a weather-resistant Twylon, while the interior is lined with a 1/4" lightweight, high-density foam for incredible protection from scratches and wear. It is, however, made to perfectly fit MacBooks so if you have a non-Apple laptop be sure to check your computer's dimensions.
booqbags.com, $54.95.
Sunnies laptop sleeve
If you're looking for a departure from all the plain, black laptop bags out there, the pink Sunnies sleeve may be for you! Made by Juicy Couture it's a whimsical and bright look with a screenprint of sunglasses on the front. Made of canvas, it has a lightly padded interior with a print lining. Though it may not be the most protective bag, the interior has organized compartments for your laptop, cell phone and other small
accessories
. Also, despite being called a "sleeve" it does come with handles to carry, but no shoulder strap.
nordstrom.com, $101.50.
Modern satchel
Made of 100% Italian "Tribe" leather, exclusive to Roots, this bag seems like just a regular messenger bag, but it's actually more functional than it looks. It has a removable, adjustable shoulder strap, as well as a handle in the back. The front flap comes with two buckled straps for a more secure closure. There are zippered pockets on the back and front (underneath the flap) for secure and easy access to your phone, change or cards. Inside there is a padded laptop compartment, but also plenty of space to fit cords,
books
and other
accessories
. It's a beautiful bag for men and women, students and professionals, and anyone else on the go.
roots.ca, $338.
Knightsbridge janine
Kate Spade takes laptop bags to a stunningly glamorous level. The Knightsbridge bag has a small crocodile embossed patent exterior, including the shoulder strap and handles, and 14-karat light gold plated
hardware
. With a large zippered front pocket for your
accessories
, the bag does offer
storage
while remaining super slim and chic. The inside is lined in a cream and gold dot woven lining, making this bag fabulous inside and out!
Kate Spade, $495.
Funchico V2.0
Designed after the look of
vintage
train cases, the Funchico is short form for "funky, chic and cool". Keeping the same shape and style of the vintage case, the interior has been updated for modern necessities. The exterior is a pretty pink and ivory herringbone tweed paired with faux-leather padded handles. The entire interior of the bag is impeccably designed for organization. There are divided sections for chargers and cords, as well as a removable sleeve for your laptop. The look and style make this a versatile bag for heading to the
office
or going on an overnight trip.
Rainbrooke, $99.
Purple berry slim tote
If you're looking for a fun and colourful laptop bag then Melissa Beth is your lady! Her slim totes come in a variety of
colours
, each with its own graphic lining. The outside of the bag is made of velour with leather trim - not great in the rain, but at least the interior lining is stain resistant. Your laptop will be snug and protected from bumps and scratches inside the foam padded compartment, while a zippered pocket will keep your little odds and ends all in one place.
melissabeth.com, $139.