Hotel Style
Hotel style: Angleterre & Residence
Hotel style: Angleterre & Residence
Hotel Style
Hotel style: Angleterre & Residence
Situated on the shores of Lake Geneva in Switzerland's picturesque Lausanne is the
Angleterre & Residence
, a hotel so idyllic, it's the perfect place to stay if you're planning a visit to this region. Lausanne is the fourth largest city in Switzerland and it's nestled on three hills, boasting stunning views of sparkling Lake Geneva. The Angleterre & Residence is perfectly positioned to let you soak in the views and is in walking distance of nearby must-see attractions like the Olympic Museum of Lausanne. But when you're not sightseeing, the beautiful hotel is the perfect place to relax and enjoy true Swiss charm.
Angleterre & Residence: Lobby
The hotel boasts a mix of modern and traditional styles that works exceptionally well. The lobby is located in a separate structure, apart from the rooms of the hotel. Though small, the lobby is modern and features a comfortable waiting area with leather club chairs and pot lights on the ceiling that make you think of stars in the night sky.

Angleterre & Residence: The rooms
The rooms are more traditional in style but offer all the modern comforts you'd expect from a four-star European hotel. Dark wood floors and light-coloured walls create a cosy, at-home feeling for weary travelers. Throw open the curtains to reveal breathtaking views but come nighttime, simply flip a switch and the automated nightshades will lower, enveloping the room in complete darkness and making for a sound night's sleep. The rooms feature a comfortable sitting area (so you can take in that view!) and a working desk and WiFi for business travelers.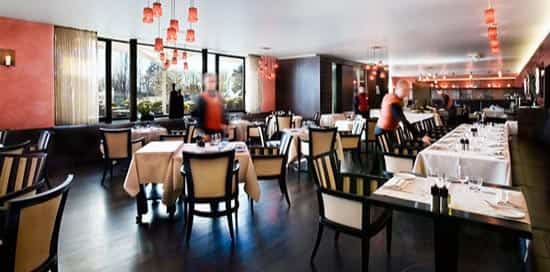 Angleterre & Residence: Restaurant
L'Accademia is the hotel restaurant that features an inviting ambiance and a warm, welcoming decor. With lots of dark wood and ochre tones, the atmosphere is wonderful; it's enough to make you want to linger a little longer over that cup of coffee. Especially pretty are the Murano glass pendant lights that make the modern chandeliers. Oh, and the views of Lake Geneva and the French Alps, too!

Angleterre & Residence: Pool
The outdoor pool and its surroundings will make you feel like you're lounging at a country estate. The pool is heated and is situated in the midst of a lush green garden. During the evening hours, subtle lighting is turned on, giving the space a real sense of serenity.

Angleterre & Residence: The view
The restaurant is wonderful, the rooms are comfortable and cosy and the service at the Angleterre & Residence is exceptional. But what sets this quaint hotel apart is this view. Greet each day with a view of Lake Geneva and the French Alps. It doesn't get any better than this.