Hotel Style
Hotel style: Ritz-Carlton, Los Angeles
Hotel Style
Hotel style: Ritz-Carlton, Los Angeles
Opened in April 2010, the
Ritz-Carlton, Los Angeles
is the only luxury hotel in the city's downtown core and it's pretty hard to miss. Soaring above the City of Angels, the beautiful building dominates a skyline that's pretty short on skyscrapers. It's part of L.A. Live – an entertainment complex that is at the heart of the recent revitalization of downtown Los Angeles.
Step inside and you're greeted by the style and class you'd expect from the Ritz-Carlton. The lobby is surprisingly small, but it's a pleasant welcome to a hotel that expands and impresses the farther inside you venture.
The interior is clean, crisp and modern – everything is sleek and decidedly … LA. The hotel includes 123 guest rooms and 14 suites. The Ritz-Carlton suite (the suite of all suites!) boasts an expanse of 3,000 square feet, both north and west facing views, a piano and entertainment room, a kitchen and yes, a formal dining room. Makes you wonder which celebrities have checked in here!
Suites at the Ritz-Carlton, Los Angeles offer guests a calming environment to relax in. Contemporary furnishings and a colour palette of soft, soothing tones really make you feel like you're at home. Blonde wood and oodles of natural light contribute to the overall atmosphere. Huge windows provide sweeping views of LA's skyline – all the way to the surrounding mountains. Rooms feature flat-screen LG LCD televisions and luxury bath amenities. And the beds? It's like sleeping on a cloud. And the featherbeds and pillows are hypo-allergenic, too so you can really breathe easy.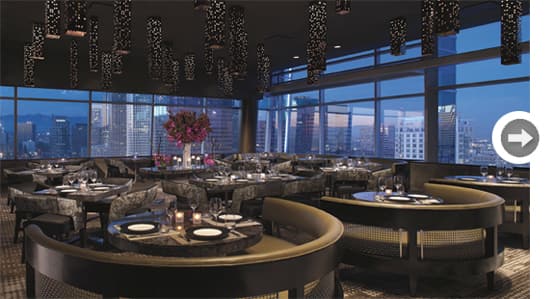 WP24
, the Wolfgang Puck restaurant at the Ritz-Carlton, Los Angeles is on the 24th floor of the building and with wall-to-wall glass, offers sweeping panoramic views of the city. The lounge has an urban garden feeling, with large wooden seats shaped as pods and hand-woven screens, perfect for intimate gatherings. The restaurant itself features lighting fixtures that mimic the brightly-lit skyscrapers outside, lending a decidedly modern and urban feeling. Signature dishes include Chinese Spring Chive Crystal Dumplings, Alaskan King Crab, Gulf Shrimp, Kurobuta Pork and Chili "Dan Dan" Dumplings.
Rejuvenation and relaxation comes easy at the spa at the Ritz-Carlton, Los Angeles. The spa takes over 8,000 square feet of space and includes nine treatment rooms as well as a couples' treatment suite, complete with a private soaking tub, perfect for a romantic escape. It's truly an urban oasis and is the perfect place to get pampered before hitting the town. You are in LA, after all! Soothing tones of white, cream and gold combine to offer an atmosphere that's delightfully tranquil and comforting.