Hotel Style
Hotel style: Viceroy Miami
Hotel Style
Hotel style: Viceroy Miami
So many hotels these days are about keeping things nice and simple – especially when it comes to design. While I admit, I'm a fan of clean lines and unfussy, contemporary furniture, it's still nice to venture outside the ordinary, break free from the traditional and experience something that truly feels unique.
That's how it feels when you step inside the doors of the
Viceroy Miami.
This isn't South Beach. This Miami hotel isn't about sun and sand. It's got a downtown, urban vibe that's all city. Guests are greeted by pure glamour. And what else would you expect from a hotel that was designed by the talented Kelly Wearstler? Located in downtown Miami, this luxury property is designed to appeal to the senses of both business travelers and vacationers alike – and it succeeds by combining the comforts of home with the luxuries of a hotel stay.
Bright colours, bold patterns and modern furniture adorn the hotel lobby at the Viceroy Miami. This design isn't for the tame traditionalist. If at first blush you're taken aback by the cacophony of colour, pattern and texture – take a step back and let it settle. There's cohesion and balance here and pops of pink to bring things to life. There's an East-meets-West influence that is unexpected under the hot Miami sun but surprise is a playful design element in this space.
Modern design collides with touches of Asian influence in the bedrooms at the Viceroy Miami. Emerald green marble floors are cool underfoot on hot days and are just another example of the lavish luxuries guests here will get accustomed to. Emerald, onyx and slate comprise the palette in these rooms and there's lots of antiqued wood, marble, brass and mirrored surfaces to amp up the glam factor.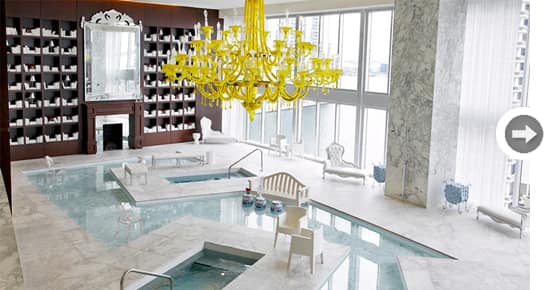 Trust us when we say you've never seen a spa like this before. The Philippe Starck designed spa is breathtaking from the moment you walk in. The 5,000-square-foot water lounge is the real showstopper, featuring a floating library, a reflecting pond, hot and cold plunge pools and floor-to-ceiling glass overlooking Key Biscayne. Draped in white with a canary-coloured, look-at-me chandelier, this space is pure eye candy.
Forget the beach! In downtown Miami, put on your bikini and hit the rooftop pool, the perfect place to see and be seen. It's a real urban oasis where the bright city lights are reflected in the pool waters to create a glitzy, glamorous atmosphere, especially at nighttime.