Hotel Style
The 8 most beautiful hotel bathrooms in the world
Hotel Style
The 8 most beautiful hotel bathrooms in the world
Where better to seek bathroom design inspiration than from the world's most beautiful hotels?
Hotels are so much more than just a place to lay your head. From the lobby to the guest room to the bathroom, so many hotels these days are jam-packed with design inspiration. Here, we've rounded up 8 of our favourite hotel bathrooms from around the world that are seriously swoon-worthy!
Hotel Emma
Where: Hotel Emma, San Antonio
Why: We think this clawfoot tub with brass fixtures speaks for itself! Channeling old-world charm but looking right at home in a more modern setting, this bathroom is a beautiful blend of old and new. The blue and white colour palette calls to mind the serenity of the ocean and long, languid beach days.
The Four Seasons in Bora Bora
Where: Four Seasons Bora Bora
Why: Surrounded on all sides by the crystal clear turquoise waters of Bora Bora, guests at the Four Seasons Bora Bora are treated to incredible views at every turn … including from the bathroom! Imagine soaking in a tub and looking out at the famed Mount Pahia in the near distance? You'll be forever spoiled after experiencing this luxurious bathroom!
The London Edition Hotel
Where: The London Edition
Why: Light and bright and white all over, the bathrooms at the London Edition Hotel are the definition of spa-like sanctuary. White tiled walls and floors punctuated with, yes, white fixtures like a deep soaking tub and white bathroom countertops create a monochromatic space that's short on colour but high on style!
Viceroy Riviera Maya
Where: Viceroy Riviera Maya
Why: There's no question that the Viceroy knows luxury and it's apparent throughout the hotel at the Viceroy Riviera Maya. If you like to feel pampered without even leaving the comforts of your room, you'll swoon over the spacious and gorgeously designed bathrooms that effortlessly combine indoor and outdoor elements. Once you've showered in the private but luxurious outdoor shower, you'll be a changed person.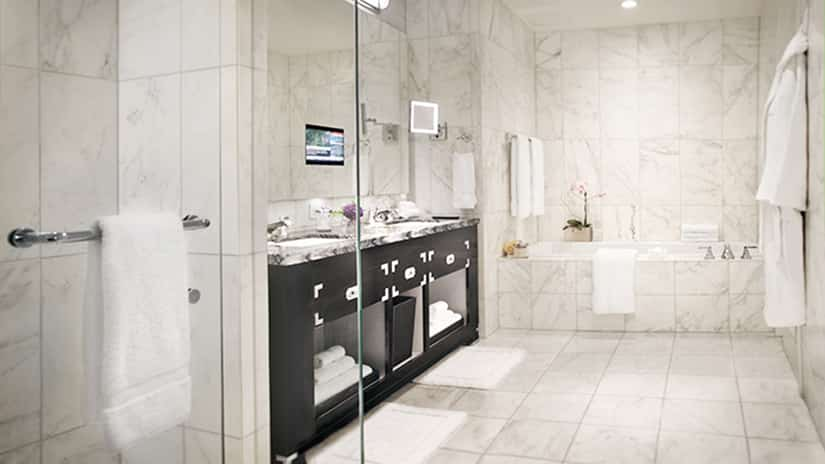 Trump International Hotel and Tower Toronto
Where: Trump International Hotel and Tower Toronto
Why: The large, deep-soaking tub is seriously large and seriously deep. The bathroom is made almost entirely of stone, lending a truly swish air to the space and the heated bathroom floors are a truly luxurious touch.
Upper House hotel, Hong Kong
Where: Upper House, Hong Kong
Why: Modern and minimalist, the sleek stylings of the bathrooms at the Upper House in Hong Kong are sure to appeal to a very specific design sensibility. Boasting clean lines and large, spacious surfaces, these bathrooms reflect modern Asian luxury. If a no-muss, no-fuss look is your preferred design style, you'll love it here!
The Benjamin Hotel
Where: The Benjamin, New York City
Why: What's black and white and dramatic all over? The bathroom inside the Benjamin Suite at The Benjamin in New York City! While black tiled walls are a less conventional choice, they definitely make a statement and before long, you'll be so enamoured, you'll be contemplating gutting your bathroom and starting from scratch.
Buddha Bar Hotel
Where: Buddha Bar Hotel, Paris
Why: Embracing bold shades of red and gold, the Buddha Bar Hotel in Paris embodies a Zen-chic feeling throughout the property, the bathrooms included. The circular bathtub and dragon etchings adorning the sides of the tub are irresistibly opulent. You know you'll feel like royalty soaking in this tub fit for a queen