Stores We Love
Shopping: Uniquities Architectural Antiques & Salvage
Shopping: Uniquities Architectural Antiques & Salvage
Stores We Love
Shopping: Uniquities Architectural Antiques & Salvage
At
Style at Home
, we're crazy for anything vintage. Julia Shantz is, too, so when she and her husband, Doug, had trouble finding salvaged materials in Calgary, they decided to do something about it. Here, Julia tells us all about their charming store,
Uniquities Architectural Antiques & Salvage
, and their quest for everything antique.
STYLE AT HOME: What is Uniquities Architectural Antiques & Salvage?
Julia Shantz
We're suppliers of antique building materials, architectural antiques,
vintage furniture
, lighting and oddities. We also design and build shop fittings for restaurants and stores, as well as bespoke pieces for retail clientsusing reclaimed materials.
SAH: How did the business begin?
JS
In 1992, my husband and I purchased a 1912
heritage home
. We quickly discovered that it was nearly impossible to find the particular architectural
antiques
we wanted for our renovation and realized that other people must have been feeling the same frustration! I grew up in Wales and my family always owned older homes, so I'm very familiar with salvage yards. My parents were constantly looking for pieces to complete their restorations. It seemed natural for me to bring what was familiar to Calgary, with the hope that other people would love it as much as I do.
SAH: What's the benefit of buying vintage pieces versus new ones?
JS
From an environmental perspective, reusing original building elements diverts waste from landfills, minimizes energy and manufacturing costs and preserves valuable forestry resources. Repurposing is the most environmentally friendly way to build and decorate. Salvage also helps to preserve architectural history. When a
panel door
is thrown into the landfill, it's gone forever. The superior craftsmanship and beautiful patina of old materials simply can't be reproduced. Using these pieces in our homes creates something totally unique and meaningful – what could be more beautiful?
SAH: Where do the items in your store come from?
JS
We source antique and
vintage furniture
and decor from the United Kingdom, France, Belgium and the United States. Our building materials come from all over the world, from the dismantling of buildings that have been slated for demolition.

SAH: What kinds of things can visitors to Uniquities expect to find?
JS
We have developed a very specific brand for the retail aspect of our business. We like to call it "rough luxe" – a celebration of imperfection. You'll find 19th-century furniture, many pieces with their original finish, industrial and schoolhouse design items, lighting, antiques, rare oddities and vintage
Persian rugs
and kilims. We also have a well-stocked warehouse full of doors, windows, panelling, flooring, beams and more.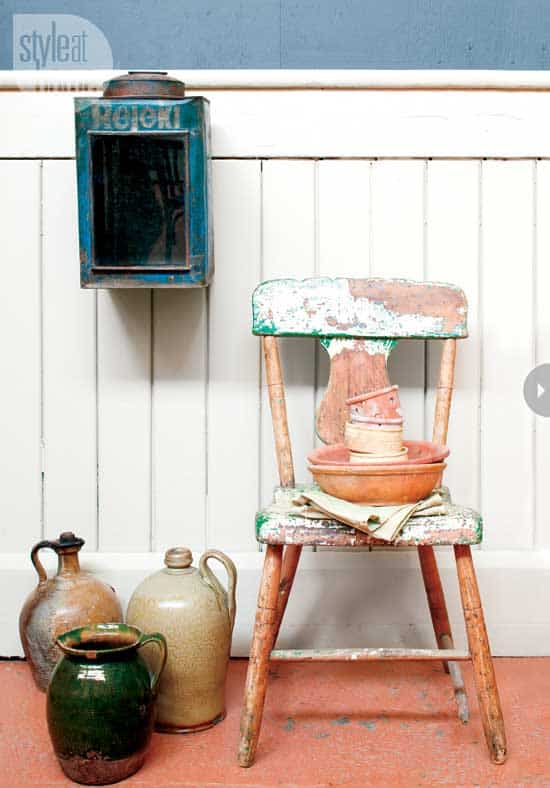 SAH: Your two sons also work with you and your husband at Uniquities. What's it like working with family?
JS:
It has its challenges, but the rewards are immense. Our sons have grown up in our salvage world and, because of that, they know that it takes a lot of perseverance, sacrifice, hard work and nerves to make a successful business out of importing salvage. They bring wonderfully fresh and creative ideas to the table that entice a new demographic and they've helped the business evolve into what it is today.

SAH: What are some of your favourite vintage finds from over the years?
JS:
I have so many personal favourites because we hand-select everything and each piece has meaning to us. That being said, some of the most awe-inspiring items we have found include 33 early 20th-century cast iron industrial windows from a demolished British army barracks in England and a 1920s Odor drafting table and chair from Barcelona with the original industrial arm and light. We also purchased 13 beautiful Romanesque carved stone heads from a 19th-century church but found out later through our research that they dated back to the 13th century from when the original church was built on the site.
Julia's 5 tips for buying salvage
1 Always work with reputable dealers
They're knowledgeable when it comes to directing you, should you need delicate repairs or hard-to-source parts.
2 If you see something you love, buy it!
If you go away to think about it, the piece will be gone when you come back and you won't find the same thing in another shop.
3 Do your homework
If you're planning to incorporate salvage finds into a building project, make sure you bring your drawings and measurements.
4 Familiarize yourself with finish, patina and quality
This is something that is learned over time as you develop a "nose" for antiques. So many reproductions have flooded the market that even well-known European and American
flea markets
sell them.
5 Beware
Sourcing bits of history is rewarding, however, it can turn into an obsession quite quickly.