Stores We Love
sumptuous design aboard uniworld's ss catherine
Stores We Love
sumptuous design aboard uniworld's ss catherine
If there are two things I love, it's travel and design. I recently experienced the most perfect blend of both on a river cruise when I sailed on
Uniworld's SS Catherine
(christened by Catherine Deneuve) this past summer, traveling for eight days from
Avignon to Lyon
. River cruising is quickly becoming one of the hottest trends in travel, attracting an increasingly more diverse group of travelers. And when I stepped aboard the SS Catherine, I knew I was in for a treat! Unlike other river cruise companies whose ships are typically identical one to the next, Uniworld's focus on unique decor and design on each ship is obvious. Want to take a virtual tour of this spectacular ship? Let's go!
The Lobby
At 443 feet long, the SS Catherine is one of Uniworld's largest ships. It's apparent to anyone who travels on a Uniworld ship that its big focus is on design and creating spaces that delight guests immediately upon arrival. The interiors are opulent, starting with the life-size glass horse that greets guests in the lobby. This whimsical touch sets the tone for what you can expect to find in the rest of the ship.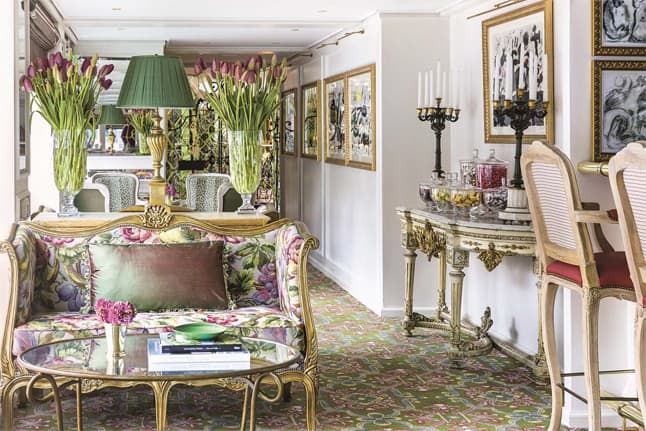 The Van Gogh Lounge
The ship's public spaces are incredible and sumptuously designed. Colour and pattern collide in the Van Gogh Lounge, pictured here. This space is the main gathering area for guests. It was the perfect quiet spot to relax and read as we sailed along the Rhone. This is also where we enjoyed cocktails and nibbles before dinner and attended various lectures; every evening we gathered here to learn about the destinations we were sailing to and through.
FYI:
The Van Gogh Lounge is so named because the SS Catherine's Burgundy and Provence itinerary follows in the footsteps of the famed tragic painter.
The Cezanne Restaurant
Dining on board Uniworld's SS Catherine is an elegant affair. The Cezanne Restaurant, named of course after the French painter Paul Cezanne, is lavishly decorated in rich hues of green and blue. Tasseled silk drapery, extravagant velvet banquettes and painted glass mirrors are just some of the details that make the dining room so extraordinary. It's hard not to pinch yourself every time you walk into the restaurant. It's so beautiful it's hard to believe that you're on a ship! It has all the style of a five-star restaurant and the food, reflective of the region you're sailing through, is absolutely incredible. But apart from all the eye candy, I'd be remiss if I didn't mention the staff. The wait staff in the restaurant is so friendly, attentive and on the ball. By day two they all knew exactly how I like my tea: English Breakfast with skim milk, please!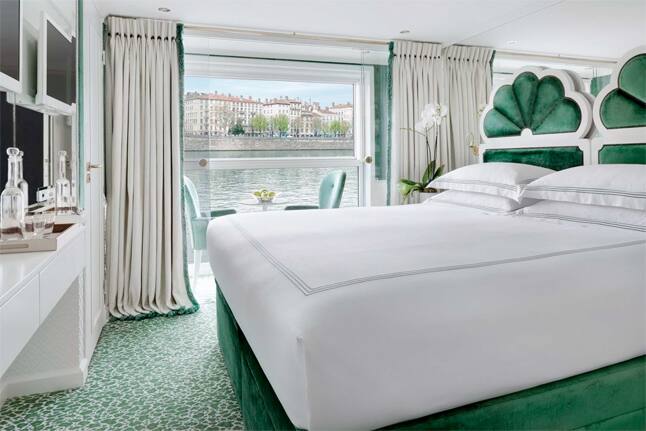 Category 1 Staterooms
The suites on the SS Catherine are unbelievable but we'll get to those shortly. Let's start with the Category 1 and Category 2 staterooms. Category 1 rooms (pictured above) are modest in size, though perfectly comfortable and beautifully decorated. There was more than enough room for me and my husband to move around comfortably and there was ample storage. In fact, there was so much storage we didn't even use it all between the two of us. We were able to unpack our bags, stow our suitcases under the bed and really settle into our cabin without all of our stuff piling up around us. Channeling the feeling of a boutique five-star hotel, the cabins on the SS Catherine are truly beyond anything you might expect to find on a cruise ship. Our riverview stateroom had all the creature comforts you could want, including luxurious L'Occitane bath and body products, a flat screen TV and perhaps best of all, heated floors in the marble bathroom.
Category 2 Staterooms
Category 2 and 3 rooms are larger and have a different design but offer many of the same amenities as well as a French balcony.
The Suites
As you move up the stateroom categories, the decor gets progressively more lavish. Different room designs are available in the suite category and as you can see from the photos, they're divine!
Stunning wallcoverings, silk drapery, two balconies … if I was in one of these suites, it's pretty safe to say I'd never move out.
If you're in a suite, you'll enjoy lots of additional amenities, the best of which is the in-suite butler who can offer assistance unpacking and packing your bags and shoe shine and free laundry service. Plus, guests in suites will also arrive back to their rooms to find a constantly replenished stock of daily fruit and cookies and an evening snack.
The Royal Suite
Lastly, there's the Royal Suite. It's the epitome of luxury. The Royal Suite is so spacious you'll definitely forget you're on a river cruise ship! Stunningly decorated in a pale palette of cream, white and blush pinks, it has all the charm you might expect to find in a boutique hotel in Paris.
You needn't worry about feeling cramped in the bathroom in the Royal Suite. The bathroom boasts a separate rain shower and tub, and a separate toilet and bidet area.
As its name suggests, this suite is fit for royalty and you'll sleep like a queen (or king!) in the sumptuous bed, which provides views of the river that will lull you to sleep each night. Cruising on Uniworld's SS Catherine brought together two of my favourite things: discovering new destinations and boutique hotel accommodations. Not only was the ship absolutely incredible but our eight-day itinerary, following in the footsteps of some of the world's most renowned painters like Van Gogh, Cezanne and Gauguin was an eye-opening and educational experience. The South of France in the summertime is spectacular and seeing it while coming home every night to the comfort of a luxurious cabin was unforgettable.