Style Destination
Christmas in Paris: 7 Magical Hotspots for Couples
Image: Franklin Lecointre
Style Destination
Christmas in Paris: 7 Magical Hotspots for Couples
The city is even more romantic in December.
Though summer is the most popular tourist season in France, Paris comes alive throughout December with sparkling lights, festive window displays and the best shopping in Europe. Make it your destination of choice for a romantic getaway and put these memory-making activities at the top of your itinerary.
Catch a concert at Versailles
Image: Andrea Karr
Though best known for its daytime tours of the Hall of Mirrors, royal bedrooms and extensive gardens (which look just as fantastic when covered in a light dusting of snow), Versailles also hosts evening classical concerts in its chapel and opera house. Nothing compares to listening to otherworldly music in 17th-century digs, so gift your ears with the strains of Handle, Haydn or Bach and your eyes with ornate ceilings, sparkling chandeliers and painstakingly hand-painted murals.
Indulge in a beauty treatment at Guerlain
Image: Guerlain
Guerlain's 68 Champs-Elysées flagship store is one of the most beautiful shops on the whole of the world-famous street, and you won't regret your visit to ogle the glimmering Christmas decorations or sniff the wide array of fragrances exclusive to Paris (some of them even spritzed on fans for a fanciful selection experience). Purchase a perfume and cologne (both men's and women's scents are on offer) to remind you of your trip to France, then—if your budget allows—make your way upstairs to what was once the Guerlain family's apartment in 1914. It's now a luxurious spa with nine treatment rooms and highly trained staff members who will spend from 1.5 to over five hours catering to your every whim—from facials and massages to waxing and makeup application. There are no set services, only set times. So you and your man can lie back, relax and enjoy. Finish off the experience with your choice of Guerlain teas, each inspired by the fragrance house's iconic perfumes.
Travel back in time at Musée des Arts Décoratifs
Image: Musee Des Arts Decoratifs
With over 500,000 pieces in its permanent collection, the Musée des Arts Décoratifs is the place to go for design junkies. It's filled with objects including furniture, ceramics, leather work, paintings and embroidery in five different categories: the Middle Ages and Renaissance, the 17th and 18th centuries, the 19th century, Art Nouveau and Art Deco and finally Modern and Contemporary. The museum is also known for its perfectly curated temporary exhibitions, like Christian Dior, Couturier du Rêve, which celebrated the 70th anniversary of the House of Dior by displaying over 300 haute couture gowns from the 1940s to the present day.
Get in the Christmas spirit at Château de Vaux-le-Vicomte
Image: Vaux-le-Vicomte Collectif
The family-owned Château de Vaux-le-Vicomte is located about an hour's drive from Paris and is a sight to see at Christmastime—from the last week of November to the first week of January—with its fully decorated carriage house and mansion interior. From the moment you step through the front gates, you'll understand why it was chosen as a film set for the 1979 James Bond film Moonraker, Marie Antoinette in 2006 with Kirsten Dunst and even the 2016 holiday campaign for Victoria's Secret. The château has a fully restored main floor and an extensive collection of 17th-century décor, plus two restaurants on site, though only one is open for lunch over Christmas. You won't want to miss the Grand Salon, which is filled with flocked trees that reach up to the ceiling.
Titillate your senses at Crazy Horse Paris
Image: Alberto Baracchini
A tiny cabaret located in the heart of Paris' 8th arrondissement (right near the Champs-Elysées), Crazy Horse was first founded in 1951 to showcase the female form in all its splendour—but in a tasteful way that would appeal to men and women alike. The dance numbers are filled with seemingly flawless women and feature a significant amount of nudity, but feel more like a circus than a strip show due to artful lighting, colourful costumes and a playful soundtrack. Settle in to a red velvet chair, sip champagne and let beautiful women—and a few comedic men—entertain you.
Drop some cash at Galeries Lafayette
Image: Galeries Lafayette
Looking for a Christmas shopping experience like out of the movies? You'll love the holiday spirit dripping from every inch of Galeries Lafayette, a French department store with new Christmas décor each year that includes elaborate window displays and a giant Christmas tree inside the central dome. The multi-level shop is filled to the brim with designer goods, a glamorous beauty department and gift options galore. Even if you don't want to spend a ton of money, trek to the roof of the building for a stunning view of Paris, swing by the in-house art gallery and sip a decadent hot chocolate at the Galeries Lafayette outpost of Angelina Paris.
Take a late-night stroll through Palais de Tokyo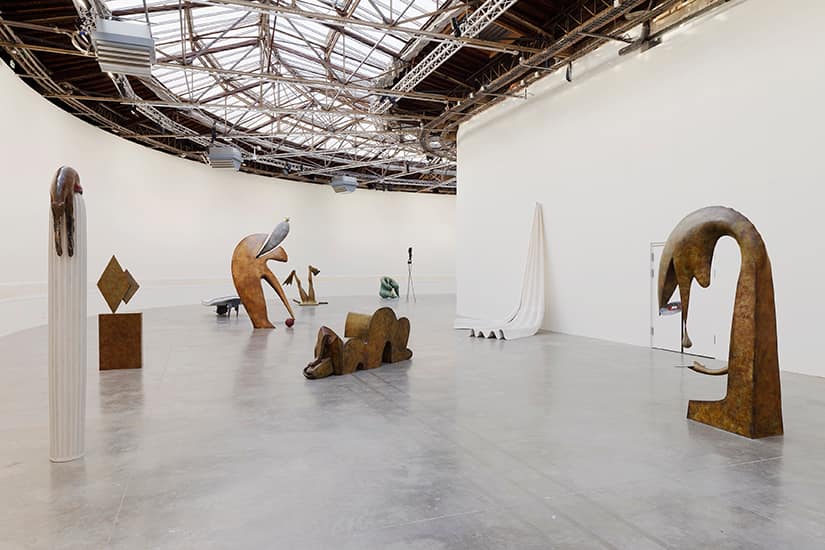 Image: Palais De Tokyo
No trip to Paris would be complete without an art gallery excursion. You can visit the traditional options—the Louvre, Musée d'Orsay or Musée Marmottan Monet, which has the world's largest Monet collection—or you can go contemporary with an evening visit to Palais de Tokyo. Open until midnight every day except Tuesday, the expansive gallery showcases large-scale sculpture, installation, video and more with a focus on the shocking, experimental and cutting edge. The reverent atmosphere after 9 p.m. is like something you'd find in an ancient basilica—if basilicas were filled with erotic art. Plus, at the side of the building, there's a great view of the Eiffel Tower, which sparkles every hour on the hour after dark.