Style Destination
Style destination: London
Style Destination
Style destination: London
On different occasions last year, four Style at Home editors visited London, England. Here, each reports on her favourite neighbourhood spots to stay, eat, drink and shop.
Soho & Covenant Garden
Erin McLaughlin
Stay: W London
In addition to an amazing view of Leicester Square, one of this swanky hotel's best features is the modern botanical-themed afternoon tea offered at its restaurant, The Perception.
Eat/Drink: Farm Girl Soho
With its cool laid-back vibe and delicious provisions (the rose latte is divine), this farm-to-table locale is an absolute treat for travelling foodies like me.
Eat/Drink: By Chloe
Smoothies are always on tap at this trendy vegan eatery, which serves hearty comfort food classics, such as burgers and sticky toffee pudding (my favourite!), with a wholesome twist.
Shop: Petersham Nurseries
Stop in at this exquisite covent Garden shop with its beautiful mouldings and weathered wood floors, as well as an elegant selection of plants and english garden-inspired decorative accessories.
Editor's Tip: Spend an afternoon exploring Covent Garden in the West End. This pretty neighbourhood has plenty of shops and restaurants, as well as quaint alleys and hidden courtyards.
Shoreditch & Southwark
Elaine Song
Eat/Drink: Flour & Grape
This bustling spot delivers precisely what its name promises: flour in the form of delectable fresh bread and handmade pasta, and grapes in the form of stellar Italian wines.
Hang out: Boxpark Shoreditch
Eat, drink and shop at this fun modern pop-up mall that's constructed from retrofitted shipping containers and features independent local brands.
Stay: The Hoxton Shoreditch
Even if you don't stay here, come to work or just chill. I loved the Hoxton's stylish spaces, plush seating and all-around cool vibes.
Shop: Labour and Wait
Even the cleaning supplies – workaday pails, hand-forged gardening tools and Downton Abbey-esque feather dusters – are beautiful at this quaint shop, which sells functional household essentials, books, stationery and sartorial items.
Editor's Tip: Shoreditch, in East London, has an undeniable creative energy and boasts some of the city's top bars, restaurants and galleries.
Bloomsbury & Mayfair
Amanda Etty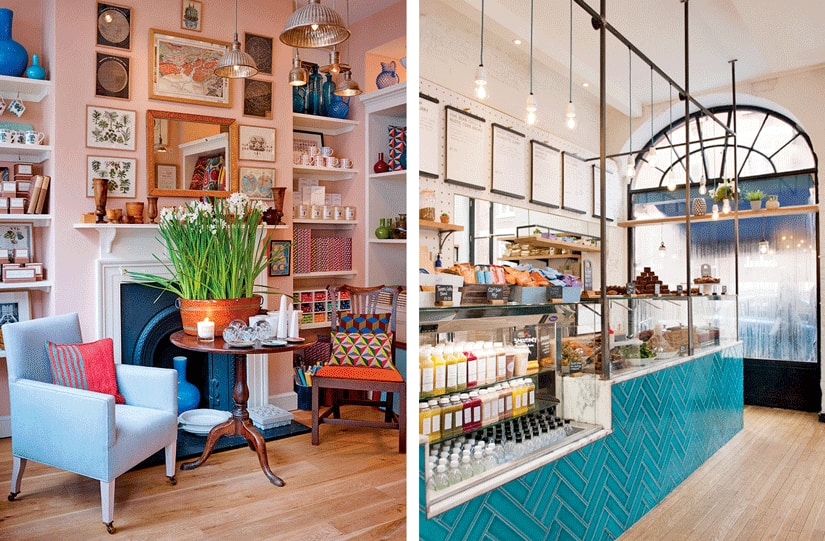 Shop: Pentreath & Hall
Located behind a diminutive Victorian shopfront in the heart of Bloomsbury, Pentreath & hall sells carefully chosen housewares and a unique assortment of letterpress goods and prints. Imagine decorating your cool London flat with pieces from this shop's eclectic inventory.
Shop: Persephone Books
This lovely bookshop publishes seemingly forgotten or out-of-print works of fiction and non-fiction by female writers. each of its nearly 150 titles boasts a custom grey dust jacket (the same shade as the shopfront).
Eat/Drink: Deliciously Ella
There's so much I love about this bright and cheery deli with its pretty decor, but it's the food that's truly the most remarkable. The plant-based menu is vast, offering everything from turmeric lattes to granola and coconut yogurt to warming stews and curries. Be sure to pick up a copy of one of founder Ella Mills's bestselling cookbooks.
Eat/Drink: Sketch
Book a reservation to have champagne afternoon tea in the Gallery. the chic pink backdrop is a fitting setting for savouring a fantastical array of teas, bubbly wine and treats. While you're there, check out the other rooms (and egg-shaped restroom pods) in this weirdly wonderful spot conceived by restaurateur Mourad Mazouz and Michelin-starred chef Pierre Gagnaire.
Stay: London Marriott Hotel Park Lane
This stylish hotel, conveniently located in the city centre, offers well-appointed amenities that had me feeling like a (nicely pampered) local.
Editor's Tip: Storied Bloomsbury was home to Virginia Woolf and Charles Dickens, and when you're strolling its old streets, the sense of history is very much alive.
Knightsbridge, Chelsea & South Kensington
Suzanne Moutis
See: Victoria and Albert Museum
It might not be the first museum that comes to mind when you think of London, but for decor lovers, this mecca of art and design is where it's at. From fashion to fur­niture, the collections include cer­amics by Picasso, a Marcel Breuer armchair and the enormous Great Bed of Ware, which dates to around 1590.
Shop: The Conran Shop
The flagship of Sir Terence Con­ran's retail empire, this store is a go­to, and not just for the beautiful curated furniture, home and garden accessories, textiles, beauty prod­ucts and gifts on display. The shop is located in the historic Michelin House on Fulham Road in Chelsea, a gorgeous Art Deco structure (swoon!) that was once home to the Michelin Tire company.
Shop: Designers Guild
Designer Tricia Guild's signature colourful shopper's paradise on King's Road is a welcome respite from a grey London day. From there, head to chic Brompton and Fulham roads, where you'll find antiques emporiums and rare book outlets like the bijou Sokol Books.
Eat/Drink: Bombay Brasserie
This gorgeous restaurant is well worth making a reservation for. Indian eateries abound in London, but with a menu that encompasses culinary influences from Mumbai – meat to vegetarian, mild to spicy – and a chef who uses only the freshest of ingredients, Bombay Brasserie is it for me. Choose to dine in the Raj­inspired bar, the bright glass­-ceilinged conservatory or the cozy chandelier­laden main dining room.
Recommended