Accessories & Furnishings
7 outdoor games perfect for a summer party
Bring one of these fun outdoor games to your next summer party.
Accessories & Furnishings
7 outdoor games perfect for a summer party
Add some fun to your next summer party with one of these outdoor games.
One of the best things about summer is bringing friends and family together for outdoor fun! For so many Canadians, backyard barbecues are the highlight of the summer season and it's the perfect time to try out all those delicious summer food and drink recipes. But no get-together is complete without some fun games, so this summer make your party the best on the block with these addictive outdoor games that are perfect for kids and adults alike.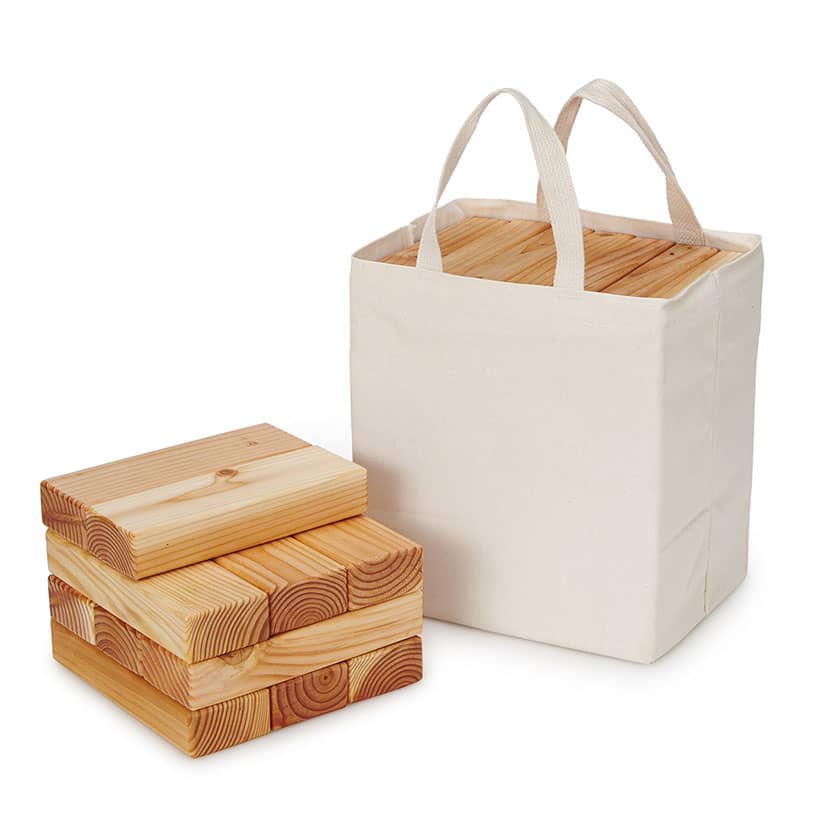 1 Bricks Yard Game
You're going to have to bring your A-game to win this one! Including 54 solid wood bricks, this yard game will delight the whole family. After the initial set up, the game will measure 27 inches tall but will stack to over three feet high and comes with a handy canvas tote to make it easily portable. Bricks Yard Game, Uncommon Goods, $219.82.
2 Croquet Set
The game of croquet is believed to date back as far as the 1850s and has been a backyard favourite ever since. This stylish croquet set comes in a canvas carrying case and has everything you'll need to take on your neighbours in a friendly match: mallets, balls, pegs, wickets and of course, instructions on just how to play the game if you're rusty on the rules. Croquet Set, Crate and Barrel, $149.95.
3 Advanced Silver Badminton Set
Bring badminton back! If you haven't played since you were a kid, revive the game with the help of this backyard badminton set. Designed to be easy to set up and to last, this set comes with four rackets, a sleeve-style net, ground stakes and shuttlecocks. Once everything is in place, you may find yourself playing well after the sun goes down! Advanced Silver Badminton Set, Wayfair.ca, $85.99.
4 Jonathan Adler Lacquer Card Set
Sit out on the patio, pull out this absolutely gorgeous card set and settle in for an evening of fun with friends and family. Delightfully packaged in a high-gloss lacquered box in Jonathan Adler's signature bold colours, this card set is as much a family-friendly game as it is a delightful decorative accent for your home. You won't want to pack it away so keep it out on display! Jonathan Adler Lacquer Card Set, Horchow, $98.
5 Backyard Tic Tac Toe
Give an old time favourite game a super-size makeover and you get this version of backyard tic tac toe. Designed by Jeremy Exley in Minnesota, this fun game is made from birch wood and finished with a protective stain. Stored in a handy tote, this game is ready to go wherever you are so take it out to the backyard, over to a friend's house or to the cottage for hours of fun. Backyard Tic Tac Toe, Uncommon Goods, $109.84.
6 Bocce Ball Set
Created in Italy and popular across much of Europe, Bocce is a ball sport that developed many variations as it gained favour across Europe and in North America, Australia and South America. Whatever your rules are, this gorgeous bocce ball set will help you keep track. The set comes complete with etched solid resin balls and a smart canvas carrying bag. Also includes a score pad, pencils and instructions. Bocce Ball Set, Crate and Barrel, $149.95.
7 Yard Dice
These oversized dice are sure to be a hit at your next backyard gathering, family picnic or weekend at the cottage. Each of the six dice included in this set are made from solid pine wood and the pips are hot iron branded into all six sides. Not sure what to do with giant dice? Don't sweat it; this set comes with instructions and rules for four different games that'll keep the good times rolling! Yard Dice, Uncommon Goods, $50.