Recipes
Fall recipes to add to your rotation now
Recipes
Fall recipes to add to your rotation now
These comforting recipes will help take the chill out of the fall weather.
It's hard to imagine a more enjoyable time of year to cook than the fall. It shares summer's abundance of seasonal produce, but with temperatures dipped sufficiently low that you can sweat your mushrooms and onions without having to perspire in sympathy.
Across the country, so many foods are at their very best. If you haven't already, now is the time to load up on local squash, cabbage, carrots, parsnips, turnips, beets, mushrooms, Brussels sprouts, cabbage, kale, cranberries, apples, and pears. And if some seasonal inspiration is what you're after, look no further! Here are some of the coziest recipes you'll want to cook all season long:
1. White Lasagna with Butternut Squash, Kale & Mushrooms
Photography: Robert Bredvad
Studded with kale, mushrooms, and squash, this lasagna makes very good use of some of the season's strongest ingredients. If you've never made bechamel sauce before, you'll be surprised by how easy it is to make, and it adds an incomparably rich, creamy element to every bite of this dish.
2. Brussels Sprouts with Chestnuts & Bacon
Photography: Maya Visnyei
Brussels sprouts get a well-needed makeover in this recipe. A little salt and fat from the bacon transform this side into something more substantial, while the chestnuts add some mild nuttiness and the sherry vinegar helps round everything out with a bright hit of acidity.
3. Za'atar-Dusted Veggie Fries
Photography: Ryan Szulc
Oven-baked fries can sometimes feel a little lacklustre—but not if you switch up your usual starch for the bold flavours of root vegetables. Red potatoes, carrots, sweet potatoes, turnip and rutabaga are all kissed with za'atar (a popular Mediterranean spice that uses thyme, sumac, and sesame) for some added depth.
4. Roasted Beet & Lentil Salad
Photography: Maya Visnyei
The caramelized sweetness of roasted beets is perfectly balanced here by toasty hazelnuts, earthy lentils, and tangy goat cheese. It's a hearty fall salad that works well as a vegetarian main, since the lentils are a great source of protein.
5. Apple Fritters with Maple Cider Glaze
Photography: Maya Visnyei
If you've never tried making your own fritters before, trust us when we say you're missing out. These apple ones are a cinch to make (just three steps to follow!), and with their sweet maple glaze, we doubt you'll be able to resist sneaking seconds.
6. Pear Almond Tart
Photography: Michael Nangreaves
Pears are at their best in the fall, and it's hard to imagine a flavour that complements them better than almond. The frangipane in this recipe comes together with the help of a hand mixer, and it will puff up beautifully around the pears as the tart bakes, adding just the right level of nuttiness to balance the sweetness from the pears.
7. Chocolate Pumpkin Swirl Loaf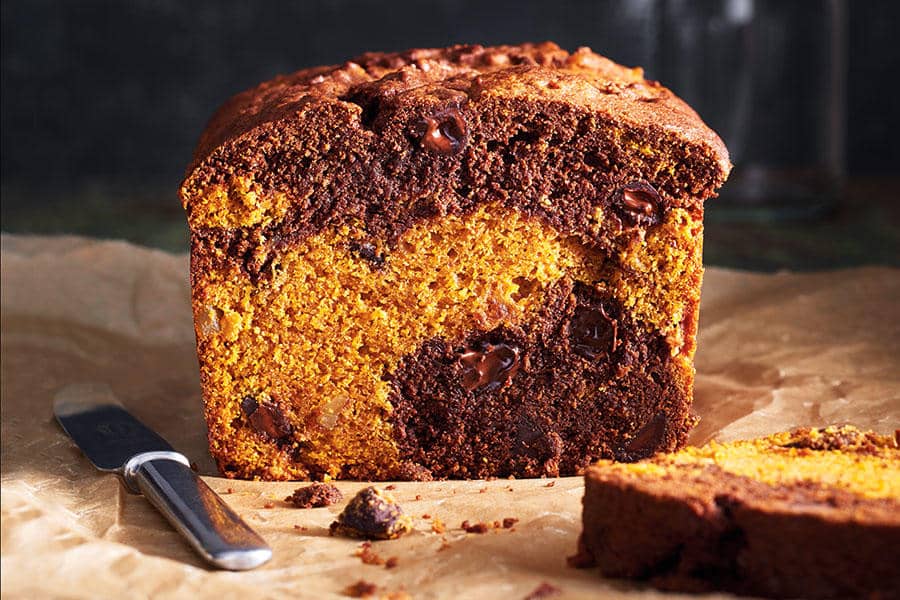 Photography: Jodi Pudge
Just like banana bread, you can't go wrong with a simple pumpkin loaf. But when you add a dark chocolate swirl and diced crystallized ginger to the mix, you've got an instant family favourite on your hands. Enjoy this with a cozy mug of tea or coffee in the afternoon, or even with a hot toddy in the evenings.