DIY Projects
8 holiday decorating tips inspired by nature
Photography: Alex Lukey | Producer: Ann Marie Favot
DIY Projects
8 holiday decorating tips inspired by nature
Instead of red and green and glitzy extras, welcome nature's glorious evergreens into your home for an equally festive feel.
This fresh Christmas look brings the bucolic magic of a woodland setting indoors with a palette of forest green and snow white. Let nature guide your winter decorating scheme with these simple decorating tips.
1. Choose a colour palette of white and green — and subtle touches of gold.
Although its palette looks like it's straight out of a Nordic winter landscape — calming white, icy blue and forest green — this room feels anything but cold. We spruced up the snow-covered tree on the banner with mini gold bunting.
2. Instead of just one Christmas tree, invite several to the party.
A grouping of tiny potted evergreens and other plants is a fresh unexpected alternative to a traditional Christmas tree. Left mostly unadorned and placed in a variety of containers, the trees' arrangement enhances the room's organic feel. A cheery gathering of handmade and store-bought garlands hanging in the window enhances the celebratory notes.
3. Mix-and-match green wrapping paper.
Gifts in store­bought gift wrap is supplemented with ones in a hand-drawn version and others wrapped in kraft paper.
4. DIY a forest-themed advent calendar.
This fabric calendar was made from a pillowcase and customized with iron­-on numbers and evergreens to suit the natural scheme. Its sewn­on pockets will be filled with sweets and knick­knacks, which are so fun to unwrap each day.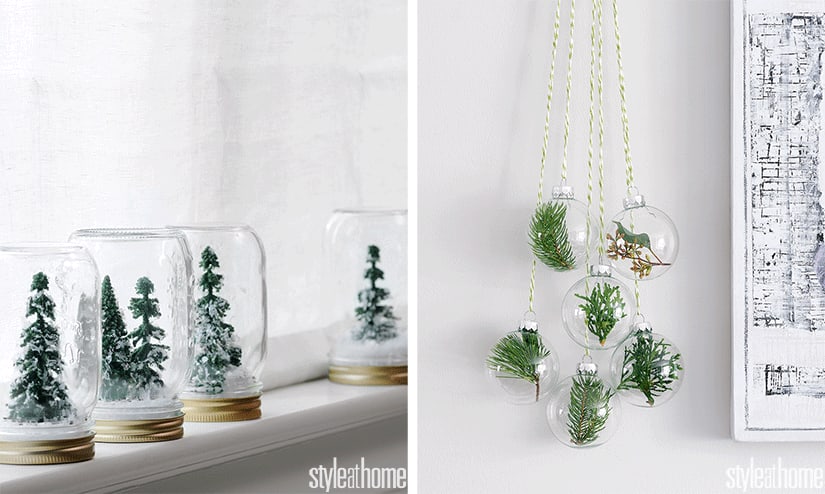 5. Decorate with handmade snowglobes
Glue a mini faux tree to the inside of a canning jar lid and then add some faux snow. Screw on the glass jar. Gently shake and watch the flakes flutter down.
6. ...and ornaments boasting greenery.
Remove the cap from a clear glass ornament and carefully place a small piece of greenery inside. Replace the cap, thread a piece of twine through the top loop, knot and hang wherever you please.
7. DIY evergreen gift wrap
Using a green marker, draw simple tree shapes on white kraft paper (a ruler helps achieve picture-perfect rows and spacing). Practice drawing a few trees on scrap paper to get the hang of your design.
8. ...and evergreen garland, too.
Cut out tree shapes from green paper and stitch them together with a sewing machine using green thread. Drape the garland across a window, mirror or mantel to add a wintry touch.