House Tours
A floral and glamorous spin on holiday decor
House Tours
A floral and glamorous spin on holiday decor
Red and green aren't her thing, so Sarah Walker fills her home with pink, silver and gold to impart holiday sparkle and shine.
"To me, Christmas is the time to create memories," says designer Sarah Walker of The Curated House by Sarah Walker. To set the scene for these treasured moments, she and her husband, Graham, transform the 1960s Oakville, Ont., home they share with their sons Noah, 14, and Tate, 3, into a lovely shimmering wonderland. Here, romantic floral garlands and lush evergreen boughs are punctuated with elegant splashes of silver and gold. The resulting look is festive and celebratory, but not over-the-top Christmasy. "Santa won't walk into our home and mistake it for the North Pole," says Sarah. "But he'll know he's in the right place when he sees Tate, his small face aglow, gazing at the Christmas tree's twinkling lights."
"Real life stops in December," says homeowner and designer Sarah Walker. "Then, everything revolves around comfort and warmth." A built-in nook holding firewood lends texture to the family room and is always stocked to heat up chilly nights spent lounging on the velvet sofas.
Seasonal details, such as a winter white stocking, mingle with year-round decor like the ethereal foggy artwork above the mantel. Nestled among evergreen boughs and magnolia leaves are gold candlesticks. "I have 18 of these, and placing them around the house provides a nice visual rhythm," says Sarah.
The built-in shelving honours family life by featuring keepsakes from travels and books. "We're a bookish family, so you'll often find one of us reading by the fire," says Sarah.
Gingerbread men and snowflake-shaped sugar cookies are set out for nibbling. "We bake a lot of treats ourselves, but also buy some to make life easy," says Sarah.
"I save wallpaper remnants – this one's from a bathroom – to use as gift wrap," says Sarah. She inscribes the tags with calligraphy. Seasonal greens and baker's twine result in an overall look that's handcrafted and elegant.
"Call me Fräulein Maria, but I just love brown paper packages tied up with string!" says Sarah with a laugh. Handsome graphic ribbon and handwritten tags look super sophisticated.
A tree adorned in gold and silver is set in the living room window, where it can be enjoyed from the street as well as from in the house. "Many of our ornaments are framed family portraits," says Sarah. The look is glowing and timeless – and meaningful to the whole Walker family.
Leather armchairs flank a gorgeous flower photograph. To complement this piece, Sarah lays out a lush floral garland. Roses are one of her favourite Christmas decor elements. "I treat the dresser as if it's a mantel," says Sarah. "I surround myself with flowers and foliage during the holidays, when the landscape is covered in snow."
Sarah and her husband, Graham, host two holiday feasts. The first, in mid-December, is for a large group of friends. "I want them to be able to smell the turkey before they reach the door," says Sarah. The second is on Christmas Day. "It's just our family of four." Both dinners take place at the modern farmhouse dining table, which is adorned with greenery, roses and gold candlesticks.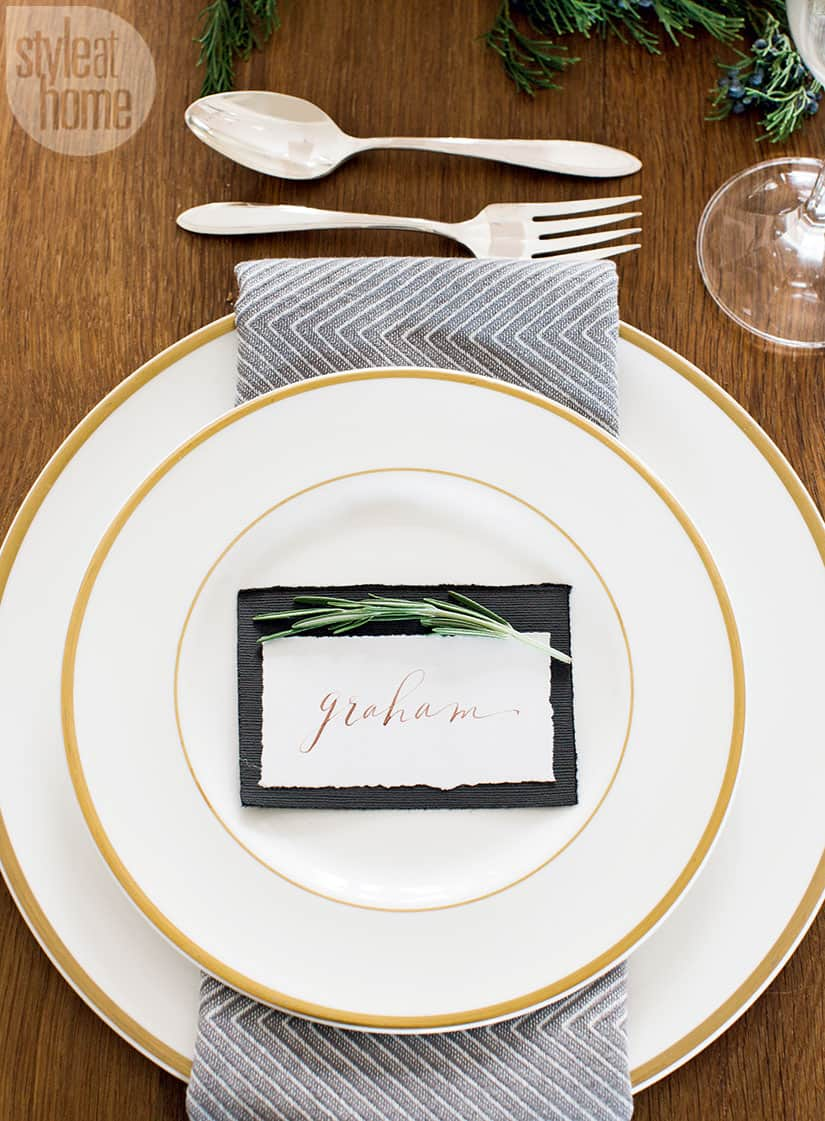 "If you can't use the wedding china at Christmastime, when can you use it?" says Sarah. Each charming place card features an aromatic rosemary sprig. The cards are handmade from watercolour paper mounted on black card stock.