Bedroom
Five designers work together to create the tranquil bedroom of your dreams
Image: Donna Griffith / Styling: Ann Marie Favot
Bedroom
Five designers work together to create the tranquil bedroom of your dreams
Want a room with dimension and personality? Don't decorate alone.
There it was: the perfect bedroom. Natural light poured in through large windows, heritage millwork flattered its doorways and spacious dimensions allowed more furniture than just a dresser and a bed. So why in the world was it so difficult to decorate? Baffled, the homeowner stood in the doorway and stared. After two years of decorating effort, the room still looked generic. "That's when it occurred to me," she says. "If I wanted a room with personality, I needed to make it about people – not objects."

Enter a group of five cool design professionals. Long admired by the homeowner, each was invited to contribute his or her expertise – be it decorating, upholstery or artwork – to the room and had free rein to create something that would most enhance the space. The outcome was extraordinary, just as the trusting homeowner knew it would be.

Staci Edwards, the owner of design, upholstery and sewing shop Switch Studio in Mississauga, Ont., delivered a striking voluminous tufted headboard that earned centre stage in the room. Upholstery genius Jodie Merson of J&J Made in Toronto upcycled a faux-bamboo-framed bench that had a tattered woven seat using a sultry print that suggests world travel. Not to be outshone, Endeavour Neon's Andrew Hibbs of Surrey, B.C., hand-bent a cool wall sign that reads "Bisou" ("kiss") in pretty loopy script. Part art, part light source, it gives off a subtle urban vibe. For Lindsay Woods of Q. Design Perfect Drapery and Shades in Mississauga, Ont., it was the room's sharp angles that required attention. So she softened the space with tailored drapery, embellishing the folds of the linens with a warm grey patterned trim.

To frame and flatter these unique furnishings, savvy designer Stacy Begg (a former Style at Home staffer) stepped in to bring it all together with a backdrop of gentle greys and blues that evokes morning mist.

From the subtle yet confident pattern play in the bedding and wallpapers to the luxe textures and open shelves that put personality on display, it's almost impossible to imagine this room as generic. The contributors made their mark with collective cleverness and great taste, and the bedroom now echoes the spirit of its makers. You might even say the decor has become a visual conversation – each design element talking to the others, none saying the same thing but all always in harmony.
In a 1920s house, neon is delightfully unexpected, contrasting beautifully with the precise, tailored drapery beside it. A velvet-upholstered armchair sitting on a pale blue runner distinguishes this cozy reading nook from the serene sleeping area.
Breezy linens offer instant serenity. Their soft mix of prints and hues – mostly greys and blues – echo the feather-like pattern of the wallpaper. Custom drapery and a tufted headboard make large-scale statements. The bench fabric picks up on the natural tones in the sisal rug, wood shelves and brass sconces.
In the anteroom, a slim-profile desk, a minimal modern stool and a bulletin board fashioned from the frame of a broken mirror make for a chic workspace to check emails or write thank-you cards.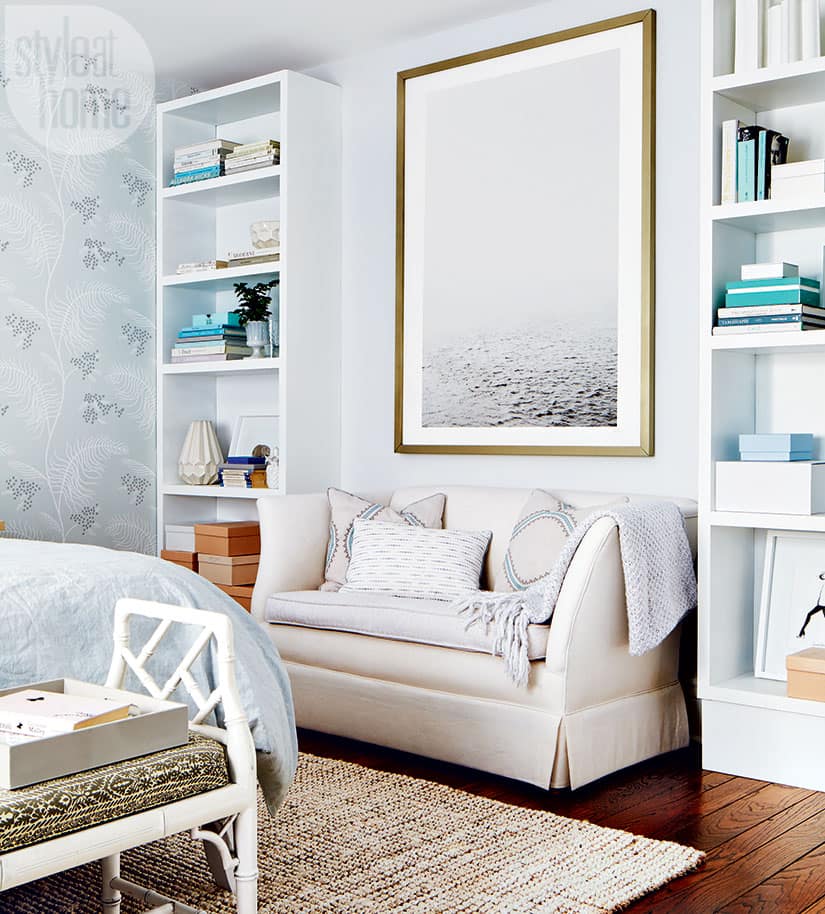 Nestled between two custom bookcases, a plump vintage settee entices readers and nappers alike. Graphic toss cushions with a circular print provide the perfect counterpoint to the large and linear water print overhead. To keep the aesthetic light and airy, the shelves were kept spare with objects in tones of white, blue and tan.
An open shelving unit is adorned with books and objets that reinforce the room's palette.
A gallery wall of artwork leaned on shallow shelves offers the opportunity It for ever-changing views from the bed. The velvet-upholstered chair cozies up to a timeless table that once belonged to the homeowner's father.