House Tours
A Montreal home that's a little bit country and a little bit contemporary
Image: Monic Richard | Styling: Nicola Marc
House Tours
A Montreal home that's a little bit country and a little bit contemporary
A Montreal photographer's family home serves as a place for both business and pleasure.
A home that could accommodate a lightfilled photography studio was top of mind when Monic Richard began searching for real estate in the Mile-Ex area of Montreal. Monic, who has photographed countless decor and architectural projects (like this one), wanted a functionally beautiful space for both her business and her family, which includes her partner, Gilles DuSablon, and their kids, Charlotte, 21, and William, 17.
"I wanted to have 14-foot-high ceilings, like my previous studio had, because I intended to work from home," says the Quebecborn photographer, who is among the city's most lauded.
And now she has all that and more in this urban hipster patch of Montreal, wedged between Little Italy and Avenue du Parc, where restaurants pop up in parking lots, bearded men cut hair for bearded patrons, industrial buildings abound and street art is fanciful and daring.
But first Monic had to make a huge sacrifice to get the space she desired. In 2011, she bought a single-storey shoebox-sized house, one of the iconic Montreal homes built more than a century ago. After many consultations with engineers, it became clear that the only way to achieve the size and spaciousness she wanted was to build a new two-storey house on the footprint of the old. Architecture firm AEdifica created the shell and the brick exterior required by the city; Monic focused on the interior.
Monic's photographic vision and fascination with architecture was the basis for her interest in design, and what better blank canvas than a new home? The 3,200-square-foot house is contemporary but warm, a mixture of modern and country, rough and smooth surfaces. "I like mixing things that don't really go together – it complements the style of the house," says Monic. "It's casual, like us."
Now her studio space on the second floor (not shown) at the back of the house is lit by 12-foot-high windows in rooms with 14-foot-high ceilings. Bedrooms for Charlotte and William, each with its own ensuite bathroom, are also situated there, while Monic chose to put the master bedroom on the ground floor along with the living room, dining area and kitchen.
The open-concept layout, cleverly designed storage and use of expansive windows and doors to transition from inside to outside offer just the right combination for work and relaxation. "We use every inch of space in this house – it was one of my criteria when designing it," she says. "It was really important that we enjoy every room."
Custom black-framed windows offer a floor-to-ceiling view from the living room to the garden. A grey linen sectional, metal coffee tables with tripod bases and a 1960s armchair (found in the original house) are illuminated by the Tolomeo floor lamp. The black and white patterned rug adds texture and softness to the smooth concrete floor.
Along the living room wall, a white floating sideboard with a custom marble top holds the sound system and a carefully curated selection of books and sculptural finds, including a piece by Japanese artist Toko Shinoda, who's known for blending calligraphy and abstract impressionism.
The open-plan kitchen's thin brushed stainless steel countertop contains a gas stovetop with a downdraft fan. Marble subway tiles form a backsplash that runs up to the open shelving. The wooden trestle table and wood-framed blackboards add texture and warmth.
The salvaged wood dining table with Tolix-style chairs seats 10 for family dinners. The three black-corded pendant lights have sculptural concrete sockets and exposed round bulbs.
A wool herringbone rug and dark grey linen drapery give the master bedroom a tailored look that's set off by a custom white platform bed and wall sconces with parchment shades. Black and white Matisse prints add elegant simplicity throughout the house.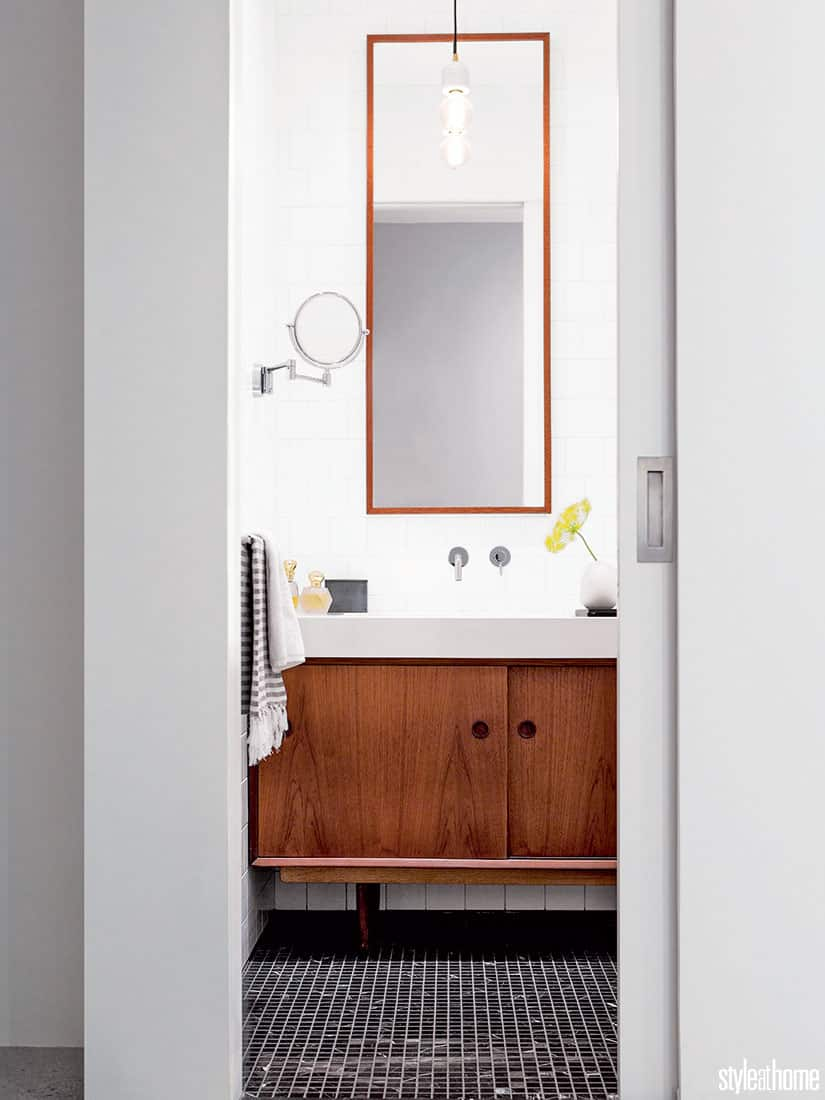 In the petite bathroom, a pocket door opens to a 1970s Danish modern buffet-turned-vanity fitted with a rectangular sink. A tall wood-framed mirror adds further warmth against the square marble wall tiles. The black marble mosaic floor tiles are trimmed with light grey grout.
An eight-foot-long walnut sideboard, custom-made for the entryway, has flatfront drawers and doors. Bought in Quebec's Eastern Townships, the sculptural hook racks are made of rocks and nails attached to reclaimed wood.
In the garden, a galvanized metal-topped table and Tolix chairs face a cushioned wooden bench supported by large stones. Aquarium rocks from Montreal's Mount Bruno area adds texture and muted colour underfoot.
Black-metal-framed recessed windows on the second floor punctuate the grey brick exterior of the house. All the windows include narrow vertical casements, which can be opened to let in a breeze.