House Tours
A timeless family home transforms into a whimsical holiday wonderland
Blogger and stylist Christine Dovey infuses a home with whimsy for the holidays. Image by: Ashley Capp; Styling by: Christine Dovey
House Tours
A timeless family home transforms into a whimsical holiday wonderland
Blogger and stylist Christine Dovey plays fairy godmother and transforms a young family's home into an enchanted forest for Christmas.


Dressed top to bottom in timeless black, white and wood courtesy of designer Stacy McLennan, this stylishly transitional 8,500-square-foot new build in Oakville, Ont., is the stuff of fairy tales. In fact, the young family of six that resides here spends the holidays in a series of picture-perfect moments: baking together in the spacious kitchen, sharing a meal in the eat-in area and huddled close on the custom U-shaped sofa to watch a festive flick in front of a roaring fire. It's only natural, then, that when blogger and stylist Christine Dovey stepped in to decorate the house for Christmas, she had visions of an enchanted forest. "I wanted to create a natural, warm atmosphere infused with whimsy," she says. The resulting woodsy wonderland is as fanciful as it is rustic and, though wholly unconventional, it represents the coziness and magic of the season.
At once posh and pastoral, faux fur elements, such as the stockings adorning the living room fireplace mantel, help establish the winter wonderland feel stylist Christine Dovey was after.
The serene sitting room is a quiet refuge for anyone who needs a little me time – key when the whole gang is around for the holidays. Christine respected the space's intended purpose and kept adornments hushed.
A fresh theme need not mean all new ornaments. Ideal additions like this cotton wreath and the tree stumps in the living room came from the homeowners' existing collection.
The fairy-tale concept called for razzle-dazzle, but this veteran stylist was sure to keep it minimal, balancing glitz with rusticity. "I didn't want to create anything too glamorous or contrived," she explains. A plain kraft paper-wrapped gift adorned with a sumptuous satin ribbon is case in point.
With four kids aged six to 11, these homeowners' chic kitchen sees tons of cheerful commotion, so simple greenery was sufficient to signal the enchanted forest motif.
Instead of struggling within the confines of seasonal greenery, Christine let her mind wander. "I thought of flowers you might see in a field or in the wild, like wisteria and lavender," says the stylist, who brought vision to reality with the help of both real and faux blooms.
Though it looks like a homemade treat, the roughly iced cake is actually "a store-bought beauty I simplified by removing most of the icing and layering on a few flowers," says Christine.
The eat-in area's table (made by one of the homeowners' brothers) is spacious, and the banquette is built for huddling upon – a good thing, because the offerings are sure to entice drop-in guests. Far from a decadent Hansel and Gretel-worthy display, the spread is delightfully light: Fruity soda in a dreamy on-theme lavender shade accompanies vanilla cake.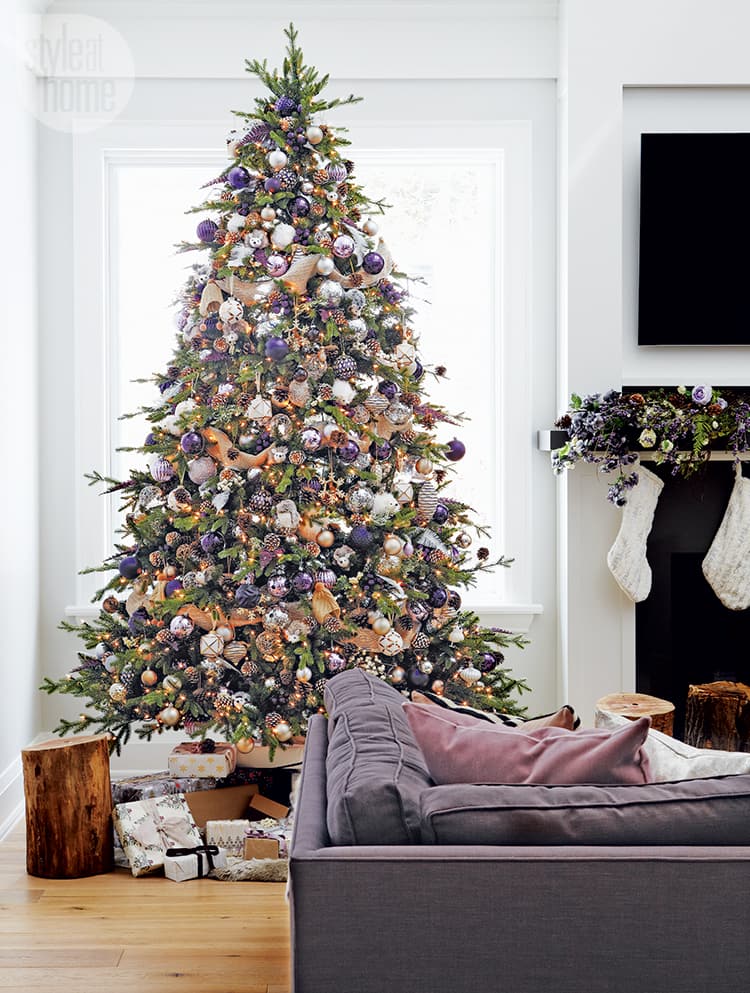 Christine Dovey's Recipe for the Perfect Tree:
Step one: Start with a foundation of lights – as many as you can pack on the tree.
Step two: Hang base pieces, such as metallic baubles and burlap ribbon.
Step three: Introduce ornaments in your accent colour of choice.
Step four: Layer on new unique finds or ornaments with special meaning. (The aim is to create the impression of items collected over time.)
Step five: Fill gaps using natural elements like pinecones to keep the tree from feeling too glitzy.