House Tours
A Victorian home that's a true reflection of its homeowners
Image: Stacey Brandford / Styling: Christine Hanlon
House Tours
A Victorian home that's a true reflection of its homeowners
Nest maker, know thyself. Here's how one designer used self-reflection and simplicity to do up her Toronto Victorian.
"There are thousands of inspiring ideas out there," says designer Melanie Hay, referring to the wellspring of online home decor images, blogs and shops. "You can literally research for months. But in the end, the best design is born of self-discovery. The more you understand who you are and how you live, the better the odds that the rooms you create will be rooms that you love."

Melanie should know. When she and her husband, Andrew, an entrepreneur, purchased a tall, narrow Victorian in Toronto's Annex neighbourhood about four years ago, they were two people without a plan – but with about 3,000 square feet of empty space. Needless to say, to a designer like Melanie, this blank canvas meant instant inspiration overload. "My mind was swimming with decorating schemes," she recalls. "Deep down, though, I knew Andrew and I are nesters, and when we walked in the door, we would want to come home to a space that echoes our life stories." This is where her approach to decorating the house started.

But it was not as easy as it sounds. "From the beginning, I had to acknowledge that Andrew and I don't share the same taste," she says. Melanie loves white; Andrew prefers dark wood. Something had to give. The house already had the towering black doors and high-gloss black banister they both liked, so the couple let these details inspire the look. "Plus, we already owned a black and white rug, a round table with a dark top and a black leather Eames chair, so why not use them?" adds Melanie. Red- and peach-painted walls were redone in shades of light and shadow. Such was the start of what is now the home's signature black and white colour scheme.

And a little self-reflection went a long way when it came to deciding what to hang on the walls. "Although we appreciate fine art, personal mementoes that connect us to our families matter more," says Melanie. This realization became the inspiration for the dining room gallery wall. Gathering a few favourite prints, posters and paintings, the designer created a dynamic visual mash-up. The result is a sophisticated yet personal design element. One added bonus? It was totally budget-friendly. "I paired gold-framed heirloom pieces with newer prints in inexpensive white frames to unite the random collection," explains Melanie. And since not many are forever pieces, she adds or subtracts on a whim. "There are a lot of nail holes in that wall!" she says with a laugh.

In many ways, this ever-evolving approach is a reflection of Melanie's creativity. "Unlike the homes I design for clients, which are done in one sweep, my house changes constantly. I've become incredibly good at moving furniture, which must drive Andrew crazy. This house will never be truly finished," she says. "And if it ever is, I'll probably just start over!"
Homeowner and designer Melanie Hay paired her husband's steel-topped dining table with chairs she bought on Craigslist. "I've reupholstered the seats two times already," she says. Right now, they bear a sophisticated charcoal linen that accentuates the dark walls and striped rug.
"It's been a bedside table, an end table and a catch- all," says Melanie of the bar cart she purchased years ago. "Finally, it's a bar!" The cart is low, however, and the home's ceilings are very high. To draw the eye upward, she added a painting and a wall-mounted metal stag bust above it.
Melanie scoured big-box stores for large-scale artwork to act as stand-ins for the forever pieces that will eventually accent her living room. That way, she doesn't have to live with blank walls while she searches for the perfect investments.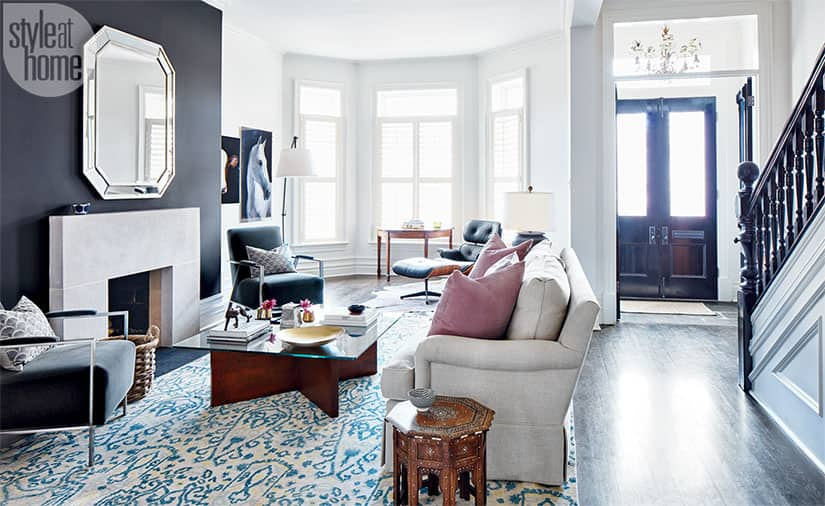 The house was built in the early 1900s, but its contemporary fireplace mantel and furnishings achieve an eclectic mix that feels right at home in the space. "If you can't afford to do a house all at once," advises Melanie, "then do one room at a time. That way you can afford to invest in key pieces."
"Decorating one room completely and then carrying that look to the next allows you to really establish a cohesive aesthetic throughout the house," says Melanie, who started with the living room and finished with the master bedroom, which echoes the rest of the home's light-meets-dark and modern-meets-traditional themes.