House Tours
Comfort-meets-industrial design in this cool city loft
Image: Michael Graydon / Styling: Stacy Begg
House Tours
Comfort-meets-industrial design in this cool city loft
Sometimes decorating with no plan in mind turns out to be the best plan of all.
Passion, not planning, is what makes a space special," says Jamie Metrick. As the general manager of his family's home furnishings business, Elte, he should know. Since childhood, Jamie has been surrounded by some of Canada's most elegantly designed pieces. "If I see a chair or a lamp I adore, I bring it home," he says. "I don't worry about scale or colour or style. There's always a way to make the objects I love work together."

Jamie is clearly onto something. The loft-style condo he lived in for five years, which is now home to his brother, Andrew, is the epitome of industrial comfort. Situated in the upper Annex area of Toronto, the two-bedroom unit is casual and moody, something Jamie attributes to his many rugs. "I am obsessed," he admits. He has such a love for his collection that he even chose to hang rugs on his walls – to him, they're works of art.

"Making a home is about gathering beauty – however you do that. I work from the heart," he says. In Jamie's case, his rug collection is what accounts for the texture and sophistication in the space. "I am fascinated by the endless variation in their dyes, motifs and textures. But I chose them because I adore them, not because they fulfill a design category."

Jamie definitely isn't one to get caught up in the typical rules of design. "I think the subconscious mind notices quirky differences and still manages to cluster objects that make sense together," he says. So, even though a handmade foosball table from Vietnam and a custom bar cart crafted in India don't appear to have anything in common, they can pair beautifully in the right context. "If I'd chosen only pieces that match, one of those two things would have been eliminated," says Jamie.

The 1,300-square-foot condo has a 15-foot-high ceiling with floor-to-ceiling windows, and life here has always been about casual entertaining and family gatherings. "I don't cook, so I didn't invest energy or money in an elaborate kitchen. Instead, I put in a crowd-friendly bar," says Jamie. "My typical weekend is spent having friends over for small bites and drinks before we head out to a restaurant."

And not just any restaurant. Jamie likes places with a distinct aesthetic: "To me, a restaurant's decor is as important as the food. I go to restaurants the way people go to the theatre or a sports event. I want the excitement and the spectacle, not just the food. I love to sit at the bar, order a meal and watch the evening unfold."

In many respects, his condo echoes this sensibility. While many of the objects are dramatic, the overall feeling is welcoming and laid-back. Jamie attributes this to layering. Woods, metals, leathers and textiles appear in freestyle combinations – something that makes the rooms look collected, not contrived. "I give the objects I'm most passionate about centre stage," he says, referring again to the rugs he's displayed prominently on the walls of his living room, bedroom and guest room. "But if I was a surfer, for example, there'd be surfboards hanging on my walls."
Huge windows and a high ceiling with exposed ductwork give the condo a spacious gallery vibe. To create an intimate yet dynamic seating area in the open space, traditional pieces – such as the tufted leather sofa – were arranged with more modern elements, like cowhide-covered sidechairs.
Homeowner Jamie Metrick loves restaurants – for both the food and the interiors. "Some people go to the theatre. I frequent restaurants," he says. In his kitchen, which has only minimal cabinetry, the emphasis is on the bar area. The industrial look of the stools offers a casual contrast to the more polished surface of the serving area. The oversized clock and faucet add subtle eclecticism.
From the infinity sculpture to the tray that reads "Rooms for Rent," the objets adorning Jamie's coffee table are curious and eye-catching.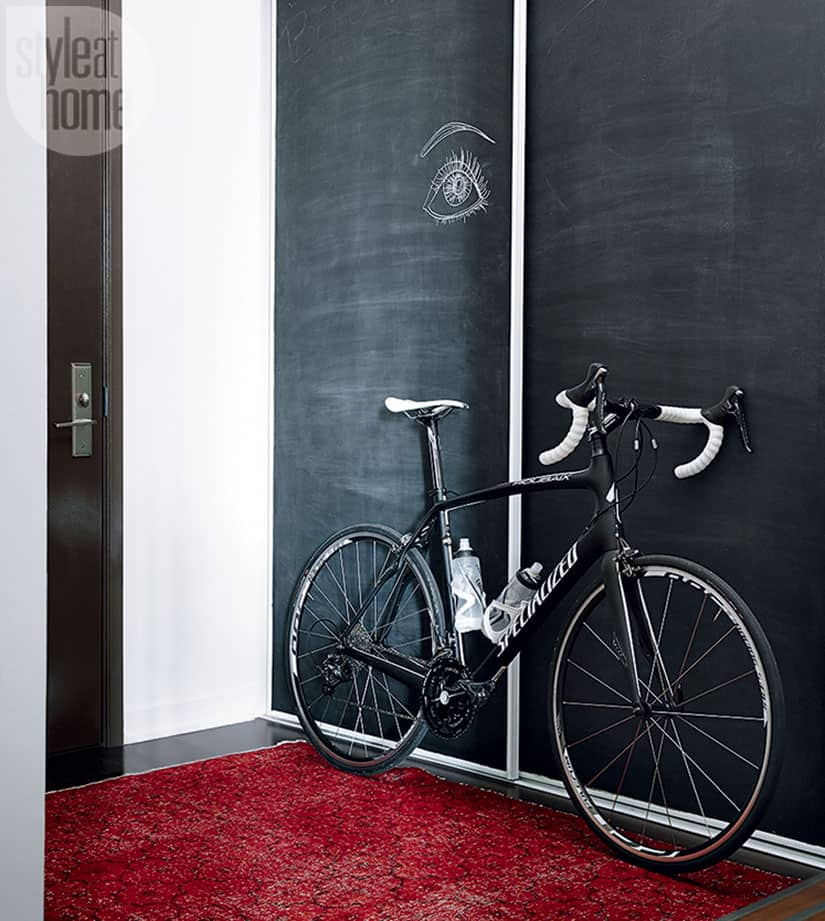 The deep crimson of this floor covering – the result of a process that strips it of its original colours before over-dying – is rich and classic. "The wonderful thing about rugs is that they're like a fashion piece that looks good anywhere," says Jamie.
The custom bar cart can be rolled over to the seating area for cocktail hour.
Vivid hues and intricate motifs – delivered via the rugs on the wall and floor – give the master bedroom an exotic feel and speak to the style elements Jamie loves best.
A reclaimed wood desk is nestled under a large vintage-look mirror and juxtaposed with a modern industrial floor lamp. The rug and hanging bolts of fabric add juicy pops of colour to the minimal space.