House Tours
House tour: Eclectic shabby chic
Image: Stacey Van Berkel | Designer: Stacy McLennan | Stylist: Sasha Seymour
House Tours
House tour: Eclectic shabby chic
With a few tweaks here and some walls down there, a once-crowded bungalow now boasts bright and open spaces ideal for a big family that likes to entertain.
With four children, Lynne and Harry James were already feeling the squeeze in their 1950s bungalow in Markham. Rather than tack on a big addition to the 2,500-square-foot home, in 2010 they decided to make the existing space work harder for the family's lifestyle.
Lynne's eye for design got her through the stunning cottage-style kitchen reno, but when it came time to rethink the rest of the house's layout, she brought in interior designer Stacy McLennan to help make it feel more spacious. Changes included opening up the dining room to the living room on one side and annexing a small bedroom on the other in order to double the size of the dining room.

Stacy also helped select charming fabrics and classic furnishings that work with Lynne's existing pieces, many of them vintage or antique. "Lynne loves to bring plenty of character into the mix and is not afraid of colour," says Stacy. In the timeless white kitchen, for example, a powder- blue island makes a punchy statement.
The overall effect is an eclectic shabby chic look that's relaxing and inviting – ideal for the Jameses' frequent gatherings of family and friends. "It's a casual look that appears as though it has evolved over time," says Stacy. And with an ever-growing family, it will no doubt continue to do so.
In the spacious new dining room, a built-in niche displays china and provides storage for linens and flatware. The 12-foot-long trestle table, which can comfortable seat at least 14 people, called for two small chandeliers rather than a large central one.

In the kitchen, the powder-blue kitchen island demonstrates homeowner Lynne James's fearlessness about colour. It's easily seats four and acts as a focal point in the open space.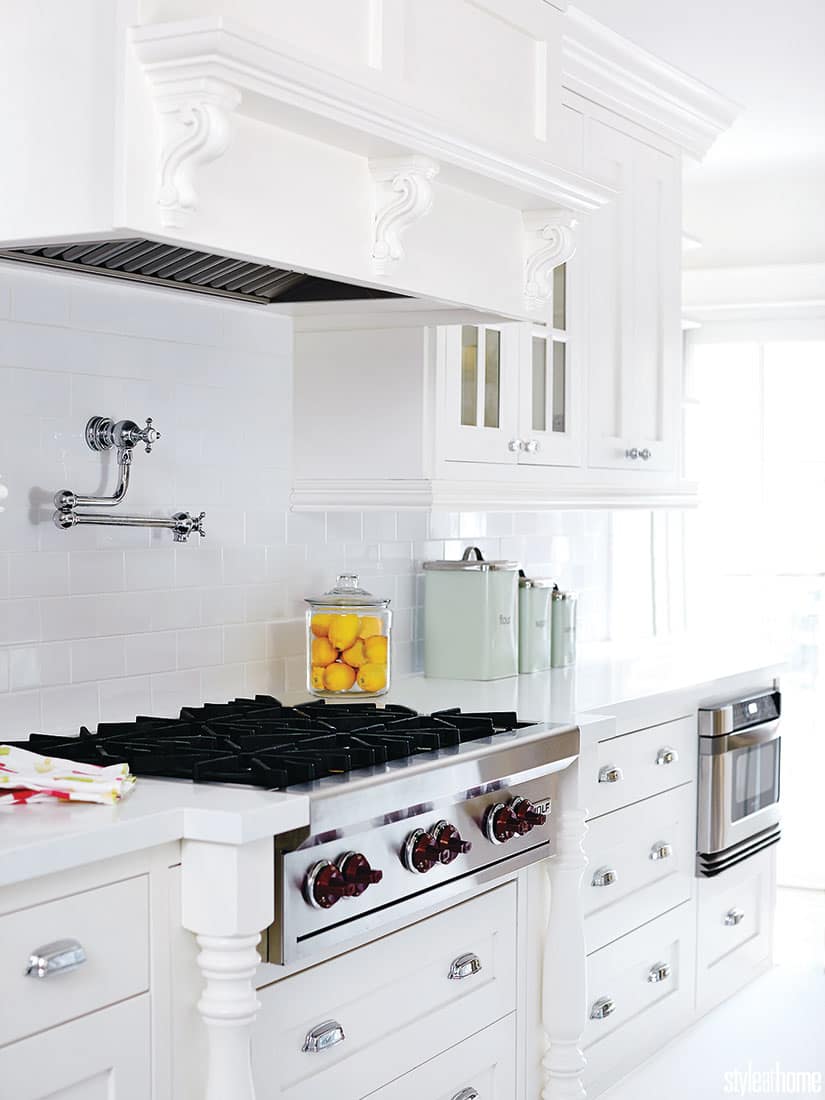 Shaker-style cabinetry, marble countertops and white subway backsplash tiles make for a timeless look in the kitchen.

An oversized apron sink hides any accumulation of dishes in the cottage-style kitchen. Mini schoolhouse-style pendant lights tie in with the powder-blue island and lend retro charm to the room.

The living room's cream walls provide a neutral backdrop for colourful accessories like the toss cushions and beautiful chandelier.

The whimsical chandelier in the living room appears to be the focal point of colour in the space, centered in the room above pops of pinks and powder blues.

A vintage bedroom set was revived from disrepair; Lynne had it sprayed white for daughter Shauna's room. A pink chenille coverlet from Lynne's collection brings a hit of happy colour to the bedroom, matching perfectly with the throw pillows to tie in the colour scheme throughout the home.