House Tours
House tour: Playful and personalized family home
Image: Barry Calhoun | Designer: Robyn Walter
House Tours
House tour: Playful and personalized family home
Blogger Brittany Robertson of Oh My Dear transforms her new build in Grande Prairie, Alta., into a playful and personalized family home.
People often say destiny led them to their dream home. In the case of the Robertson family, it's true – literally. "Four years ago my cousin Destiny recommended the house we now call home," says blogger Brittany Robertson of Oh My Dear, who shares the space with her husband, Jade (a business owner), and their two daughters, Elizabeth, 5, and Paisley, 4. "Destiny knew we were looking for a bigger place and suggested Deeproot Developments, a local company that builds character homes." A visit to its website proved fruitful. "I fell in love with what I saw and had our real estate agent show us all the houses Deeproot had on the market," says Brittany. "We snapped up one still in its framing stage, so, while it wasn't a custom build, we still had some freedom to put our stamp on it."

As the construction of their 1,680-square-foot three-bedroom house continued, Brittany focused on making it her family's own. "My biggest must-have was an all-white kitchen, which is actually hard to find in Grande Prairie homes, where stained-wood cabinetry is the norm," she says. She also got creative with storage in the girls' bedroom. "I knew if I kept their clothes in a dresser, I could use the large closet to organize their collection of toys."

Brittany worked closely with Deeproot co-owner and in-house designer Robyn Walter, who sourced a selection of flooring, lighting and paint options. "Robyn let me have final say," she explains. Their tastes were in sync, including the choice of lamin­ate flooring. "It looks amazing, and is durable and cost-effective," says Brittany.

To make the decor and design features stand out, Brittany chose light grey for the walls. "Neutral walls allow me to switch up the decor with ease, which is important, as I change my mind a lot!" she says.
While her blog fans relish these changes, they also love Brittany's signature style – livable rooms with kid-friendly furniture, loads of comfy accents and a pale palette that's anything but cold. "People often ask me how our mostly white house can be so cozy, and I tell them it's because it's decor­ated just for us," she says. That means pretty pastels for Elizabeth and Paisley, sleek metallics for the grown­ups and an abundance of meaningful touches like accessories and artwork – much of which Brittany DIYed. "It's these details that make a space feel more personal," she says. And given that her blog tag line is "practicing the art of making a house a home," it was destined to be.

"If your walls lack architectural detail, shelving and artwork are a great way to create interest," says Brittany. she and her husband, Jade, pictured below with daughters Elizabeth and Paisley, made the coffee table for a fraction of the four-figure price tag of a similar one.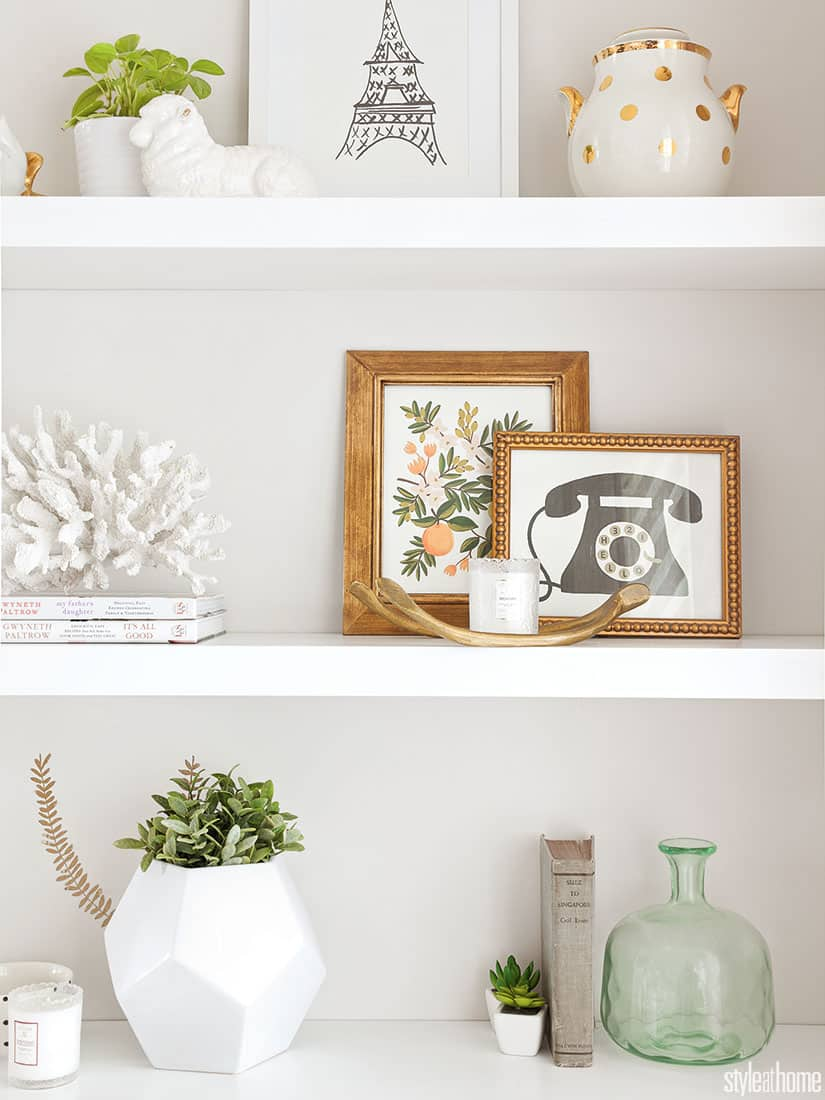 "When I dress shelves, I use a mix of items that look interesting together," says homeowner Brittany Robertson. "I incorporate a living element like a potted plant or fresh flowers, a meaningful object like artwork and something white like a piece of coral to balance everything out. It's a foolproof equation."

Warm metallic accents are carried throughout the home, brightening the family's space and creating a place that feels stylish yet cozy.

Brittany accessorized her all-white kitchen with playful accents and a variety of metals. the island, outfitted with weathered-wood stools, is her daughters' favourite spot for eating lunch and doing homework. "The stools add warmth and are a tonal complement to the island and the flooring," she says.

"I didn't want our dining room furniture to look like it was a set," says Brittany. To break up all the wood, she placed upholstered chairs at opposite ends of the table. "We eat dinner here every night. The large window looks out to our backyard, and beyond that is the countryside."

"I wanted the guest room to be multifunctional, which is why I chose a daybed," says Brittany. She painted the original dark laminate panelling behind the bed a soft white, which inspired the blue and white scheme.

Pops of blue-green contrast with metallic accents in the guest room. DIY artwork complements the fresh palette.