House Tours
Zesty yellow reigns in this cheery Scandinavian cottage
Image: Magnus Selander / Styling: Sania Hedengren
House Tours
Zesty yellow reigns in this cheery Scandinavian cottage
If colour is your jam, look no further for inspiration than this rustic retreat that embodies the best of vintage cottage style.
Talk about Swedish style and the words vintage, rustic and colourful don't automatically pop up. Instead, we often think of Scandinavian decorating as being infused with the whites, silvers, greys and blues popularized during the reign of the country's King Gustav III (1771-1792) – those pale luminous shades and refined shapes that were adapted from the French King Louis XV and XVI styles of the time. For Swedish interiors stylist Sania Hedengren, though, colour is king. She's a master of painting, patterning,
mixing and matching
bright hues to cheery, cottagey, homespun effect. Just take a look at her
family getaway
to be inspired with seven ways to do the same.
At interiors stylist Sania Hedengren's family cottage in Sweden, the verandah offers a cheery mix of punchy patterns and bright colours that entices relatives and friends to sit and stay awhile. The room is painted in a lemony yellow that warms the space on cool and rainy days and, when the sun shines, simply glows with light. To o set the strength of the yellow hue, Sania incorporated other energetic shades but ensured the room stayed cozy by using them in soft furnishings like toss cushions and throws. It's a skillful blend of playful meets proportional we just can't resist.
In this charming space, the whitewashed envelope takes a back seat to layers of colour. Sania's favourite shade, yellow, is used in every room to bring in a sense of summery sunshine. And while paint is the big transformative implement in Sania's decorative tool box, it's not the only one. Fabric, wallpaper and even tile figure prominently here, too. The kitchen's backsplash, for instance, benefits from a retro pattern in orangey-yellow, while the pendant's lampshade follows suit for a chill '70s vibe.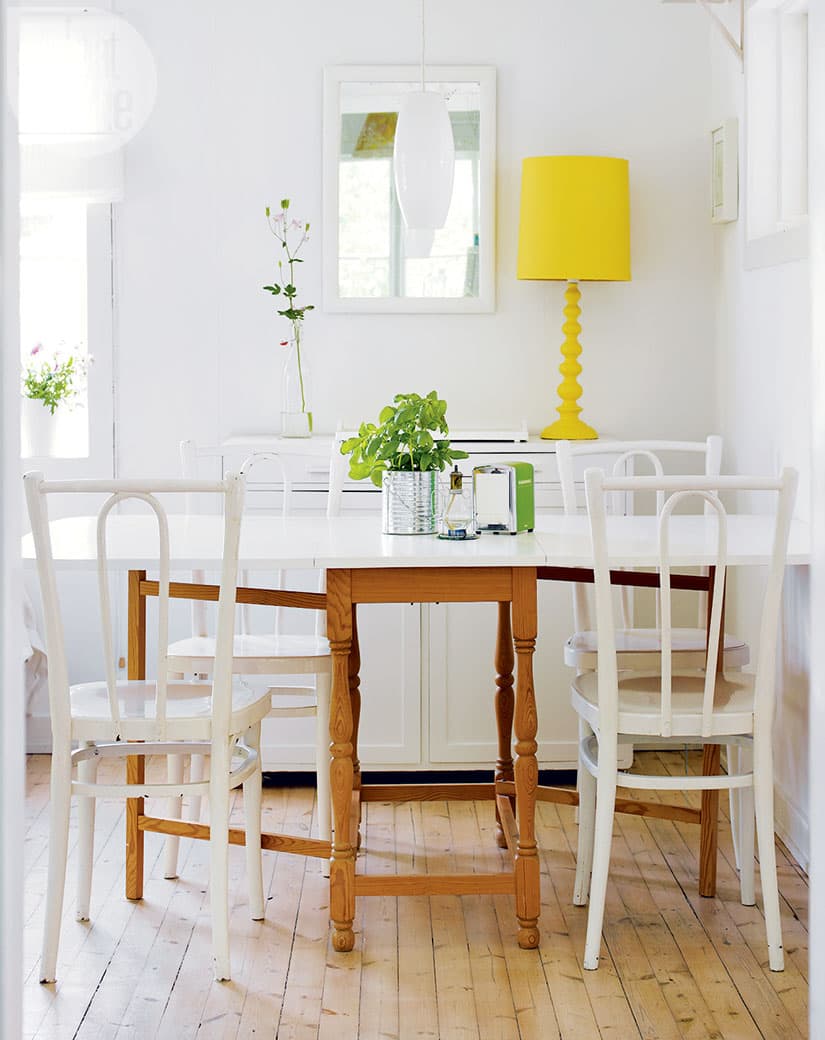 Sometimes all you need is one pop of colour to make a room sing. Sania can't resist adding yellow to every room in the cottage, and in the kitchen's eat-in area, it's a citrusy table lamp that chimes in. By using just a judicious hit of colour here, the space retains a restful feel, perfect for early mornings before that cup of joe has kicked in.
When you're retreating from the hustle and bustle of city life, it's important that the elements you surround yourself with are easy-care and low-key. With Sania's creative instincts, however, those elements are still sweet and stylish. Case in point is the whimsical door curtain (pompoms!), which says nothing here is too precious and works to bring together the colours used in the home.
Taking time to lounge around is a requisite of cottage living, and Sania's abode embraces the philosophy whole-heartedly. Comfort is key here, so she's introduced a variety of retro-look textiles that impart a time-worn feel – including a crocheted afghan that brings to mind sleepy afternoons at Grandma's house. To add to the theme, Sania DIYed crocheted doilies in the cottage's happy colours and hung them on the wall. A cup of tea and a good book and you're set for the day. Hmm – don't mind if we do!
Vintage finds abound in Sania's summer retreat – they're perfectly suited to the happy carefree ambience she's cultivated here. Every nook in the small cottage, it seems, includes some expression of her poppy, peppy style, and this tiny desk setup in the bedroom bunkie is no exception. Sania painted the desk and placed it under an antique window to create a diminutive craft station for her daughters. The yellow in this area veers into green territory; Sania's DIY artwork (plain canvases covered in vintage fabric) complement the velvet curtain she fashioned for the painted bookcase that holds all the treasured books, bits and bobs of a childhood spent at such an idyllic spot. Swallows and Amazons, anyone?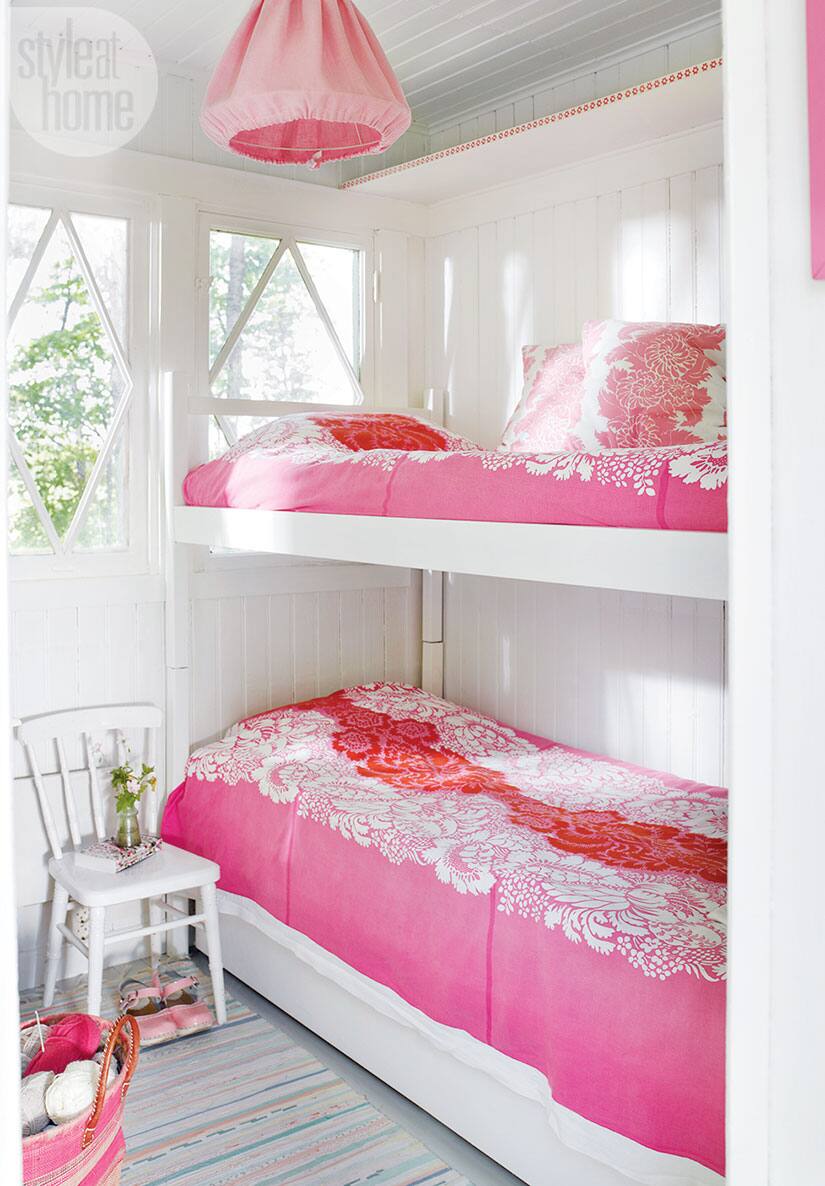 The bedroom bunkie is a girly haven, with its pink bed linens and lampshade. Sania continued her colourful theme here, but used this raspberry hue in elements that can easily be changed out as the children develop more sophisticated tastes. For now, though, Sania's skill with colour has taken the space from a ubiquitous white-washed square to a bedroom worthy of any young princess.
A sideboard in a shade of lemon meringue pie is the centrepiece of the whitewashed cabin's cheerful living room.
Sania built this dish rack and gave it a coat of bright yellow paint to make it pop against the rustic wooden walls.
Antique painted chairs in bold shades give life to an outdoor dining vignette.