Small Spaces
One family's vision becomes a rustic retreat among the treetops
Image: Donna Griffith | Designer: Lynne Knowlton
Small Spaces
One family's vision becomes a rustic retreat among the treetops
Blogger Lynne Knowlton envisions a grown-up tree house made of reclaimed barnboard.
With the possible exception of having popcorn for dinner, Lynne Knowlton's favourite thing is a tree house. "It reminds me of being a kid and having a secret hideout that's all my own," she says. That nostalgia, combined with falling for a fully furnished tree house a friend had built, inspired Lynne and her husband, Michael, who live in Durham, Ont. "We wanted to create a private paradise on our 100-acre property – a place for us to relax with our kids (Shelby, 25, Tristan, 23, Mackenzie, 18, and Brett, 17) and also rent to guests [through lynneknowlton.com and Airbnb]," says Lynne. That paradise may have remained on their wish list indefinitely if not for a force of nature. "A tornado passed through our town in 2009, and we bought the entire salvage of a barn damaged in the storm. That was the impetus for us to start building."

The couple designated a small forest 160 feet from their home as the ideal site. "It's close to our pool, which guests are welcome to use, yet partially hidden in the trees so it's still private," says Lynne. To create the retreat, they enlisted their tree house-building friend, Chris Wilkes. He began the year-long project in 2010 and, using the reclaimed barnboards, constructed a whimsical 200-square-foot structure set 10 feet above the ground. Its tiny interior includes a living area and kitchenette as well as a ladder-accessed bedroom loft. There's also a separate 100-square-foot bathroom cabin or, as Lynne likes to call it, "the latreen." It was built in 2014 and features full amenities, including a water closet and walk-in shower.
The warmth and patina of the salvaged materials in both spaces steered the decor direction. "We decided to keep the natural beauty of the barnboard as the focal point and to accent it with white," says Lynne. "It feels cozy, comfortable and clean. Most guests admire all the decorative details."
The thoughtful design extends beyond the interior. "We decorated the area under the tree house as an outdoor dining spot. There's a hammock and a swing nearby, as well as a hanging chair and comfy seats on the deck for taking in the view," she says. Wherever guests choose to sit, it is the perfect place to nosh homemade popcorn. "We send an e-book to guests before they arrive. It details directions, what to bring and what's provided (which includes a popcorn maker). Everyone gets excited and brings their own popcorn fixings!" It's all about life's simple pleasures at this rustic retreat among the treetops.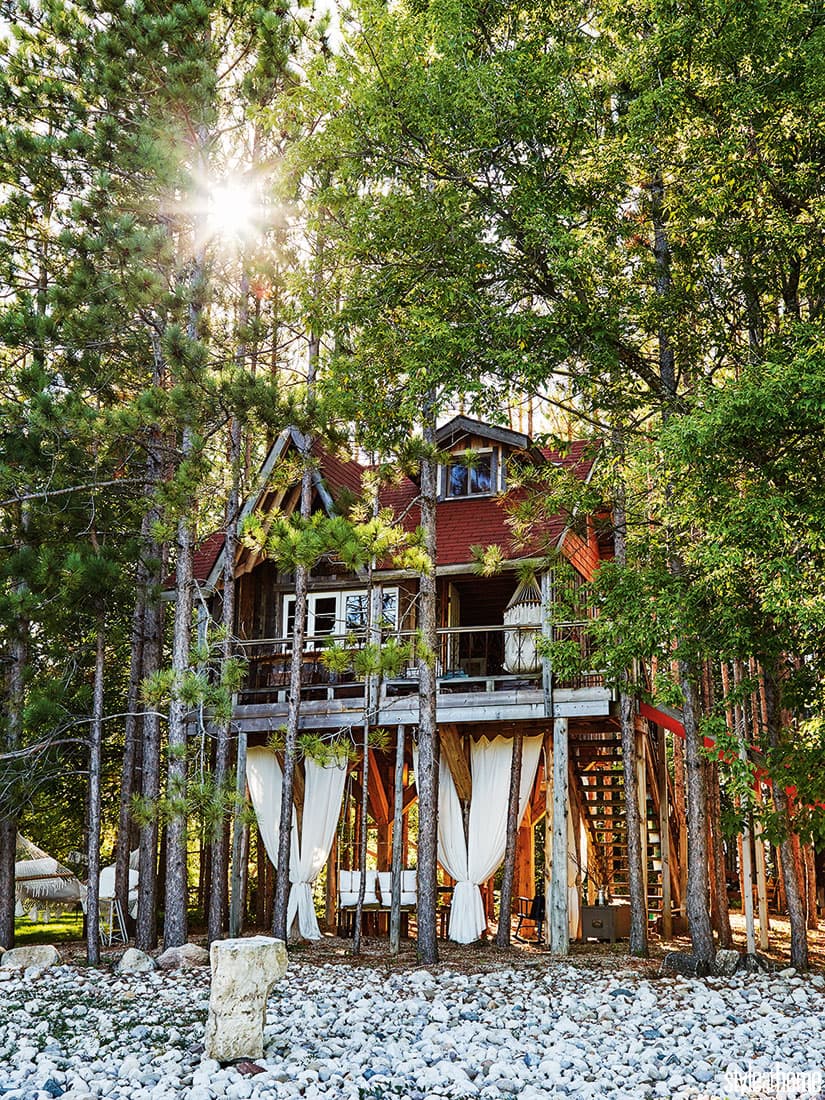 A side view of the tree house reveals a splash of red, visible on the right. "It's an adult-sized slide attached to the upper deck," says Lynne. "Tree houses are all about fun, and what's more fun than a slide?"

Homeowner Lynne Knowlton says the porch's hammock chair is one of the tree house's most popular spots. "It's a nice place to simply enjoy the surroundings all day long," she says.

In the kitchenette, details like the live-edge countertops and row of untreated wood cabinets reinforce the treetop setting in an authentic yet decorative way. To maximize storage, the island features open shelves on one side for keeping small appliances within easy reach.

An avid traveller, Lynne has spent a lot of time in Bali, where she found the banister that borders one side of the bedroom loft. "It's intricately hand­ made and was originally used as a gate on a Balinese fence," she says.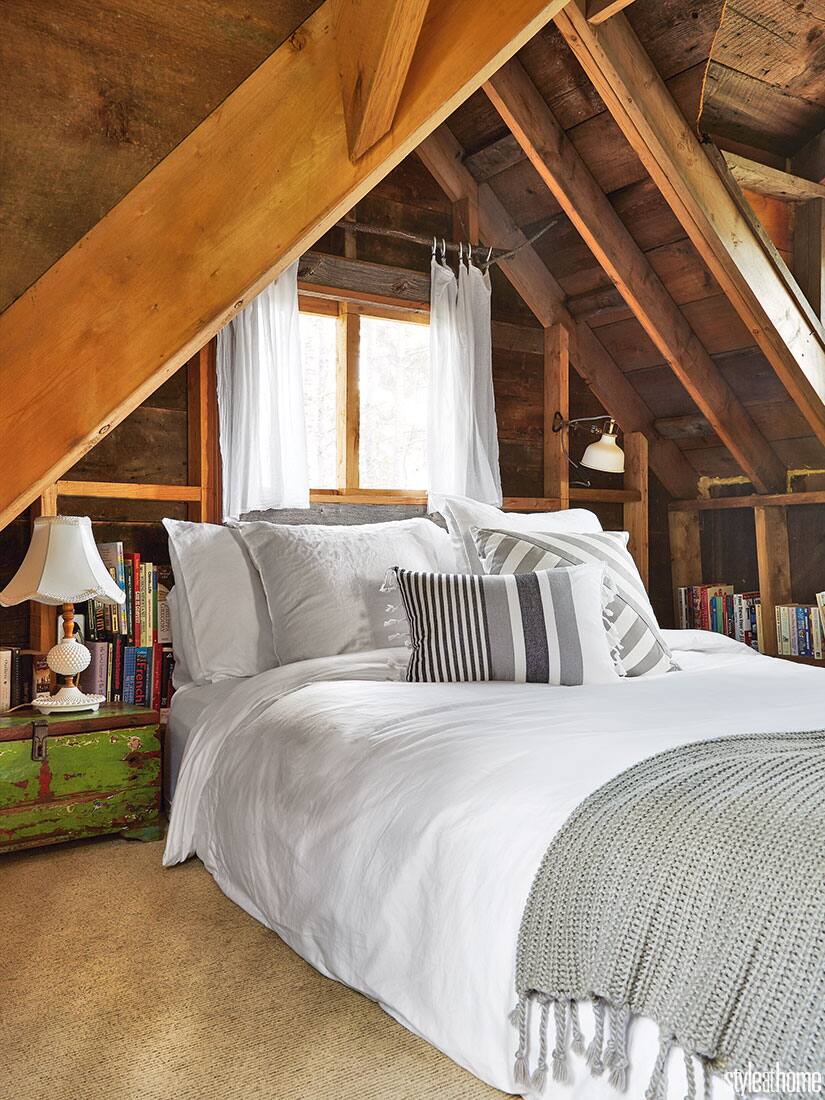 Positioned beneath one of the bedroom loft's windows, the bed sits on a cozy rug – a departure from the exposed barnboard floors downstairs. "Keeping cool summer mornings and evenings in mind, we thought guests would be more comfortable with a rug on the floor," says Lynne. "I love how it warms up the space and the tootsies!"

In the bathroom cabin, the rustic wood scheme gets a contemporary complement from a metal walk-in shower. "The metal is simply roofing panels," says Lynne.

Echoing the tree house's kitchenette, the bathroom cabin features a live-edge countertop. "The detail on this piece is remarkable," says Lynne. The stone sink is another find from Bali.

Lynne spends time at the kitchenette's bar area, which is accessible from inside and out. The countertop is made from reclaimed lumber, and it's a fun spot to serve drinks and savour the scenery.

Pendant lights, distressed furniture and breezy drapery transform the covered space beneath the tree house into an out­door dining area. "It's a great place to eat dinner," says Lynne, noting that she bought the reclaimed wood table and chairs in Bali. "We also love to play board games here."

The hammock offers shady respite on hot summer days.