Gardens
3 pretty gardens you'll want to recreate in your own backyard
Image: Janis Nicolay, Edward Pond, Stacey Vab Berkel
Gardens
3 pretty gardens you'll want to recreate in your own backyard
No matter the size of your outdoor space or your preferred style, your garden can look perfectly picturesque with these design and styling tips.
It's the time of year when we turn our decorating eye outdoors. Whether you have an intimate terrace or a vast backyard, take inspiration from these classic garden looks to make the most of the warmer months.
Look 1: Formal Fancy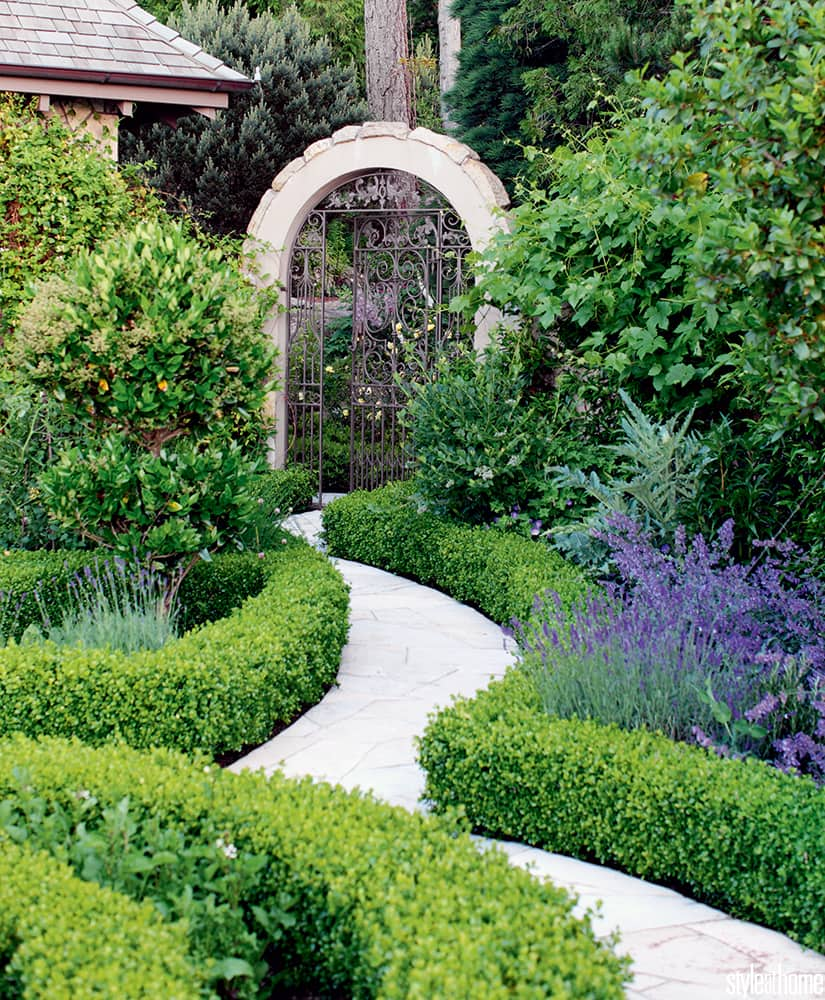 Inspired by a traditional European-style courtyard, this garden look is elegant and tailored, possessing old-world charm and romantic details. Think manicured hedges, hefty urns, wrought iron furniture and tidy stone pathways. When choosing furniture for your space, look for sets with structured silhouettes. Accessorize with hurricane lanterns and cast iron urns filled with boxwood and ivy. When hosting alfresco, serve coupes of champagne and fancy hors d'oeuvres — and don't forget to dress to impress.
Get the look
1 Limoux Lantern, starting at $446, rh.com.
2 Hexa side table, $379, crateandbarrel.com.
3 Canvas Argenta urn, $50, canadiantire.ca.
4 Beauti-Tone Style at Home Country Collection 2 Satin Glass FD087-3 Paint, homehardware.ca.
5 Canvas Beaumont armchair, $750 per pair, canadiantire.ca.
6 Perfect 10 gardening gloves, $30, watsongloves.com.
7 Haws Copper watering can, $99, leevalley.com.
Look 2: Sleek Modern
This outdoor oasis features a clean-lined stone patio juxtaposed with lush and textured grasses and greenery. To achieve a similar cool-modern vibe in your backyard, opt for contemporary silhouettes, streamlined finishes and minimalist furnishings. Layer in perennial grasses in two or three hues, and add a punch of purple with a cluster of tall flowering plants, such as lavender. Best for casual afternoon lounging and easygoing entertaining, this garden is suited to sunny get-togethers and on-trend cocktails with herb garnishes — rosemary gin fizz, anyone?
Get the look
1 Bittergurka watering can, $17, ikea.ca.
2 Beati-Tone Gypsy Caravan A38-5-1295-0, homehardware.ca.
3 Badminton set, $200, crateandbarrel.com.
4 Corded Weave lounge chair, $799 US, westelm.com.
5 Outdoor Propane fire table, $499, rona.ca.
6 Panama hat, $76, jcrew.com.
7 Outdoor Pedestal bistro table, $499 US, westelm.com.
Look 3: English Country
The natural beauty of bucolic Britain inspired our English Country garden look. Picture rambling weathered brick pathways, casual plantings, ornate benches in hidden corners and accessories with an aged or rustic patina. When it comes to choosing plants, go for English roses in abundance, as well as old-fashioned favourites like hollyhocks, foxgloves, wisteria, phlox and peonies. This garden is a place to relax with a good book and a cup of tea, or to host an informal party with classic Pimm's Cup cocktails, tea sandwiches and leisurely games of croquet.
Get the look
1 Women's Huntress rain boots, $175, hunterboots.com.
2 Bricks, available at your local garden centre.
3 Reclaimed teak circle bench, $1,499, hauserstores.com.
4 Premier Ivy Green PR 16Q28, canadiantire.ca.
5 Wooden 6-player croquet set, $289, leevalley.com.
6 Caldera Corten fire pit, starting at $3,600, paloform.com.
7 Boot scrapers, $37, leevalley.com.
8 Ridged Terracotta pot, starting at $12 US, anthropologie.com.